Back to overview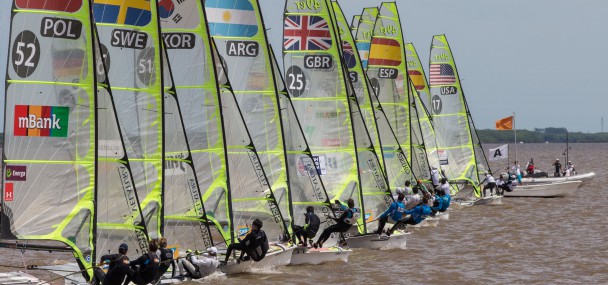 2015 Worlds Day 1: And So It Begins...
Buenos Aires, Argentina. The sun has risen and the men and women of the 49er and 49er FX fleets have begun the first day of the 2015 World Championship.
The weather for day one presented an ENE early with a bit of hazy sunlight, and reasonably warm temperature of 26 degrees. Just hot enough to get the FX sailors seeking shade and trying to shake the heat sleepy's before their fleet headed out.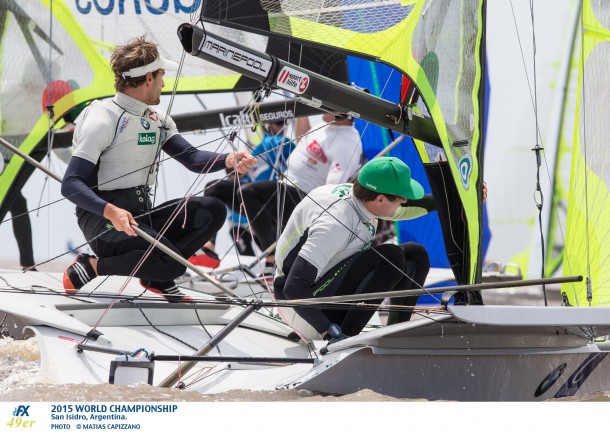 The men's 49er fleet started in the morning session with the breeze slowly switching from ENE to a more Easterly 6-10 knot wind. Consistency was not the name of the game for most of the sailors in each group. Notable sailors whom usually place well in the top ten, and from the previous South Americans sailed very much all over the board. Sailors all noted it was quite difficult to read the patterns because, well, there weren't any really! Currently standing in the top three places are:  1st- Croatia's KOSTOV/ CUPAC, 2nd- Spain's PAZ BLANCO/ PAZ, and 3rd – Poland's PRZYBYTEK/KOLODZINSKI. Our other notable countries to watch, Argentina and Sweden, are currently sitting in 6th and 12th respectively. Argentina's two top boats sit just one point away from one another. Can you feel them breathing down your neck boys?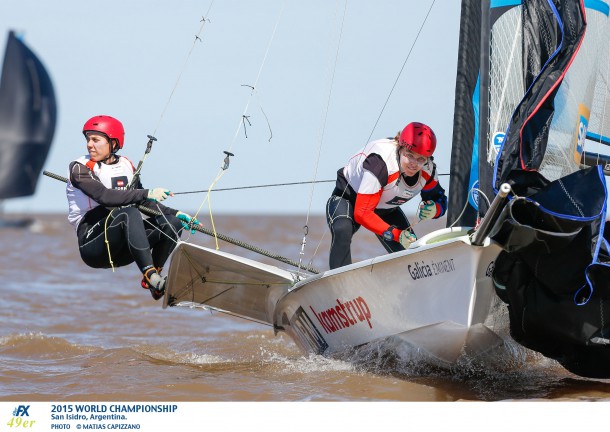 For the women's 49er FX fleet the afternoon posed a bit steadier ENE direction, but the pressure variance was between 4-14 knots. They might've had more breeze to start but as the races were sailed, the breeze pressure slowly dropped making the final race a pretty light one! Apart from the top ten finishers, some digger races were common amongst the mid fleet in this final race. Currently standing in the top three slots are: 1st- Denmarks' NIELSEN/OLSEN, 2nd-France's STEYAERT/COMPAN, and 3rd- Italy's CONTI/CLAPCICH. Denmark's Nielsen and Olsen had a slam dunk of a day winning the first three races and throwing out only a 5th place finish. You go girls!
Countries yet to qualify for the women's fleet from Norway and Ireland sit both in the top ten.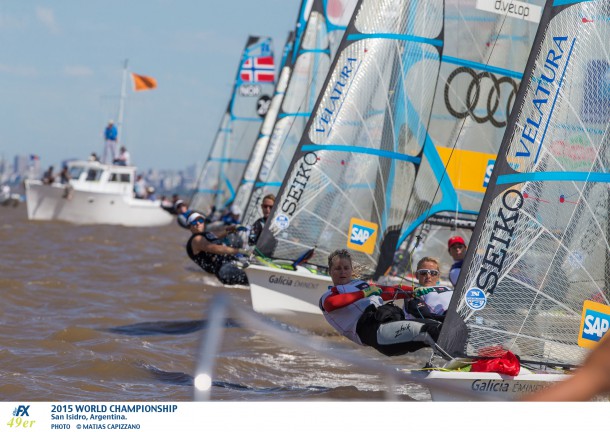 Day one down, but oh, so many more to go. The FX fleet will start tomorrow leaving the 49er fleet to hopefully see more breeze come in during their afternoon session. Wind forecast is looking similar to today's and possible chance of thunderstorms early AM.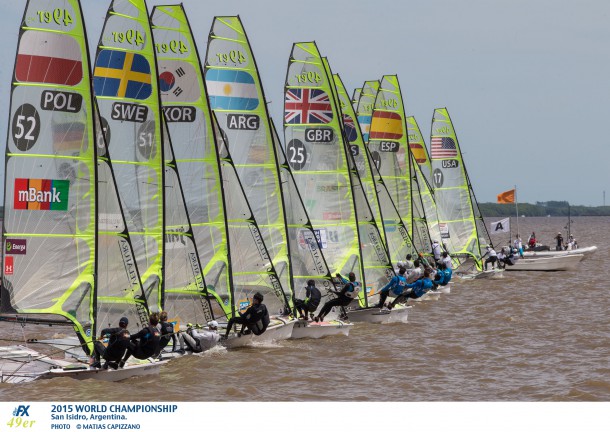 For your daily 49er fix follow us on all social media channels: @49ersailing, and be sure to check out 49er.org for The Daily Show, highlights, and all the info you need for this 2015 Worlds in Buenos Aires.