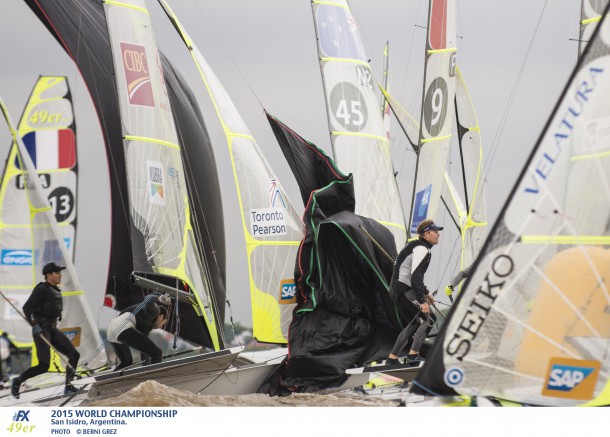 The 2015 49er and 49er FX World Championships are very much underway and starting to reveal some coveted information regarding Olympic berths. For some countries vying for Olympic spots, the conditions just didn't seem favorable and many were left just at the cusp of contention into the much sought after Gold fleet. Clean starts, varying conditions day to day, and water that is sometimes not easily read in terms of wind patterns were all contributing factors that sailors have attributed to their inconsistencies, as well as their current standings.
For many though, the challenging conditions are just par for the course and have been stable enough to still be in the running at the chance to qualify their country at this Worlds in Buenos Aires.
At the end of yesterday, qualifying races and protests were calculated resulting in the following countries sitting in Gold Fleet going into the next two days of racing (descending order):
49er FX
Croatia NINCEVIC MERGED/DUJMOVIC (23)
Canada RAFUSE/BOYD (22)
Argentina TRAVASCIOSol BRANZ (21)
Ireland BREWSTER/TIDEY (19)
Norway NAESS/RØNNINGEN (18), AGERUP/AGERUP (11)
Singapore  KHNG/TAN (16)
United States  HENKEN/SCUTT (13)
49er 
Japan MAKINO/TAKAHASHI (21)
Poland JANUSZEWSKI/NOWAK (19), PRZYBYTEK/ KOLODZINSKI (6)
Belgium  LEFEBVRE/PELSMAEKERS (12)
Croatia KOSTOV/CUPAC (11)
Argentina  SEGERS/VILLAMBROSA (8), LANGE/LANGE (5)
Germany HEIL/PLOESSEL (3)
Vote now for each class! Who do you think's putting their country one step closer to Rio!?
[total-poll id=10033]
[total-poll id=10034]
Stay up to date on all the countries above during this 2015 Worlds here at 49er.org, or on any of our social channels using the handle: @49ersailing.