Back to overview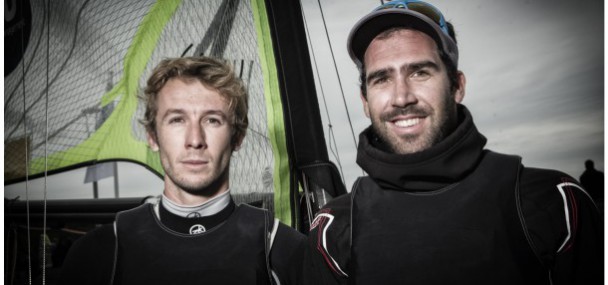 Man Down
The French 49er squad announced today that veteran skiff sailor Julien D'Ortoli will return to France, abandoning any hopes for the 2015 World Championship and putting his Olympic qualification bid unto peril.  While launching his boat on day 1 of the 2015 South American Championship Julien slipped on the launch ramp while holding the bow of his boat and broke his index finger as the boat fell onto his hand.  He raced the day hoping it would be OK but X-Ray revealed the fracture.  The French squad took a few days to evaluate his status but ultimately decided it would be the less risky option to have him return to France to recuperate and be 100% by the 2016 49er Worlds in Clearwater, Florida.
Julien is a veteran of the Oympic skiff class competing in his first worlds in 2005 in Moscow, Russia.  He finished 6th at the 2012 Worlds in Zadar followed by an 8th at the 2013 Worlds in Marseilles before falling back to 13th in Santander 2014.  Perpetually in the hunt, especially in lighter winds many speculated that this could have been the opportunity for him and long term crew Noe Delpech to surge up on to the podium.
Replacing him will be team mate Matthieu Frei, an experienced helm from the French 49er squad.  Matthieu recently split from long term crew Yann Rocherieux after failing to follow up on their 2012 win of the European Championship.  As a new crew, Matthieu and Noe are unlikely to factor into the event, but sometimes new combinations with experience can flourish under low expectation conditions.
The French team has been unstable of late, as top skipper Manu Dyen sailed Day 1 of the South American Championship with top 49erFX crew Aude Campagn after her skipper Sarah Steyaert fell ill to food poisoning.  Manu enjoyed the day and it allowed him to stay in the game while crew Steph Cristidis flew in late to the event.  Aude also got a chance to sail with the longest serving 49er sailor on tour, noticing how steady the boat felt.  Meanshile, the French 49erFX teams all changed helms and crews six months ago, and it was underdogs Lili Sebesi and Julie Bossard who had the first laugh as they finished 5th at the recent South Americans.  An unfunded team they are here on their own and hoping to prove they belong in the French squad, and perhaps in the games.
While it is a bitter pill for Julien to follow, he'll be that much more fired up for his next chance on the water.