Back to overview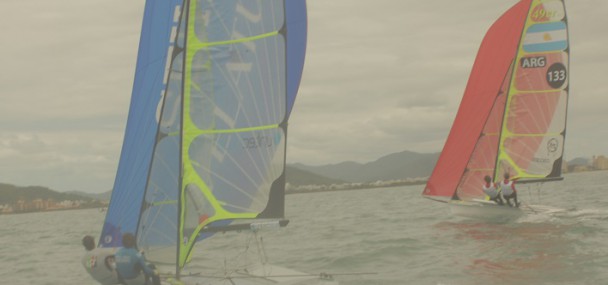 Uruguay Streaks to The Top
Day 2 started out a bit lighter than Day 1, but then the breeze came in stronger and 4 races were sailed in 10-14 knots.  Early, the course was left favored, but it squared back up as the breeze came in.  There were long shifts and the pressure was spread unevenly about the course so there were many opportunities to leap forward or fall back.
After being recognized by their competitors as being a step ahead yesterday but failing to convert, the comeback team of Santiago Silveira and Phillip Umpierre sailed a great day to land on top of the leaderboard.  They day was not perfect for the team, as in the final race while pressing for the lead around the leeward gate, Santiago dropped the mainsheet and they capsized.  Luckily for them, the spinnaker was already on the way down so they managed to come in at 4th in the race, their worst of the day.
Also sailing well today was Mario Segers and Thomas Wagmaister of Argentina.  They also had all top 4 finishes and credited their focus on having good starts for their quality day.  The shifts, while slow were up to 20 degrees, "It was critical to be able to get onto the right shift today after the start.  We got 4 good ones and were able to execute from there which is how we were able to be consistent," said, Mario.
Neither team from the top of the table had great days today.  Marco and Gabriel had various pieces of trouble around the course, and finished the day with a 6th, their worst of the series to date and were frustrated with how they sailed.  Andre Fonseca and new crew Mario Tinoco had reasonable starts and good speed, but were unable to play the shifts as well as they wanted to.
In the 49erFX fleet, Martine Grael and Kahena Kunze were untouchable today.  They bested the rest of the 49erFX teams but were unable to keep up with the 49er teams today, which made for lonely racing at times.  They are trying to remain focused on their sailing with an eye toward the Intergalactics in Rio two weeks from now when 2 top British teams will join them for a training camp and regatta.
The 49erFX team of Senff and Nicolina were enjoying starting with the 49er today.  They said they suffered from a lack of big fleet skiff starting experience at the worlds so the opportunity to start with a dozen boats was welcome.  After match racing for the previous 4 years they hope to get as much fleet race practice in as they can.
We're at the 1/2 way point in the regatta, and with 8 races in the books, the championship is still close.  The tight racing means that anyone is still one good day away from picking up a set of Seiko watches!  There are 6 more races scheduled for the championship.
November 19, 2013