The 49erFX made its first Olympic appearance at Rio five years ago. Four teams were tied heading into the medal race, and only three could win medals. The battle for gold and silver remained in the balance until a final Gybe saw Brazil narrowly cross ahead of New Zealand. Denmark took the Bronze and Spain had to settle for fourth.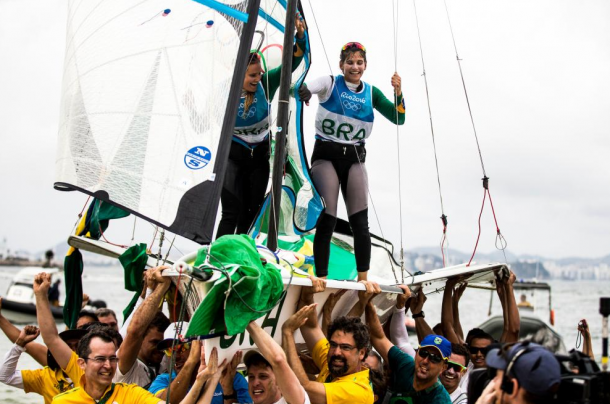 In Tokyo 2021, we should be expecting another battle just as intense to close out Olympic gold, and there are nine teams have shown they should be in the fight.
The gold and silver medallists from Rio 2016 – respectively Brazil's Martine Grael & Kahena Kunze and New Zealand's Alex Maloney and Molly Meech – will again be in contention for the podium. They're not the stand-out favourites, however. No one is. This field appears to be wide open to a number of contenders.
Spain's Tamara Echegoyen and Paula Barcelo sailed a really smart series to win the 2020 World Championship in Australia. Echegoyen knows how to win at the Olympics, having taken gold as helm of the Spanish entry in the women's match racing event at London 2012. She also went to Rio 2016 as the reigning 49erFX World Champion, but just missed out on the Olympic podium.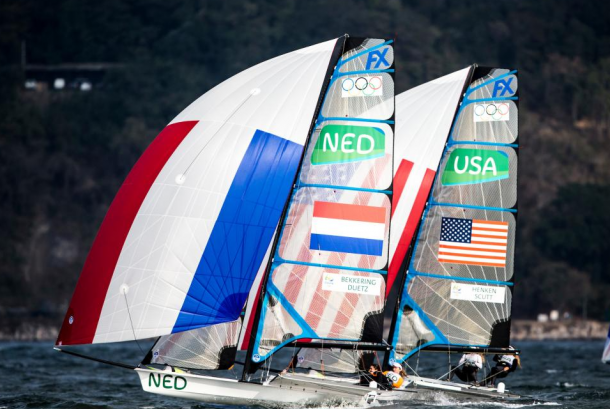 Arguably the most consistent performers over the past five years since Rio are the ever-smiling Dutch duo of Annemiek Bekkering & Annette Duetz, who won back to back World Championships in 2018 and 2019.

Duetz recalls when they first came across each other as keen youth sailors in the 29er skiff, the junior go-kart version of the bigger 49erFX, "There was this superstar, we met at training sessions, we sailed a few times together, but not knowing we would one day sail together all the time!"

Bekkering can't speak highly enough of her crew, "Annette, she can do anything. She's amazing. We really like the windy conditions, we still keep on racing, pushing through the big waves. It doesn't matter what happens, Annette is always the same emotions, – keep going, keep fighting – that's a really good strength to have in the boat."

Duetz returns the compliment, "You're really on it, if there are any gains to be made on the race course, you find them!"

The team needed all of their composure to bounce back from a difficult start to their qualification trials after being outsailed by their Dutch rivals, Odile van Aanholt and Marieke Jongens, at a really light and fluky Hempel World Cup Genoa regatta in early 2019.

Bekkering and Duetz pretty much needed to win the next qualifying event, the 49erFX European Championships in Weymouth a month later. When the pressure was on, they executed the plan and won the event and with it, selection for Tokyo 2020.

They will be leaning on that experience when they start racing at their second Games together. "There was a lot of pressure on us to sail those European Championships well, and we did," says Bekkering, looking to do much better than their seventh in Rio five years ago.

"It was a good experience to compete at the Games, but we struggled with the whole Olympics. In some ways it was not the nicest Games, didn't enjoy it as much as we hoped, but it was super useful to do Rio. We're super keen to do a great event this time and make the most of it, to get the best out of ourselves."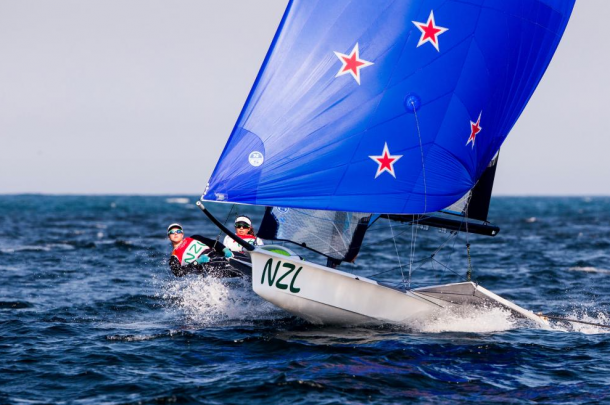 Of course, every Olympic athlete believes that competing at the Games is a dream come true, but no team will appreciate that feeling of arriving at the venue and getting that buzz than the German 49erFX crew. Tina Lutz and Susann Beucke have dreamt of this moment for most of their lives, and have been sailing together as a team since 2007. After narrowly missing out on selection for London 2012 and Rio 2016, when they finally earned selection for Tokyo 2020 it was a huge release of emotions for the two friends. It happened at the European Championships in Austria, one of the few events that actually managed to take place in late 2020. The German team found they had boat speed to burn, and if they can carry that speed edge from the smooth fresh waters of Lake Attersee to the salty swell of Enoshima, then they will be right up there in the fight for gold. It was Lutz and Beucke's first major regatta win having finished fifth and ninth in the two most recent World Championships.

A few short years ago, Stephanie Roble was an incredible match racer in keelboats but when she stepped aboard the 49erFX she discovered that it was a much more wobbly platform than she was used to. Hundreds of capsizes and nosedives later, Roble and her crew Maggie Shea have emerged stronger from the all the bruises and moulded themselves into serious skiff contenders who seem to be able to come out on top in marginal situations. They had a battle on their hands to beat USA rivals Paris Henken and 2008 Radial Olympic Champion Anna Tobias (née Tunnicliffe), but Roble and Shea passed the test with flying colours, taking bronze at the 2020 World Championships.

The crew that finished just ahead of the Americans at those Worlds in Geelong is Great Britain's Charlotte Dobson and Saskia Tidey who competed at Rio 2016 as rivals in separate boats. Dobson, crewed by Sophie Ainsworth, finished eighth in Rio while Tidey, sailing for Ireland with Andrea Brewster, were 12th. Born to an Irish mother and English father, Tidey took a lot of heat from some Irish quarters for switching flags to Great Britain ("the hardest and probably one of the most controversial things I'll ever do in my life"), but as a sailing partnership, Dobson and Tidey worked almost straight away. They have always been strong in the breeze, Tidey standing 1.88m tall helps, but they've worked hard over the past two years to iron out any weaknesses at the lighter end of the wind spectrum. Now Dobson and Tidey look like the full package and have every right to expect a medal from Tokyo.

The Scandinavian nations have a strong history in the 49erFX and Denmark and Norway are all ones to watch. Ida Marie Nielsen and Marie Olsen (DEN) have been at or near to the top end of the FX fleet since competition in the women's skiff began back in 2013 when they won the first European Championship. A third place at the 2019 World Championship is the high point of more recent years for this tight-knit crew.

The daughter of five-time Olympic medallist Torben Grael, can Martine Grael along with Kahena Kunze repeat their gold from Rio 2016? The Brazilians continue to reach the podium on a regular basis, most recently at two winter regattas in Lanzarote. Grael and Kunze seem to thrive on the big occasion, and they won on Olympic waters at the Test Event two years ago.
The 49erFX Olympic Page link has full athlete lists and link to resources.
By Andy Rice – World Sailing