The Magic Marine Morning Show - With Beau Outteridge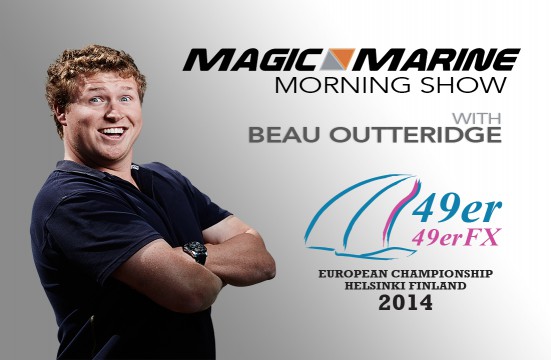 Enjoy daily coverage of the 2014 European Championship from Helsinki, Finland with your host, Beau Outteridge.  Join us for an offbeat discussion with the worlds best sailors.
2014 EC - Magic Marine Morning Show - Day 1
Crews and Skippers
Coaches Corner
Day 3 – Coaches Corner – A discussion of topical sailing issues
Guests: Ian Barker (GBR) – Ivan Bulaga (CRO) – Emmett Lazich (AUS) and Marcus Spillane (IRL) the 49er class president
The Rivalry - Outteridge Versus Burling
Day 4 – The Rivalry
Guests: Nathan Outteridge (AUS) and Peter Burling (NZL) are the top two high performance sailors in the world, and they compete against each other in all the high performance classes.  We discuss the rivalry, the boats, and Rio 2016!
Jurczok and Nielsen
Theatre Style Morning Show