Back to overview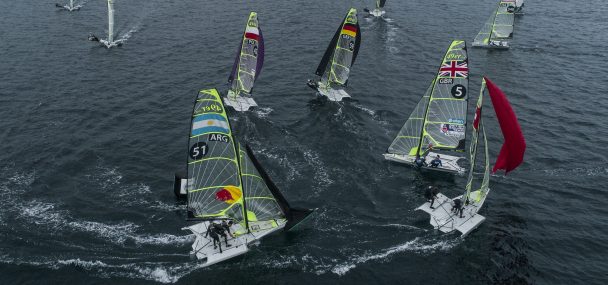 Kiwis are mortal, but still hard to beat
The legendary New Zealanders, Pete Burling and Blair Tuke, displayed some chink of mortality in the last race of the day by finishing 19th. However, their other scores of 3,6 put them in a strong position going into the final day of 49er European Championship on Sunday. The reigning Olympic Champions hold a 17-point advantage with just one more gold fleet race scheduled on Sunday morning before the 10-boat Medal Race.
The south-westerly breeze was very light out in Weymouth Bay, with the sailors bending their knees for the first time this week, in what has been a predominantly windy regatta. Diego Botin and Iago Lopez Marra have been chasing the Kiwis hard all week, but looked out of sorts today. After a solid start to Saturday with a 6th place, the smiling Spaniards could only manage 15th and 16th in the next two heats. Dylan Fletcher and Stu Bithell had a somewhat lacklustre outing with 7,12,14, yet the British team have moved ahead of the Spanish to hold second place overall by a single point.
Another British crew, James Peter and Fynn Sterritt, were able to close the gap on the top three thanks in particular to a runaway victory in the second race of the afternoon. The Rio Olympic bronze medallists Erik Heil and Thomas Ploessel must have dreamed of being able to move into podium contention after winning the first race of the day but could only follow up with two scores in the 20s, which leaves them in 6th overall, just one point behind their team mates and training partners, Justus Schmidt and Max Boeme.
Best performers of the day were Will and Sam Phillips who might have surprised even themselves with such a strong scoreline of 11,3,1. The Aussie brothers absolutely owned the final race as they sailed away to a victory of more than 200 metres. While they've always been strong in the strong winds, including some storming performances earlier this week out in the big waves, today the Southern Cross siblings proved they're no one-trick ponies and are world-class contenders in the lighter breezes too.