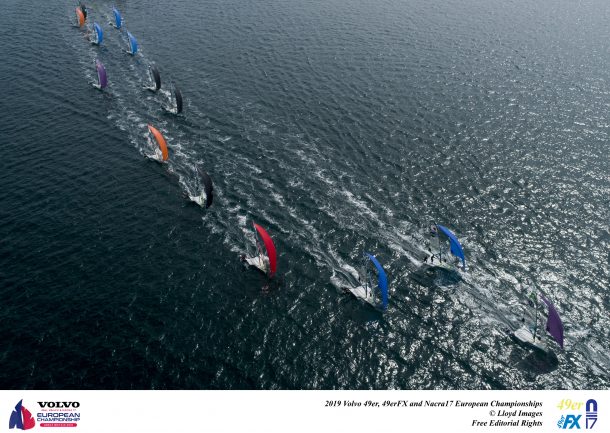 Lighter winds in Portland Harbour led to closer racing in the 49erFX fleet for day 3 of the Europeans. The top three boats all had a below-average race out of the three they contested today. The problem for the rest of the fleet is that for the Brazilians, Martine Grael and Kahena Kunze, their 'below-average' score was a 6th, which they are now dropping from their results. With nine races of qualifying now complete, the reigning Olympic Champions are counting four race wins, three seconds and one third place.
However, with the top 25 moving through to the gold fleet racing for the coming days, a four-point lead over the second-placed Brits, Charlotte Dobson and Saskia Tidey, really doesn't amount to much of a buffer. Dobson had a wobble in the middle race, finishing 13th, but she can drop this from her scores. The reigning World Champions, Annemiek Bekkering and Annette Duetz, got better by the race, scoring 6,3,1 and are just one point behind the second-placed Brits.
The Dutch girls are always smiling, despite the pressure of knowing that this is a must-win regatta as the concluding part of their Olympic trials. Their closest rivals for Tokyo 2020, Odile van Aanholt and Marieke Jongens, may have been struggling in the stronger winds of Weymouth (they sit in 18th overall), but their gold medal from last month's Hempel Sailing World Cup regatta in Genoa puts them in a strong position over the World Champions. Bekkering, while fully aware of the wider implications of success or failure in Weymouth, smiled and said simply: "We are enjoying the racing here, we're just doing the best we can each day, and we hope to win the European Championships."
The Olympic silver medallists, Alex Maloney and Molly Meech, had one of the best days on the water with 1,5,2 putting the Kiwis in fourth overall and still well in contention for the overall title. Then it's a 13-point gap back to the young Swedes – Vilma Bobeck and Malin Tengstrom – who have been tearing up the track in the stronger winds, but who struggled a bit more today. "I think the other crews were still fully stretched, but we were bending the legs a bit today," said Bobeck, one of the tallest girls in the boat park. "We'd love to have more of the big breeze, but we need to improve in the lighter winds too." The forecast for Thursday looks like more moderate breeze for Bobeck to stretch her legs, but then it looks set to drop lighter and flukier for the weekend.
49er News from Day 3 Qualifying
Nacra 17 News from Day 3 Qualifying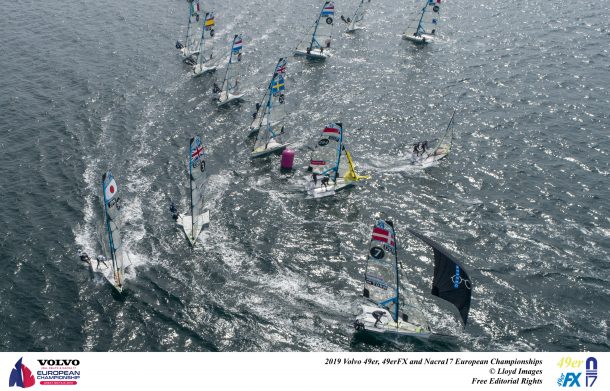 Regatta information
Results:
Results will be posted race by race, as they happen
Schedule:
Wednesday 8 May 1700 Beach Clean
Monday 13 May 1055 Qualifying Races
Tuesday 14 May 1055 Qualifying Races
Wednesday 15 May 1055 Qualifying Races
Thursday 16 May 1055 Qualifying or Fleet Races
Friday 17 May 1055 Fleet Races
Saturday 18 May 1055 Fleet Races
Sunday 19 May 0955 Fleet Races
1500 Medal Races
TBC Prize giving
Photography:
49er and 49erFX: https://49er.org/event/2019-european-championship/#photos
Nacra 17: https://nacra17.org/events/2019-european-championship-2/#photos
Live Broadcast:
1. 49er Sailing – Gold Fleet Day 1 – 2019 Volvo European Championship
URL https://youtu.be/b3fsnwNGyqQ
<iframe width="480″ height="290″ src="https://www.youtube.com/embed/b3fsnwNGyqQ" frameborder="0″ allow="accelerometer; autoplay; encrypted-media; gyroscope; picture-in-picture" allowfullscreen></iframe>
2. 49er Sailing – Gold Fleet Day 2 – 2019 Volvo European Championship
URL https://youtu.be/7pxYk7L_Q54
<iframe width="480″ height="290″ src="https://www.youtube.com/embed/7pxYk7L_Q54" frameborder="0″ allow="accelerometer; autoplay; encrypted-media; gyroscope; picture-in-picture" allowfullscreen></iframe>
3. 49er Sailing – Gold Fleet Day 3 – 2019 Volvo European Championship
URL https://youtu.be/OGd_TQC3qEY
<iframe width="480″ height="290″ src="https://www.youtube.com/embed/OGd_TQC3qEY" frameborder="0″ allow="accelerometer; autoplay; encrypted-media; gyroscope; picture-in-picture" allowfullscreen></iframe>
4. 49er Sailing – Gold Fleet Day 4 – 2019 Volvo European Championship
URL https://youtu.be/rxrV_BLsZ_k
<iframe width="480″ height="290″ src="https://www.youtube.com/embed/rxrV_BLsZ_k" frameborder="0″ allow="accelerometer; autoplay; encrypted-media; gyroscope; picture-in-picture" allowfullscreen></iframe>
5. 49er Sailing – Medal Races – 2019 Volvo European Championship
URL https://youtu.be/XBxlZofvxPc
<iframe width="480″ height="290″ src="https://www.youtube.com/embed/XBxlZofvxPc" frameborder="0″ allow="accelerometer; autoplay; encrypted-media; gyroscope; picture-in-picture" allowfullscreen></iframe>
Highlights, Interviews & VNR:
Between May 16 and 19, Icarus Sports will be producing:

A daily two-minute highlights video

VNR and interviews for news

Footage can be downloaded from the Icarus portal – https://portal.icarus-sports.com/
Please contact Will Carson to request interviews
Social media:
Please follow the @49ersailing and @Nacra17sailing class social media channels on twitter, Instagram, and facebook for the latest info from the regatta. On youtube the channels are youtube.com/49ersailing and youtube.com/nacra17sailing