Back to overview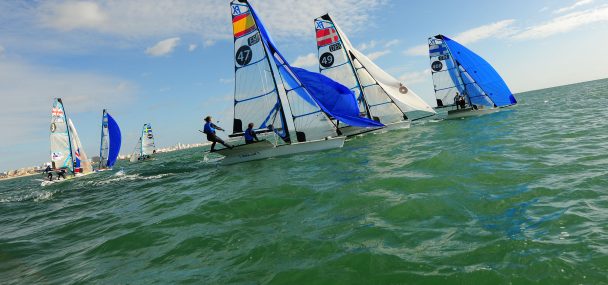 Denmark Dominant In Vilamoura
The 2018 Vialmoura Grand Prix was the final regatta of note in 2018. With 102 boats competing in total from 49er, 49erFX, and Nacra 17, this location has supplanted the Palamos Christmas race as the winter destination of choice within Europe.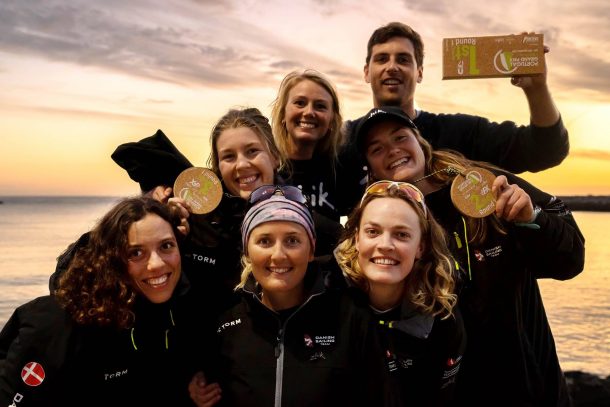 Denmark stole the show, taking Four of the Nine medals, including a medal in each class. Missing from the photo above are Jonas Warrer and Jacob Jensen who took Silver in the 49er.
That Denmark is the top nation while 2017 World Champion, Jena Hansen, isn't even racing any more speaks to the depth and strength of this cohort of Danish sailing stars in their primes. This tight knit group have been pushing hard since their teenage years, but always having fun and working together.
Check out some of the high speed action from the water.
The 49er regatta was the largest of the bunch. Diego Botin and Iago Mara took the win by 8 points. The duo didn't qualify for Tokyo yet, caught up in the Spanish mass disqualification from day 1 of worlds for impeding a ferry, but are surely one of the overall favorites.
Veterans filled out the rest of the podium, with 2008 Olympic Champion, Jonas Warrer with new crew Jakob Jensen taking second, while Poland's Lukasz and Powel came third.
The USA had a surprise top finish from Ian Barrows with Mitchell Kiss. The recently gradated Yale duo came 4th. Mitchell is new to 49er sailing, while Ian returns from a hiatus after failing to qualify in 2016. Their 4th place finish, 45 places higher than worlds, will surely give them hope for a chance at contender status as Toyko approaches. The USA also needs still to qualify for the Games.
Brits didn't claim any medals, but did manage 5th or 6th place finishes in each fleet. Their overall results were hurt when two teams didn't compete on the last day in order to return to the UK for the SPORTY awards show, a big deal in the UK. The Sophies were leading in the 49erFX at the time of their retirement from the regatta.
The fleet will return to Vilamoura for another Grand Prix in February, with the Miami World Cup in between.