We are pleased to announce two new events for 2018 which should suit our sailors plans nicely.
Nice UltiMED
The First Event is a big one, the Nice UltiMED. This is an event headlined by the giant trimarans  typically used for round the world racing. These huge Tri's with some of the worlds best offshore sailors will do some shorter offshore races with other feature classes added as shore-side entertainment. The 49er, 49erFX, and Nacra 17 have been invited along with three newish foiling classes, the Onefly, Easy to Fly, and Diam 24 OD.
The drivers behind UltiMED is the Amaury Sport Organization, who are most famous for running the Tour de France annual cycling race, but also run other events like the Dakar Raley and Paris Marathon. "This is a huge sports event company and we're thrilled to be teaming up with them", said class president, Marcus Spillane.
The UltiMED also serves a secondary purpose, as it runs back to back with the Hyeres World Cup. The World Cup circuit has limited participation limits under this new concept, so some teams will not be able to race. This will give another racing opportunity in the South Coast of France for campaigners looking to make a trip to Europe.
As for the show, it should be fantastic. Each fleet will have 4 days of racing plus a medal race. Each fleet should also be on the live TV course at least once during the week, in front of large crowds and hopefully giving their sponsors some extra exposure outside of the normal sailing channels.
For details on the 49er and 49erFX portions of the regatta, see the event page.
For details on the Nacra 17 portions of the regatta, see the event page.
Vilamoura Grand Prix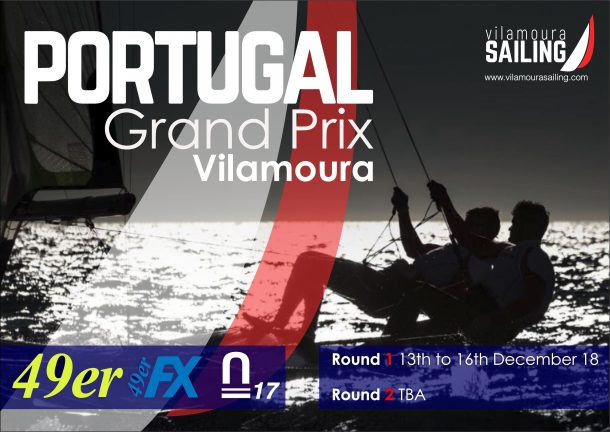 For those following along with your favorite teams this winter, you'll probably have noticed a huge congregation of sailors in Vilamoura, Portugal. With it's temperate conditions through the winter and progressive attitude to putting sailors first, the 49er and Nacra 17 classes are thrilled to announce we've teamed up for a Grand Prix regatta in late 2018. From December 13th to 16th, 2018 we'll run a four day regatta and suspect many top and developing teams will add the event to their winter plans in order to get some easy and useful extra racing.