Back to overview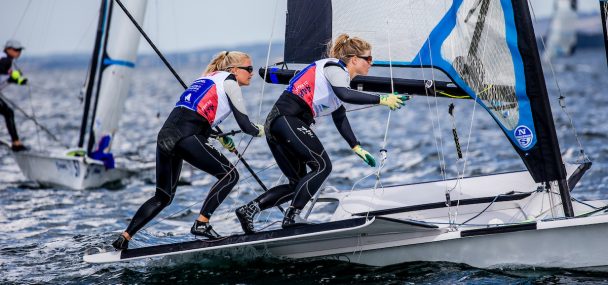 Circumnavigators Find Their Way Back in Shore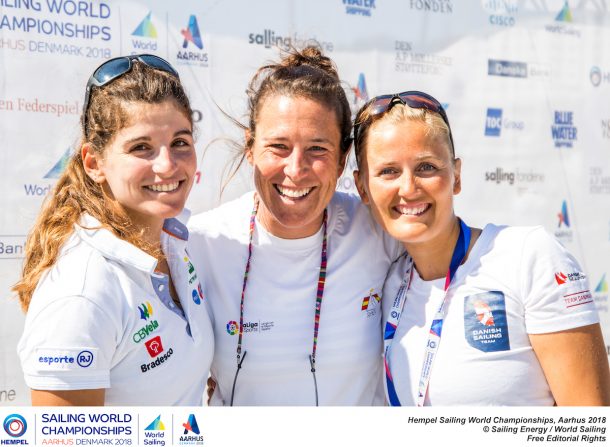 The 49erFX fleet had their first day of competition on Saturday in the Hempel Sailing World Championships Aarhus 2018 on the Stadium Course and the three circumnavigators were back in crews of two on their Olympic class 15ft (4.9 metre) skiffs.
The return of the prevailing Aarhus offshore westerlies were testing, but the roar from the promenade as Denmark's home favourites Hansen and Katja Salskov-Iverson returned after winning two of their three races to top the leaderboard told the story.
"We just went really close to the stadium out here on the pier and it was amazing," Hansen said. "Everyone was cheering and waving and it's obviously incredible being home. It's not like anything we've seen before."
The fleet of 60 boats was split into two and before Hansen, Grael and Echegoyen Dominguez were slightly slower to re-find their feet, and the Spaniards had a spectacular capsize in race two as they crossed with Grael at the front of the field. They did well to finish 23rd out of 30. But it was no surprise to see Grael, the Rio 2016 Olympic champion, and gold medallist at the 2014 Santander World Championships, win the last of her three races with the Spanish chasing them home in second. Form is temporary, class permanent.
"I came straight here from Holland and for me the first week was a lot of adapting, especially physically," Grael said. "I was feeling very far behind on fitness. Although you'd think I would come back stronger from the Volvo I didn't. So, it was a whole month catching up and then the sailing of course was horrible, we had coach regatta and we were almost last. It was really terrible.
"I feel a lot of camaraderie with them (Volvo trio). For all of us it's definitely a new experience to be coming back and not being at our best."
Grael had 20 days of training, Hansen 13 and Echegoyen Dominguez just 10. But they were united by camaraderie rather than a lack of practice.
"It's very nice that we have each other and that we can go to each other and that we've been through a lot of the same things," Hansen said. "We will definitely use that in this Olympic campaign, but also on the Volvo it was great to chat with each other and have someone with the same issues."
Those sentiments were echoed by Echegoyen Dominguez. "The Volvo Ocean Race is a little bit different and it's so hard on most of the crews and it makes you all a little family," she said. "In this case, the three of us already had a strong friendship before the start of this race but I think that now it's a bit better than before."
Although some things never change: "But we are the same because we're always fighting against Martine," Echegoyen Dominguez added with a smile that hinted at the battles to come.
Of course, nobody had told the Dutch not to crash the Volvo party – after all they did host the finish in The Hague at the end of June. Odile van Aanholt, 20, and Marieke Jongens, 30, only combined in February but they looked like old hands yesterday finishing with the best results of the day: second, first and fourth.
"Yesterday, I said, wow, we've got almost the toughest fleet of everyone, because we've got a lot of good people," Jongens said. "But we just focused on ourselves."
You could feel the anxiety in the boat park before the racing started. The wind kept on shifting above the rigs, going from five knots suddenly up to 15.  There was less cloud cover than forecast and the cumulus clouds drifted out over the race course, losing their heat source of the land and dumping wind onto random parts of the course.
Even Grael said she was anxious as she prepared to launch and when Grael says she is nervous then it is serious. For the Danish sailors (and residents) the westerlies were a soothing and familiar balm after months of unusually tropical high-pressure conditions. 
49er
A win in their final race saw New Zealand's Logan Dunning Beck and Oscar Gunn top the leaderboard ahead of the two French crews.
They said:
David Gilmour – Australia – 49er
"We had three tough races. Everyone knew these offshore breezes are challenging.
The last couple of weeks we've just had sea breeze, so it was different to the conditions we were training in for the last two weeks. During the first race we were in the lead, approaching the top mark and Joel fell overboard. He was adjusting the trapeze and let go of it, the hook dropped out and he slipped in. We lost about 50 metres from the whole incident. The 49er fleets are packed so it's hard to call any rivals at this stage. The points are so close, we are just focused on not making any mistakes."
Dylan Fletcher-Scott – Great Britain – 49er
"It was a tricky first day for us. We had some really good windward legs and mark roundings but luck didn't go our way downwind. That cost us a lot in the first two races, but in the third race we got it together. We picked up a couple of less than ideal results today and we'll have to carry them the rest of the week, but I think everyone will have some high scores."
Benjamin Bildstein – Austria – 49er
"Our first race was amazing, we managed a bullet. We've been struggling with preparations before today, and we didn't have much training, compared to most.
These westerly winds are always tricky, especially if the air is much closer to the shore and the forest just above. Tonight we will party, go to this live music festival and grab some food."
Josh Porebski – New Zealand – 49er
"You can't win the regatta yet, but you can lose it if you get two bad races to start with. The first two races, we sailed well and managed to keep us in a good spot, we are happy with that.  The last one, we thought one thing was happening, but we were both wrong and got caught with our pants down."
By Matthew Pryor