What do Nathan Outteridge, Sime Fantela, and Tanja Frank all have in common? They all won medals in Rio, have taken charge today in Aarhus, and are sailing different classes than they were sailing 2 years ago when they won Olympic medals!
Aarhus has proven to be a challenging venue, with offshore winds, lots of varied conditions, and high average scores in all of the fleets. It seems the teams excelling in these conditions are the ones fresh to these classes, but with plenty of experience behind them.
Frank and Abicht Push Into Lead – 49erFX
Heading into the 49erFX medal race it is Tanja Frank and Lorena Abicht (AUT)  with an 11 point lead. They are a relatively new team to 49erFX, with Frank moving over from the Nacra 17 after crewing to a Bronze medal in Rio in the Nacra 17. She is now helming for Abicht, who is in her first Olympic campaign after sailing 470's while studying. These two joined forces right after Rio, and have been completely dedicated to their campaign, attending all of the major regattas and putting in the long hours of trailing.
They have sailed a consistent series when almost nobody else has been able to do so. In the qualifying racing, exclusively done in offshore shifty and gusty conditions, they kept all of their results in the top 10 except for one finish of 25th. In the gold fleet, they won two of the races, had another pair of top 10's, and then kept their two poorer finishes in the top half of the fleet. Their reward is a commanding lead.
The Austrians do not have gold secured, as three teams can still beat them should they falter. Sophie Weguelin and Sophie Ainsworth (GBR) won the Bronze medal at the 2018 European Championship and are in second place overall. The two British Sophie's also teamed up after Rio, and sailed an oustanding gold fleet, with 4 of their six races in the top 4, and the other two in the top half. Just 3 points behind them are Annemiek Bekkering and Annette Duetz (NED), who looked for a time like they might run away with the regatta, but had two deep scores in gold fleet which they had to keep and pulled them back into the mix.
Local heroes Jena Hansen and Saskia Iversen (DEN) wore yellow jerseys after day 1, but struggled in the first day of gold fleet before having an excellent second day of gold fleet to have them sit 4 points out of Bronze, 7 out of silver, and 18 out of gold. The Olympic Bronze medalists are literally all over Aarhus, with their faces on city buses and TV. Jena just recently got out of offshore sailing mode having competed in the Volvo Ocean race, so their form is not yet back to full power. An excellent medal race might grab them another medal, though it would take an extreme set of circumstances for them to repeat as World Champions. Oddly, in Olympic sailing, the rumor is that if they can't secure any sponsorship quite soon this may be the end of their campaign for Tokyo as they may not have enough financial support to continue.
Rounding out the top 5 is another Volvo Ocean Race alumna in Martine Grael. Grael with crew Kahena Kunze won gold on home waters in Rio, and have a renewed application for racing their 49erFX. After a year at sea for Martine, and a year on the books for Kahena, they are reveling in the renewed Olympic competition and will be pleased to have had a good regatta even if they are not yet in their peak form.
The top 8 nations also receive Olympic berths for Tokyo. These nations, pending invitation and acceptance from World Sailing and their NOC's are:
AUS
AUT
BRA
DEN
GBR
NED
NOR
NZL
 Medal Races Link – Saturday August 11, 2018

49er – Olympic Berths Tough To Get
One of the biggest names in Olympic sailing, Sime Fantela, is having his best ever 49er regatta at the right moment. After winning gold in Rio 2016 in the 470, he teamed up with his brother Mihovil to start sailing 49er. His reputation from the 470 fleet was impeccable, sometimes called the miracle man for being an over sized helm and still dominating the 470, those who see him sail know he's earning every break.
Catch this video from the 49er Europeans and focus on the Croatian flag near the start line… look at the work rate he's putting into getting a good start in this sequence! A starting clinic if there ever was one!
After a four of six gold fleet races, the Fantela Brothers (CRO) have been dominent, with all four races in the top ten, including a first and a second. In yesterday's controversially abandoned first, first race, he was leading after the second top mark and would have secured another race win had the race not been cancelled.
The two final races of gold fleet mean that there are still plenty of points remaining to decide this World Championship!
The Fantela brothers are tied atop the leaderboard with youngsters, Tim Fischer and Fabian Graf from Germany. This duo has been working together as a team through the Junior ranks of 49er, with a 13th place finish at the 2015 Junior Worlds and then a second place finish at the 2016 Junior Worlds. They have had curtailed seasons in 2017 and 2018, as they are still studying, but are on a great roll and could easily take home a world championship here in Aarhus. They sail, they study, and they have fun. Tim, like many German sailors, is also a sportssoldier, meaning he's in the German army and mostly serves through competition, but also partakes in some aspect of more typical army training.
Chasing them are their countrymen and Rio 2016 Bronze medalists, Erik Heil and Thomas Ploessel. These two are 12 points back of the tied leaders. Both Erik and Tommy have had broken up training years, as both are still students as well. Speaking to the depth of the German squad and how well they work together, each has spent time sailing with last quads number 2 team mates, Justus Schmidt and Max Boeme at various regattas as they each flexed with the school commitments while trying to stay in the 49er game.
In with a chance at medals are Sebastien Schnieter and Lucien Cujean (SUI) to go with their GC32 World Championship this year. They'd also be thrilled to secure the Olympic berth in what is turning into an ultra-competitive Olympic qualifying phase in the 49er.
Overnight leaders Lucas Rual and Emile Amoros (FRA) had a dreadful day, with only one result from 4 races better than 20th, a 14th in the final race. They drop from the championship lead to 9th place and were only 1 more point away from missing the medal race all together.
Notably, Dylan Fletcher with Stuart Bithell (GBR) have moved up into the top 10. The 2017 World Champions have squeaked into 10th place after a tough qualifying series which included poor results on day 1 and a UFD on day 2. Had they not won back to back qualifying races to close out that series they likely would not have made the gold fleet at all.
The 49er gold fleet has two scheduled races on Friday in a windy forecast. The 49erFX fleets have a day off tomorrow before both fleet have their medal races on Saturday.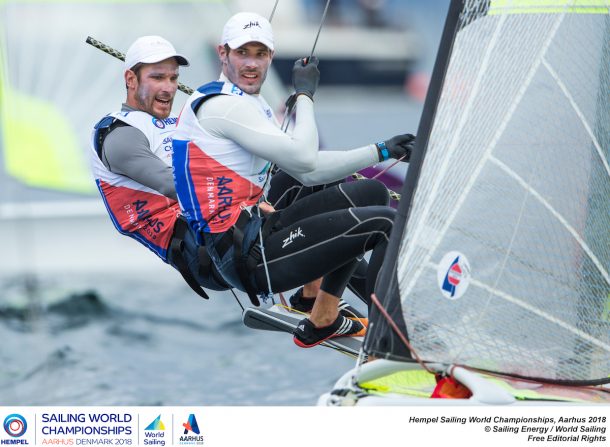 49erFX Top 5 – Full Results
1            AUT      Tanja Frank, Lorena Abicht                         71
2            GBR      Sophie Weguelin, Sophie Ainsworth          82
3            NED      Annemiek Bekkering, Annette Duetz         85
4            DEN       Jena Hansen, Katja Iversen                      89
5            BRA       Martine Grael, Kahena Kunze                   96
49er Top 5 – Full Results
1            CRO       Sime and Mihovil Fantela                           48
2            GER        Tim Fischer, Fabien Graf                           48
3            GER        Erik Heil, Thomas Ploellel                          60
4            SUI         Sebastien Schnieter, Lucas Cujean            66
5            NZL        Logan Dunning Beck, Oscar Gunn              67
Playlist of 49erFX Gold Fleet Races