Back to overview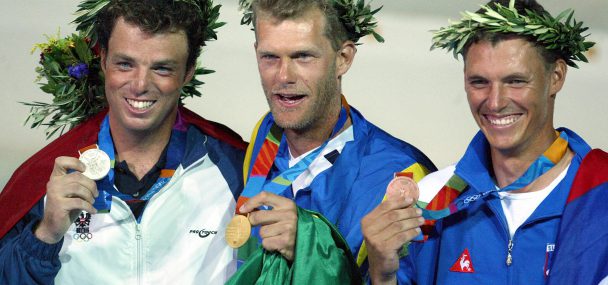 How Sailing Treats Its Legends
Winning a Masters is the highest achievement in Golf. It's something every golfer aspires to and the image of the winner donning a green jacket echo's for ages through golfing lore. While golfers have been slow to attend Olympics, they flock back to the Masters each year, all previous winners invited in perpetuity continuing to build their legendary status.
For sailing, the equivalent is the gold medal, unequivocally a sailors highest competitive achievement, and respected by all… except World Cup organizers. After widely celebrating Robert Scheidt's switch from laser to 49er in Miami, with a hugely popular tribute video that was widely promoted, the 5 time Olympic medalist was not invited to Sailing World Cup Hyeres, the French leg starting Tuesday.


Instead, Robert continues to practice with other SWC rejects on Lake Garda, no doubt content training in sailing's paradise, but his absence should leave the rest of the sailing world scratching their head. How is it that our World body is so focused on promoting sailing that their flawed implementation can leave legends out in the cold? The source of the acrimony is a paper written in 2009 stating that Sailing should have a world cup circuit where the pinnacle annual achievement is no longer winning the World Championship, but rather winning the Sailing World Cup Final. This vision was reinforced in 2013 when World Sailing flirted with hiring Mark Turner to lead the Sailing World Cup, and he also endorsed an elite circuit view with property owned by World Sailing instead of the sailors and classes. We're now 8 years down this vision, no closer to any meaningful commercial returns, but enduring all the hardships of this elite vision.
Within Olympic Sailing there is broad support for a more commercial approach to Olympic sailing. The challenge has been that World Sailing has only succeeded in implementing items within their direct control, like limiting the size of regattas, but has not succeeded in turning their vision into a viable product nor tangible commercial support.
The root of the conflict is that World Sailing have concluded that there should be a limited field of the same sailors across all the Sailing World Cup's in order for the series to be successful. This makes running regattas simpler, with no qualifying series, fewer course areas, and simpler scoreboards.
Our view is that the number of boats that begin a regatta is largely inconsequential to the commercial success of sailing, and that the focus should be on the publicly consumed product, the televised final days of racing. Eight years into this project we still don't even know if the sailing world even likes what we're producing, since so few people have ever watched a multiclass regatta finish? Does the sailing or sporting public like watching 10 medal races over 2 days? That's really the only question that needs answering and then optimizing upon, yet World Sailing spends it's time and energy on fine details with limited if any impact.
Here at the 49er class, we like to provide solutions as well as observing problems. The simplest solution to this conflict is for World Sailing to drop its insistence on the same small quota's at every event and instead compromise to make the global Olympic sailing circuit work. Simply double the quotas in Miami and Hyeres each year. That gives younger or transitioning sailors a couple regattas a year they have a better chance of attending, while retaining size certainty for regatta organizers. The SWC Final can remain at 20 boats per fleet, and the Sailing World Cup in the Olympic venue can remain at a simplified single fleet size.
There is no need for sailors to commit to the whole series, every event should stand on its own in terms of attracting sailors. The public certainly don't care who starts a regatta, they're focussed on who's in contention on the final day. These are simple changes to make chasing an Olympic dream less onerous for all. After all, we'd hate to have to write the same article again in a few months' time finding out that Burling and Tuke don't have enough ranking points to attend any regatta they want.