Post regatta, the next step for most sailors is to review, analyze, and improve performance based on what they recall from the races. Post World Series in Hyères, France, however, sailors are now examining every detail of each race within their own boats and relative to each competitor, courtesy of SAP sailing analytics.
SAP analytics (derived from Systemanalyse und Programmentwicklung) are gaining more and more momentum in the sailing world, with the novelty of GPS tracking on each boat to record and compare countless elements of a single race.
Imagine the benefits of replaying a race with the ability to view your exact speed, position, and lane on each leg of the course at any given second. SAP displays a wind chart to explain speed and angles, a competitor chart to offer relative performance data, and even an analysis of the start alone, with position and speed at each second leading up to the signal. It also shows data of cross track error (XTE), or the extra distance sailed upwind from course middle line on either side.
Using this wealth of information, sailors can discover which legs of a race carried more personal and relative boat speed, which legs they sailed the shortest distance, and which lanes turned out to be the most beneficial. They can hone in on specific moments, or look at data averages to explain overall results.
Applying it to the 49er fleet at SWC Hyères, we can look back and see for example, in Race 5 P Sylvan/Anjemark (SWE) who finished behind Botín Le Chever/López Marra (ESP), had a higher average boat speed but sailed a longer total distance from start to finish, which held them right behind the Spanish team. In Race 7, Botín Le Chever/López Marra (ESP) sailed the shortest total distance and Phillips/Phillips (AUS) showed the highest average boat speed throughout the race. But it was Fletcher-Scott/Bithell (GBR) that took the 7th win by maintaining a relatively high boat speed while simultaneously sailing a comparably short total distance.
Ultimately, SAP sailing analytics introduces technology to sailing in a way that allows sailors to review performance, spectators to follow regattas, and coaches to pinpoint areas of improvement. The days of tracking regatta performance from memory and videos are slowly coming to an end, replaced by a treasure trove of information and technology!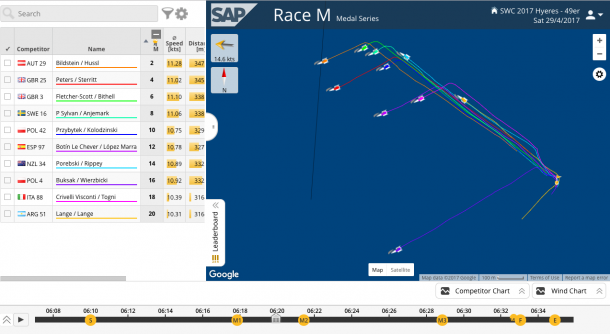 For more information: https://www.sapsailing.com/gwt/Home.html