Back to overview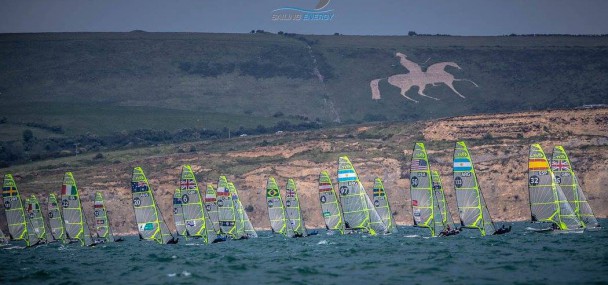 Morning Nerves Shaken Off By Beautiful Breeze
There were a few morning nerves amongst some of the competitors at ISAF Sailing World Cup Weymouth and Portland with the forecasted 30 knots never materialising ensuring a beautiful day of racing.
A north easterly breeze, not shy of a shift or two, came in at 14-17 knots ensuring another day of strong competition with a full complement of racing completed.
At the midway stage of the fleet racing, the leaderboards are starting to shake up and give an early indication as to who will come away with the ISAF Sailing World Cup medals, a share of the prize fund as well as an Abu Dhabi Final qualification spot.
Live Medal Races on Sunday – that will be available to view from 11:00 local – will bring the competition to a close.
49erFX
Alex Maloney and Molly Meech (NZL) were the stand out performers in the 49erFX, taking a pair of bullets and a second.
The Kiwis move up from second to first overall and have a slender advantage over World #1 pair Martine Grael and Kahena Kunze (BRA).
"We had a really good day today. Everything kind of felt easy and we were going quite fast and that always helps," smiled Meech. "It was quite good racing and everyone was going really fast. If you made a mistake you were going to get passed but if you didn't, then you were always going to pass people."
In advance of the docking out a few of the 49erFX sailors had helmets at the ready in anticipation of big breeze but things turned out a little differently as Meech explained, "Most of the weather forecasts today said we were expecting 30 knots. I know for our fleet most of the girls don't handle that stuff so well so we were all nervous heading out. In the end it turned out to be a glamour day with 12 knots and really nice waves. It was perfect."
Maloney and Meech are amongst the leading competitors in the 49erFX and have the potential and know how to medal at each event. Most recently they finished seventh at World Cup Hyeres and have been working hard to get back on the podium, "We've got a few things to work on for the rest of this regatta. Our starts have been a focus for us and things are starting to come together. We'll look to push on from that and try to get a great result from this regatta."
Grael and Kunze, 2014 ISAF Rolex World Sailors of the Year, are snapping at the heels of the Kiwis and trail by three points. They took the day's other race victory and coupled with a second and a third remain firmly in the hunt.  There is a real intensity at the front of the 49erFX fleet these days with a larger pool of teams able to win races and regattas than every before.  There must be a dozen teams that fell like with a good 14 month period they could medal in Rio!
Overnight leaders Maiken Foght Schütt and Anne-Julie Schütt (DEN) slip to third overall following a 6-(8)-4 scoreline.
Six fleet races remain in advance of Sunday's Live Medal Races so anything can and will happen.
49er
Victor Bergstrom and Victor Vasternas (SWE) have amassed three bullets from six races in the 49er and subsequently lead. They took the first two race victories on the second day and discard their 12th to sit on 23 points.  Vasternas said, "We really up to speed both upwind and downwind, which is the building block.  It has been really tricky conditions with big pressure differences and we have been able to read the pattern really well.  
Sweden also has a new coach in long time 49er sailor Lauri Lehtninen.  The squad is sailing well together and Vasternas continued, "We got great help from our fellow Swedish training partners and also our new coach, you could call this the Lauri effect;-)"
Marcus Hansen and Josh Porebski (NZL) claimed the days other race victory and are second overall on 26 points. Their compatriots Peter Burling and Blair Tuke (NZL) are third overall on 30 points.