With almost half of the regatta to occur on a four race final day, and half a dozen of the best 49er teams in the world in striking distance, Peter Burling and Blair Tuke dominated to all but lock up at 17th straight victory.  The Kiwi duo's streak dates all the way back to the Weymouth Olympic regatta in 2012, when they were beaten for the gold medal by Nathan Outteridge and Iain Jensen.  Since that date, the team have been unbeaten in all 49er sailing competitions, and showed why today.  Their day scores of 1, 2, 2, 1 are unrivalled and they managed to put up heaps of points over a number of other teams that had very solid days by normal standards.
The regatta got off to a slow start for Burling and Tuke with them scoring a 12, 7, 25, which would have sat them outstide the top 10 were it not for the odd drop race system employed at ISAF events.  That was one of their worst scoring days of the quadrennial, though it was in an odd direction with large pressure and angle changes throughout the day.  Perhaps the rest of the fleet caught a glimmer of hope that there would be an opening atop the podium.  In the coaches regatta leading into Hyeres in April, they were narrowly beaten by Outteridge and Jensen but then went on to dominate that world cup, and so it was again here in Weymouth.
With the Olympic rings on the local hillsides much of the media discussion was about looking back to that Olympic event and comparing the scene now.  Outteridge and Jensen (AUS), Gold Medalists from London, had the second best day on the water with a 3, 4, 6, 9 but after a disaster for them on day two they only move up to sixth overall with just the medal race to go.  In reality, the podium at this years ISAF Sailing World Cup in Weymouth is going to look more like it did at the 2013 49er World Championship than the 2012 Olympic regatta.
First and second to Kiwi teams is how the quadrennial kicked off as they finished one two at the 2013 World Championship.  Technically, Burling and Tuke can still get passed by countrymen Marcus Hansen and Josh Porebski, who sit 18 points back, but that would take a 1 versus 10th outcome, or a 2nd versus letter score and there is no reason to that will occur.  What is guaranteed is that it will be New Zealanders claiming the win.  Hansen and Porebski still have some work to do however as they must fend off third overall Victor Bergstrom and Victor Vasternas from Sweden who are 10 points behind them.
Burling had this to say about having such a strong set of home country training partners earlier in the week, "We've been training with Marcus and Josh through the NZ summer, and if we can't beat them we can't beat the rest of the world so we'd much prefer to be up there on the podium with them than anyone else."
Also like at the 2013 World Championship, a third Kiwi team finds themselves in the lead.  Alex Maloney and Molly Meech had a fantastic day with a 3, 1, 5, 6 and hold a 5 point lead over 2014 World Champions Martine Grael and Kahena Kunze from Brazil.  These two teams often train together through the Southern hemisphere summers, and it appears to be paying off for them.  Not that the 49erFX fleet has much of a form guide.  There are a huge number of teams that realistically have a shot in Rio, it seems right now what matters is who can put together a good week.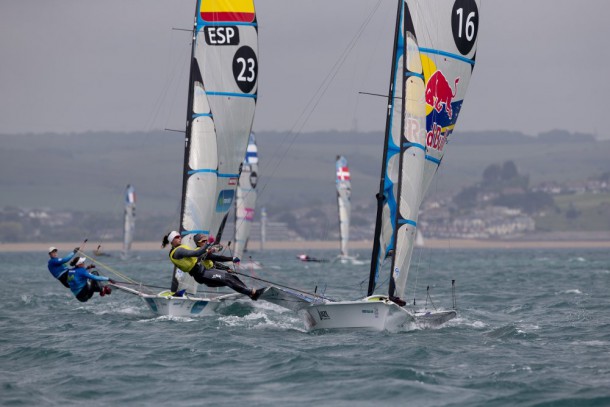 The 49erFX fleet got somewhat diminished through injury during the windy pre-regatta and early days of the racing.  Italy's Giulia Conti, Britains Charlotte Dobson, Australia's Tess Lloyd and Olivia Price, and Holland's Nina Keijzer all were forced to withdraw from recent crew injuries.  These high performance boats have the ability to ravage teams as they learn, and we're seeing that now after a few months of very breezy conditions during racing.
The 49erFX medal race should be a very competitive one, with all the 10 teams separated by only a hand full of points each all the way through the standings, so there will be plenty of teams looking out to improve in the standings.
The medal races start at 11:00 am local time and all links, results, and videos can be found at https://49er.org/event/2015-weymouth-world-cup/