January 24th 2022 Newsletter
To clarify previous posts about the new spreaders in 49er, here is a full summary.
Failures. There have been three types of failures reported to the builders:
1) Spreaders slipping off the spigots, glue failure.
2) Spreader cracking
3) Spreader shearing at the point of exit from the spigot
To be clear, outside of the testing area in Australia there have only been a small handful of cases, the majority of teams have not had problems.
There are 3 solutions.
1) Contact whoever sold you the spreader and they will perform a pre-emptive repair. The repairs Ovi and Mackay are doing look like the picture here, and since they are done by a builder, this makes the spreaders class legal. This is a single wrap cut into a taper, so there isn't a single stress point.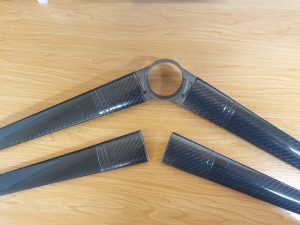 2) Sailors Repair. This is a repair that can be done by any sailor. It's as per the video circulated by Julian. The two bands of wrapping tackle the shear and crack issues, and is a very strong solution. Video link.
3) In about 3 months time, there will be an updated version of new spreaders that comes from the factory. It will have the extra wrap built into the spreaders, but underneath the top layer of cloth, so the wrap won't be obvious other than having a bulge in that spot.
With regard to how you should expect to be dealt with by whoever sold you your masts. If your spreader breaks due to the errors listed above, it is the class expectation that it is warrantied for you by the builder. Likewise, most builders are doing the pre-repairs for teams, obviously accounting for the various geographies and locations. The half price offer refers to your next spreaders, as most teams end up carry a spare, so it is separate from any warranties that might be needed.
Opportunity to reuse old spinnakers and ropes
As part of our sustainability efforts, the class has made arrangements with a clothing company, La Virgile, to upcyle your old spinnakers and ropes.
The spins can be turned into pockets for new clothes, and the rope material can go into their backpacks. Details are on the graphic below, but bring your used up gear to Palma and it can be collected for further use.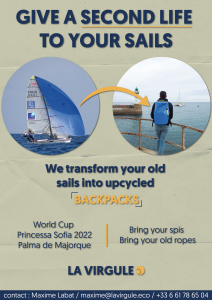 World Sailing Update about the Hague and Paris
World Sailing held a team leaders meeting virtually yesterday and here are the accompanying slides and links.
– No 2022 Test Event
– Limited space to train in the Hague
– Some details on qualifying for the Hague and signing up for training.