A Totally Different Challenge Show Top Teams in Full Command of their Skiffs
Fleet racing at its best is meant to challenge teams to race across a variety of conditions in order to discover who is best. A phrase uttered dozens of times at elite regattas, Burling and Tuke (NZL) win the day to move into the lead. They used every tool they possess in a day of racing as nailbiting, precise, and uncertain as sailing can be, and emerged with a 3, 6, 2.
"We always knew it was going to be a challenging day for us in those kind of conditions," said Tuke. "To come back with three low ones is pretty pleasing. It was a heck of a fight."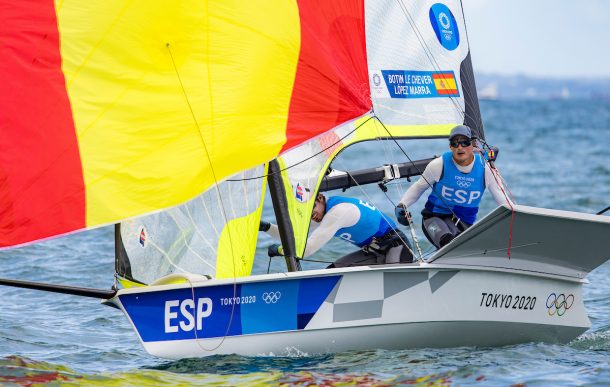 Unlike other regattas, however, the Kiwis are not free and clear, but rather tied on points with both Dylan Fletcher with Stuart Bithell (GBR) and Diego Botin with Iago Marra (ESP). The Spanish and British teams also had strong days, each with two good races and a drop race in the mid-teens to stay at the top of the table. This 49er regatta is shaping up to be a fantastic challenge, and the Worlds best are emerging.
It looked like this trifecta of teams would be joined on top by two more, as Germany's Erik Heil with Thomas Ploessel and Denmarks Jonas Warrer with Jakob Precht Jensen each sailed extremely well in the first two races before mediocre third races. These teams remain in contention for the medals, but are a handful of points behind.
The regatta enoshima has been extremely challenging. Most of the racing prior to today was in full power conditions, with large and mixed up waves. A half dozen power teams thrived under the challenge. Day three was a very different challenge, requiring extreme concentration, a nuanced touch on the boat, patience, and savvy. Five of the six teams did well and remain in the hunt, showcasing a great test of complete sailing skill.
Polish win their first race, battle for the medal race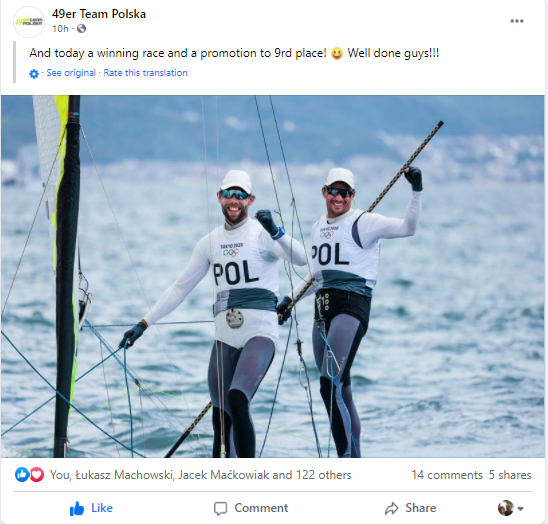 For a handful of teams like Poland, Austria, Croatia, the Netherlands, Australia, and more, their gold medal dreams are losing touch with reality as this regatta unfolds. Each of these teams is capable on their day of reaching the top of the table, but it does not seem like this regatta is going to be their chance.
For veterans like the Polish, have had long careers and overcome great challenges. Kolodzinski broke his leg almost exactly one year ago and faced a very challenging recovery. At times the ability for him to keep walking was under question, let alone continuing his Olympic path. But the team is here, and now aiming to move up the table as best they can with the few races which remain.
Irish Perspective on Disqualification
Robert Dickson and Sean Waddilove talk to us about how they are dealing with the double DSQ from day 3. It's easy to see how the pair have a bright future in skiff sailing. They talk about the work they do to check and double-check all of their equipment but maintain responsibility for their error. They also realize the big picture, which is their ability to compete with the very best in sailing on a challenging day is the more important takeaway from this Olympic regatta.
Four FX Face-Off For Fantastic Finish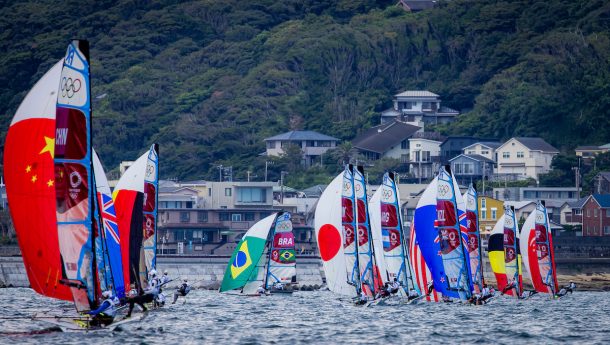 Bekkering with Duetz (NED), Echegoyen with Betanzon (ESP), and Grael with Kunze (BRA) each handle the day, moving into the podium positions while Dobson and Tidey (GBR) stumble without falling from contention.
In just about the lightest conditions that can still be considered fair sailing, the 49erFX fleet saw a shuffle atop the standings. Teams like Argentina, Singapore, and Norway sailed at the front of the races, showcasing how different the regatta might have been if it hadn't started under such powerful conditions. The contenders each faced major challenges on the day, each dealing with them to varying degrees of success.
Grael with Kunze (BRA) overcame difficult starts all day long to score the fewest points of the leading group through a mix of shift finding on the right side of the course and downwind magic. They managed to win the first race by a fair margin and managed a huge comeback during the second race to move from deep in the fleet into sixth in the second race. It looked like their downwind sorcery would continue when they again were on the move in the third race but their final downwind failed them a bit to finish 11th.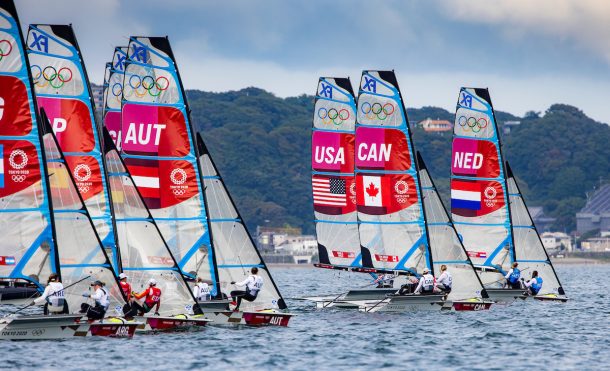 It was a different day for the Dutch leaders, Annemiek Bekkering with Annette Duetz, who started brilliantly all day to sail into the overall lead. They could have faired even better had their pin-winning start in race one been rewarded. Instead, that became their worst race of the day, a twelfth, as the ride side came in hard up the first beat. They stuck with their plans, however, and scored a five, six to complete a very tricky day.
"We got good starts, the boat was going fast and we managed to find some good lanes in the tricky breeze. It's a different style of sailing from what we have done the last days in the big wind, and I think we adapted well."
In the last quadrennial, Echegoyen (ESP), then sailing with Berta Betanzos, might have had nightmares ahead of a critical light air day. That team's Achilles heel was the light, but with new teammate Paula Barcelo and a dedication to light air sailing, this 2012 Gold medalist had a fantastic day with a 13, 4, 5, to move into second place, only one point behind the leaders.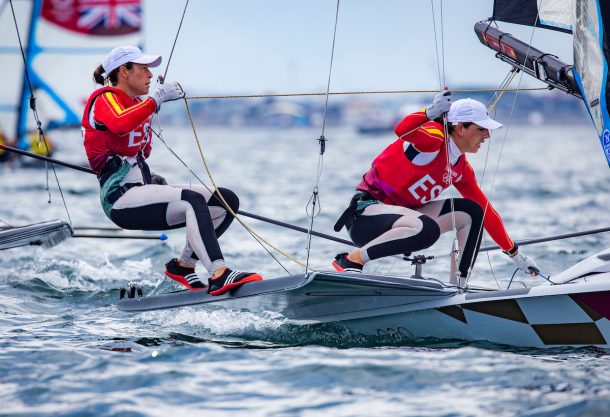 Speaking of nightmares, that's how the day went for overall leaders from the first two days, Charlotte Dobson with Saskia Tidey (GBR). Their previous run of all top six performances was interrupted by the light conditions, where they couldn't get off the line and seemed to get plenty of bad luck if they got any luck at all. They were frequently battling with the Brazilians on the right side of the course, but unlike the Brazilians could not make their gain stick finishing each of the three races in the mid-teens. Their regatta was saved by having sailed without a poor race over the first two days, so they did manage to discard their worst score, a 16th, but now sit one point outside of the medal positions with three races and a medal race remaining.
The provisional medal podium is made of the only two teams to win two 49erFX World Championships, and the other team is the Brazilians who have won just one World Championship but also Olympic gold.
Also struggling were the Danish pair of Nielsen and Olsen who had three races they'd prefer to forget and have fallen out of overall contention.
Naess and Ronningen (NOR) medalled at the European Championship in each of 2018, 2019, and 2020. Many thought they might break into the elite ranks of pinnacle championship victors here in Tokyo but the start of their regatta did not go well in the bigger conditions. Their 4, 10, 2 on the day moves them into 10th overall.
The best days were had by two teams known for their light air prowess. Travascio and Branz (ARG) had a 6, 1, 8 and looked confident all day long moving into eighth overall. Lim and Low (SGP), who are each optimist world champions, scored a 3, 2, 7 for low points on the day and move up to 13th.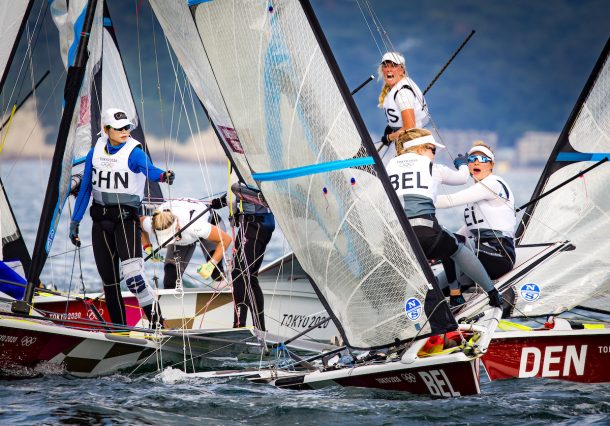 Racing continues with the final three fleet races followed by the medal race. Follow along at the 49er Olympic page.
The Nacra 17 fleet also continues its opening series. If you need to catch up on how tight that fleet is, here's a primer.