Back to overview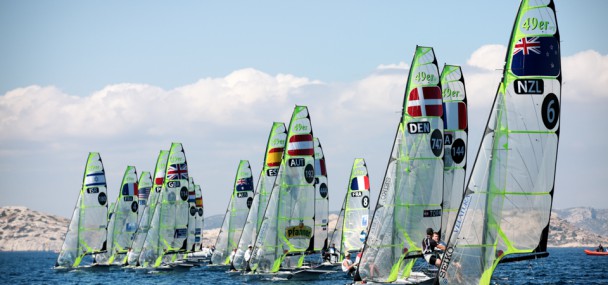 150 skiffs – 28 nations – 2 World Championship Titles
The wind required a bit more waiting today.  Suppressed by the high heat yet registered this morning (30 °), the small breeze characteristic of the bay of Marseilles is creeps sheepishly in at 13:00.  And it was time!
In the starting blocks since 9:00 this morning the 300 sailors eagerly scan the horizon.  For three weeks the majority of them have been training in Marseille and it is time for the competition to begin!
In early afternoon, the 150 skiffs have finally invaded the basin water stage Roucas Blanc to join the racing areas. And good gentlemen that they are are, the 49er (men) who started the ball rolling !
2 rounds were launched at the 49er over 3 areas of south harbor race.
The group of 49erFX ( women) could finally join the dance around 16:00 and in turn run two races in similar conditions of navigation, that is to say, quite light and very tactical in 6 knots of wind .
The 49er Course (men)
Results : http://49er.org/wp-content/uploads/2013/06/Day-1-49er-Overall-Results-after-race-2.pdf
Leading are the British Dylan Fletcher and Alain Sign, European champions who "performed" today.  Always first on the starting line, they still had some good lead on their many opponents.  They wear the yellow jersey tonight attributed like in the Tour de France,  as the best crew overall.
"This is a very good first day for us!  We won the two races sailed in our group.  We've done some great things on the water.  It was a good start to capture the little wind and quickly escape from the fleet.  We will do everything to keep the momentum going.  We trained the past three weeks in hellish conditions with strong mistral and this week the conditions are quite opposite. But we were able to adapt," said Dylan.
The 49erFX Course (women)
http://49er.org/wp-content/uploads/2013/06/Day1-49erFX-overall-Results-after-Race-2.pdf
The 53 women's teams race for the first time in a world Championship.
It is the consistency that pays the girls side.  Among the top 5 at the end of the day, none of them has won a race but sailing constantly are the Singapore team of Griselda Khng and Sara Tan: "The sailing conditions are familiar to us because it is those that we often encounter in the Bay in Singapore.  So we certainly have an advantage over other teams who discover this little time after 3 weeks of strong mistral!  The weather forecast announced this week seem to suit us to achieve the goal we have set: the top 10! "
Action resumes tomorrow at 11:00.
Tomorrow in the late afternoon on the top 40 going to experience in the 49er and the top 20 in 49erFX … the best teams to claim a qualifying round for the "gold"
MORE INFO
http://49er.org
http://www.ycpr.net/nos-actualites/championnats-du-monde-de-49er-et-49erfx-series-olympiques-367.html
https://www.facebook.com/49ersailing?ref=ts&fref=ts