Sailing is a sport of taking your opportunities and a big one is dangling in front of the New Zealand crews competing at next week's Hyundai 49er, 49erFX and Nacra 17 world championships.
As many as 19 Kiwi combinations will line up among the 206 crews from 41 countries competing at the world championships at the Royal Akarana Yacht Club in Auckland and many of them are using it as a chance to see how they measure up against the world's best.
They all got a taste of it today at the Hyundai Oceania Championships, the three-day warmup regatta before next week's world championships, and a couple of the younger ones banked some good results in the 49er fleet.
Under-23 world champions Isaac McHardie and William McKenzie won their first race and then backed it up with two more scores in the top 10 to leave them in third overall in the 84-strong fleet.
Jackson Keon and Scott McKenzie also won their first race while a couple of 'youngsters' by the name of Peter Burling and Blair Tuke carded three solid results to finish the day in seventh.
It helped illustrate the depth in the wider New Zealand 49er squad and the fact the world championships are at home has accelerated the development of many of them.
"It started our campaign and got us out there a lot more than we might have," Scott McKenzie said. "We have been pushing a lot.
"Today's results just shows we can do it. Given our skills at the moment, anything is possible."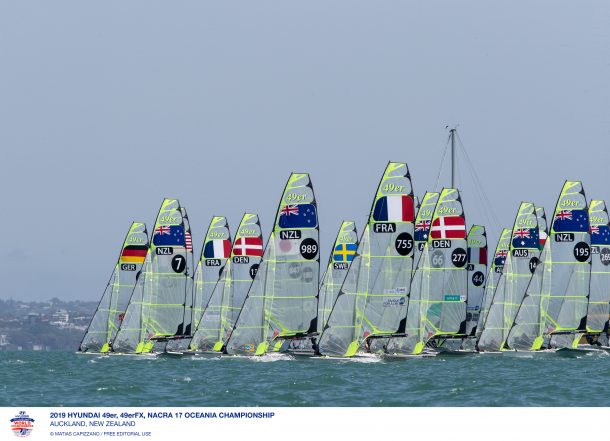 Keon and McKenzie teamed up about 18 months ago and competed at both Kiel Week and the under-23 49er world championships this year and are aiming to make gold fleet at next week's world championships.
The long-term target is the 2024 Olympics, although there is no shortage of crews who will be aiming to win the spot in the 49er for New Zealand to compete in Paris, not least of all McHardie and William McKenzie. Needless to say, it will also mean a fair amount of family competition between the McKenzie brothers.
"It's good having William at home because I can just ask him whatever, although he gets pretty annoyed about it at times," Scott said.
McHardie and William McKenzie already have plenty of experience on the world stage and, as well as their under-23 world title, also collected silver at the World Cup Series regatta in Genoa and won the Red Bull Foiling Generation world championships.
"We want get on the podium [at the world championships], for sure," McHardie said. "Definitely the medal race and show New Zealand what we can do."
The world championships are a rare chance for a number of New Zealand's top Olympic-class sailors and emerging talent to compete on home waters.
A lot of attention will undoubtedly come on four-time world champions and 2016 Olympic gold medallists Burling and Tuke, as well as Alex Maloney and Molly Meech in the 49erFX. There are also three handy New Zealand crews in the Nacra 17, and all three are all in the top 14 after the first day of the Oceania championships.
Maloney and Meech are fifth in the 49erFX after carding two seconds and a 13th in their three races.
Results from day one are available at 49er.org