Day Two Round Up
Yet again, the wind was light in Marseille today!  After a slight postponement, the boys were sent out to get 3 races on the board.
Being tracked today were the Red fleet in the 49er and the Blue fleet in the 49er FX. We saw some really close racing, in tricky, shifty conditions, but unfortunately conditions deteriorated during the day, meaning the blue fleet girls only managed to get one race in this afternoon.
Magic Marine Starting Competition (Green Jersey)
In the 49er fleet, the French boys (d'Ortoli & Delpech) had three consistent starts and managed to secure the Green jersey going into tomorrow's racing (the final day before the fleets split into the championship fleets). The Kiwi pair of Hansen and Porebski came a close second followed by the British Pair of Lloyd-Williams and Batten.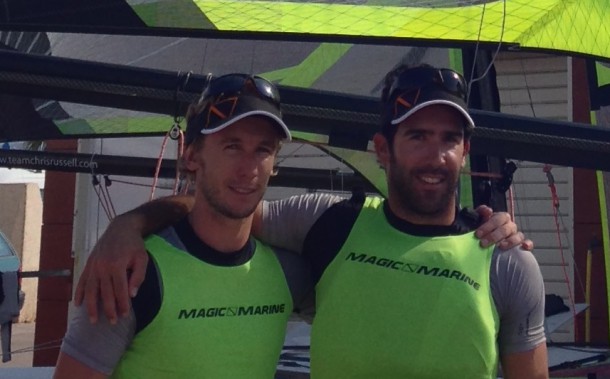 In the girls fleet, the German pairing of Leone Meyer and Maren Hahlbrouch in GER 777 managed to get a great lane off the line and secured the lead round the windward mark, earning them the green jersey tomorrow morning. The Dutch girls in NED 110 were a close second, followed by the Kiwis in NZL 484.
The Seiko King / Queen of the Downwind Competition (Purple Jersey)
Showing dominance downwind today were the Kiwi pair of Burling and Tuke in NZL 2 putting them 4th overall after 5 races, on level points with the other Kiwi pair of NZL 6 who also showed finesse on the start line today.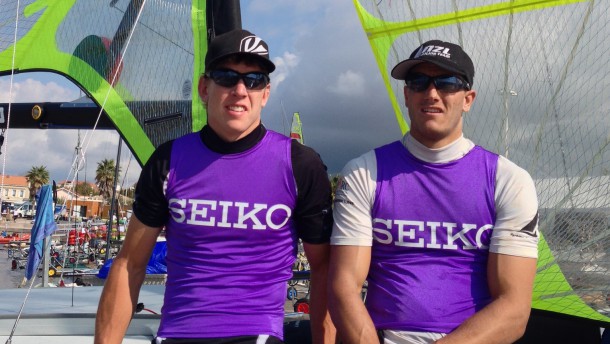 In the women's fleet, it was much harder to determine the winner, as we only had one race to go on, but showing great boat speed, coupled with some sweet tactical calls, the Kiwi pair of Dawson & Copeland gain the purple vest for tomorrow's races.
Weather is looking very similar tomorrow, and we have a bit of catching up to do. Lets hope the weather in San Francisco is favorable, so we can see the winners of the Americas cup crowned tonight!
Top Young Sailors (U24) Team (White Jersey)
In the 49er fleet Benjamin Bildstein and David Hussl are having a great start to the regatta.  They remain in 5th overal, and will wear white again tomorrow.
The overall leaders from yesterday in the 49erFX, Singapore's Grizzy Khng and Sara Tan, had another good day but fell back slightly into second.  They will have to discard their yellow jersey for white tomorrow.