35 of the 40 skiff teams heading to Rio know it, leaving five squads awaiting the decision of their national selectors.  At Sailing World Cup Hyeres a new 49erFX medal contender joined the ranks as the Dutch system winds up sending Annemiek Bekkering and Annette Duetz to Rio, a team right at the top of their game right now.  Lets take a look at the remaining 5 national teams that must still choose who to send and for reference check the 2016 Olympic page (results tabs) to review who has already been selected.
49er
British Sailing Team with 3 contenders
Swedish Sailing Team with 3 contenders and a national decision on accepting the place
Italy with 5 contenders
Belgium with 2 contenders
49erFX
Australian Sailing Team with 3 contenders
The results table below shows all the teams results from the Porto European Championship through Sailing World Cup Hyeres.  For the most part, these selectors have a very difficult task ahead of themselves.  It's a job they gave to themselves though, so there is no sense if feeling sorry for them.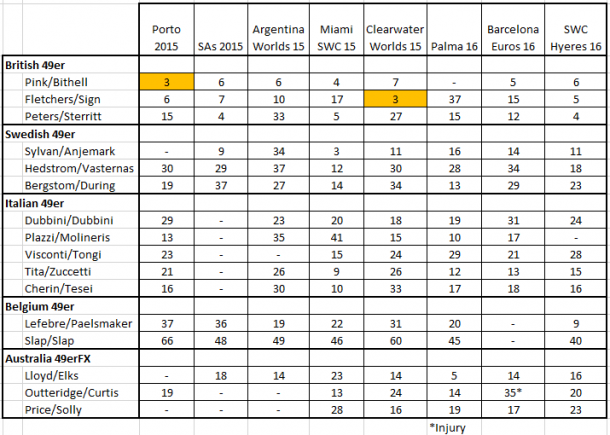 There are a couple selections that should not be too tough.  The Belgium 49er selection should be clear, as ever since Yannick Lefebvre teamed up with Tom Paelsmaker they have been on a charge up the rankings.  They were the team to make it into gold fleet in Argentina which ultimately qualified the country, and have put in a number of good performances in a row including a medal race appearance in Hyeres.  It seems likely the Beldium selectors will make the easy choice leaving the Slap brothers to look toward the future.
The Swedish selection also seems relatively clear, with Sylvan and Anjemark consistently the top team except for a poor 2015 Worlds.  The funny thing about the Swedish system is that they also must convince selectors they have 'medal potential' in order to be sent.  It's an odd phrase, as everyone attending the Olympics has potential for medal, as this is sport, it's just the odds that change… that's the optimistic view, buy hey, look at Leicester City in the EPL who started the season at 5000-1 underdogs ad will win the title.  The contrarian view is that there are no medals left to claim… once Burling/Tuke grab gold and Outteridge/Jensen wrap up silver then there is only 1 medal left, and with Denmark, Britain, Germany, France, Austria, and others right at the top of their game then there is no shot.  This sort of 'qualification factor' is quite un-Olympian and really Sweden should get out of the habit of trying to make these determination and just send the teams that have worked so hard!  Either way we should find out soon.
Word from the World Sailing Office is that if the Swedes turn down their spot, it would fall to Canada as the next highest placing team at the 2015 World Championship that does not yet have a place at the Olympics.  Click on the result list from the 2015 worlds, with teams that had not qualified for the Olympics highlighted in blue.
That leaves three countries with pretty tough choices to make.
The British Sailing Team selection is thought to be a points based trials, kept secret to avoid interference.  Being secret means we can only report rumours like medals are weighed quite heavily and it stretches as far back as Porto 2015 Europeans.  Of course, being secret also means that we have no idea if any teams were placed on double – secret probation at any point or if consideration will be given to a team 'on the rise' like Peters and Sterritt seem to be.  Pink and Bithell have been unbelievably consistent, with all top 10 finishes for a whole year.  However, they've converted relatively few good positions into podium finishes, just the one back in Palma 2015.  Further, the points gaps between them and their British rivals have often been very close.  Fletcher and Sign had the breakout performance they've been looking for at the 2016 Worlds, grabbing the Bronze medal, but since then have had some inconsistency, a number of poor days, and trouble with boatspeed at times that have pushed them back in the standings.  We're not sure when the British Sailing Team will announce, they may just wait even longer since there is no 100% clear choice yet.
The Italian 49er chase is the largest and most open in the whole fleet.  Fully 5 teams have been charging all quadrennial and they have had multiple teams be the top team at various events.  It seems a shame that selectors will make this decision, as with so many teams so closely matched, the cleanest solution is to let them fight it out on the water and be done with it.  If it were a trials where everybody knows when and where to perform, and whoever does the best gets to go, then it's easy for teams to acknowledge the results.  If selectors don't communicate well after such a long and close fight, there could be a lot of hurt feelings and loss of trust in the Italian sailing scene.
The final selection is from down under, where the Australian Sailing Team has three strong contenders to become the final female skiff team selected for Rio.  It's been a tough task for the AST, with teams switching partnerships though the quad, new sailors introduced, and then the return of Nina Curtis who went off to sail Nacra 17's for a while.  The teams have also fought injuries at different times making it difficult for selectors to make their choice.  The rumours were that the three regattas in Europe this spring will be the determining factor, and if this is the case then it will be hard to argue against Tess Lloyd and Caitlin Elks, who were the top Australian team at all three events including one medal race performance in Palma.  However, Olivia Price won a Silver medal at the last games and Outteridge/Curtis faced another minor injury along the way, so some could argue to leave the contest running further.
As the 2016 quadrennial counts down, the focus on the Olympics sharpens up.  We know almost all the players, and these last few months will be filled with just a couple regattas left to see who can keep learning the fastest and peak at the right moment.