July marks the 20 year anniversary of the ISAF evaluation camp that flung the 49er onto the sailing world.  The 49er showed up from down under to take on the likes of the 5o5, the Boss, the laser 5000, and the I14.  Instantly the world knew the 49er was a beast to be tamed, and those with ambition have since lined up to try and tame her.
Compiling the list of champions was a fun task of trying to recover early internet news and the names were also interesting.  Over 18 World Championships there are 9 winner, most still household names!  Eight of the nine World Champions have chased the Cup and/or Volvo and five find themselves still racing one another at the top of the World Stage, yet none have won a big professional prize yet!  So it begs the question of these ultra competitive sailors… who will be the first to win a Volvo Ocean Race or America's Cup?
The World Champions
1997, 1998, 1999 – Chris Nicholson – Competed for VOR in '08/'09 and in '11/'12, second both times.  Currently competing in VOR '14/'15 but boat on hard after hitting a reef, unlikely to win;(
2000 – Santiago Lopez Valquez – Skipper of AC 2007 Spanish Challenge
2001 – Jonathan & Charlie McKee – Competed on OneWorld in 2003 America's Cup
2002, 2004, 2010 – Iker Martinez and Xabi Fernandez – VOR into third place in '11/'12 race.  Now jointly skippering the Mapfre Team in the '14/'15 race.
2003, 2006 – Chris Draper – Helmsman of Prada at the AC 34 and assumed helmsman of Team Prada for AC 35
2005 – Rodion Luka – Sailed of the ill fated Team Russia that competed in the '08/'09 Volvo Ocean Race but had to stop half way round as the team ran out of money during the global financial meltdown
2007 – Stevie Morrison – Actively competing in 49er
2008, 2009, 2011, 2012 – Nathan Outteridge and Ian Jensen – Nathan and Ian helmed and mainsail trimmed Artemis Racing in AC34 and are the assumed top pairing for the same roles in AC 35 for Artemis
2013, 2014 – Peter Burling and Blair Tuke – Named Helmsman and assumed mainsail trimmer for Team New Zealand for AC 35
Who Will Be First?
So back to the question, which of these World Champions will be the first to win a Volvo Ocean Race or an America's Cup?  First, lets separate the group by one simple characteristic – single winner or multiple winner.  A 'Fab Five' who managed to win more than one World Championship seems to be the price of admission to lead on the pro stage.
The Contenders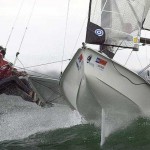 The next thing to look at is timing.  Two of our Fab Five are competing in the Volvo right now, but their odds aren't great at this point of winning the current race.
Chris Nicholson –   Virtually eliminated from a chance of winning this Volvo is Chris Nicholson who's Vestas VOR 65 struck a reef in the Indian Ocean forcing them out of the race until it returns to Europe.  Nico was a pioneer in the 49er after getting into skiffs via the Aussie 18's.  He dominated the first few years of 49er and won more Olympic races in both 2000 and 2004 than anyone else coming up short on the podium both times.
In terms of winning his first pro prizes, Nico is going to have to wait until the next Volvo, and since he hasn't dipped his toe into AC land yet, he's least likely to be the first to win at this point.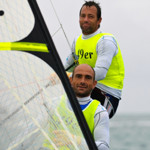 Also in this years Volvo are Iker Martinez and Xabi Fernandez, who are leading the Mapfre team.  The Spanish duo who have been third already in the VOR and on paper have one of the strongest teams  Further, over the years have been one of the most bankable pair of sailors results wise in anything they have done.  Iker, famous for his ambition and drive, Xabi, famous for having the engine to make it all work.  The pair had a rough go at the end of the last Volvo Ocean Race and then went straight into London 2012 in the 49er finishing poorly by their standards in 12th overall.
Since then Iker decided to try a Nacra campaign and is on his second crew for that effort already.  That's left Mapfre with a rotating cast of sailors as Iker shares focus between his Olympic ambitions and the VOR.  So far, it is not working with the team in 5th position almost half way through the race.  The odds are not in their favor to claim the title, though as always they should not be counted out.  Further, with Iker's ambition and Xabi's reputation, they may yet get snatched up by an AC team so give them something to do in 2017!
America's Cup 35
So assuming 2015 is not the year for a 49er World Champ takes a Volvo, next up is AC 35 in Bermuda, and three members of our Fab Five are in the the running.  Just like at AC 34 fully half the fleet at the America's Cup will be helmed by 49er World Champions.  Last time Draper's Team Prada and Outteridge's Artemis Racing had to contend with each other, James Spithill's Oracle, and Dean Barker's Team New Zealand.
AC 35 despite the negativity is off on a stronger footing than AC 34 was and there are 6 teams who can be considered legitimate:
Oracle is in it to win it, like always, and must be the odds on favourite to win again given their track record and funding.  However, given how close they were to loosing AC 34 and the fact the other teams are likely to be stronger this time the regatta should be very competitive.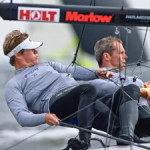 Chris Draper was a perfect choice as helmsman for perennial competitors Team Prada.  Prada started chasing AC 34 quite late and committed to two campaigns from the start.  The bought Team New Zealands designs to get a jump start but were still well behind on scheduling.  Draper is a classic sailor who is great at balancing risks, playing the long game, saying the right things and putting in the work.  We saw his style when he raced 49er and we saw it again at AC 34.
Chris is a risk reducer; in 49er racing he's on the text book, usually starting 30% down from the favoured end, balancing the fleet, rounding the top mark in the top 10, and picking off teams one by one after that.  When he was at the top of his game he had the boat handling, speed, and manoeuvres to keep his risk tolerance low and produce extremely consistent regatta finishes, including plenty of time at the top.
At AC 34 we saw that on full display.  Against Artemis racing, where Prada had the speed advantage and boat handling edge, especially early with the foiling gybes, the biggest risk for Prada was collisions and fouls.  Chris kept it safe and generally aimed for safe second at the start line knowing Prada allowing Nathan Outteridge to be the aggressor, but ensuring no major mistakes were made.  This was the safe bet and a winning strategy knowing they could rely on their speed and boat handling to make their passes and take their opportunities, which is exactly what happened.
Then we saw Prada come up against mighty Team New Zealand, a team they must have known had them covered on speed and boat handling given their time spent practising together.  Draper did not change his game, however, and even with core elements like speed and boathandling not in his favour in the Semi Final against TNZ.  He could have upped his aggression level and risk threshold to try and take aim at Team NZL, but in the end fell meekly.  There was a point in that round where TNZ were always leading into the leeward marks and Prada routinely followed them around the leeward gate after TNZ matched them downwind.  Draper commented, "It's just too hard, there isn't enough hydraulic pressure in the system to do a 'gybe douce' around the leeward mark and force the split."  One round later we saw that's exactly what TNZ and Oracle had pushed themselves to be able to do.
In any case, Prada is in vastly different shape for AC35.  They already have two AC foiling 45's practising, and a talented race team.  While they are not the favourites, Draper has a chance.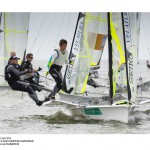 Nathan Outteridge with Ian Jensen – Artemis racing have assembled a golden horde of Olympians boasting 7 Gold medallists at last count.  Grabbing the tiller from that bunch is likely to continue to be Nathan Outteridge, a young sailing phenom who has continued to deliver through his prime Olympic years and into the pro ranks.
Nathan is a pure racer, with enough athletic skill to let is boat feel, wind reading skills, and race winning confidence run amok over all competitors he's faced.  He sails a lot of boats, from 49er to A-Cat to Moths along with his AC duties and is the first of the modern group of high performance Olympians to really win over the match racing and Star/Finn class sailors that dominated America's Cup for generations.
Long time coach Emmett Lazich and Nathan love to push the technical envelope and are analytical about sailboat performance.  That will give Nathan a great intellectual footing into America's Cup territory, which relies so much on design, build, and sailing synergy.  He'll likely be able to give some of the best feedback of all helmsman to his design team much like the process in F1 is done at it's best.  Nathan is articulate and can intellectualize what's happening on a racecourse and sailboat as well as any sailor there is.  After Artemis was eliminated from AC34 we got to hear just how good he is in race analysis thanks to ACTV.  It's that kind or precise and facile feedback loop, allowing a team to really improve daily, which could make Nathan the best man on the tiller for a team.
It will be interesting to see if Nathan's lack of match racing pedigree matter in the modern America's Cup.  There really is no play book to follow yet as the races that were close at AC34 provided little in the way of guidance for when it's better to cross, duck, control the right or go for shift/puffs like developed under the previous paradigm of America's Cup sailing.  If enough teams can get up to speed for AC 35 we may start to see a playbook or tactical script develop but it seems unlikely given the speed of the boats relative to their length.  It seems more likely that a pure racer like Nathan will be able to think on his feet fast enough to give Artemis a chance in every race that is close.
AC 34 was not kind to the Artemis team, getting the design basis wrong from the start with regard to foiling and with the tragedy to Andrew (Bart) Simpson.  It was amazing to see Ian Percy really step up as a clear leader in the months following the accident with Artemis showing defiance and determination to field a team and get some races under their belts.  That team building and experience could be vital to the core of Artemis going forward allowing them to be considered a true contender in AC 35.  They are well funded, have started early, and if they can keep giant egos along with a team full of regular huge egos in check they may have something.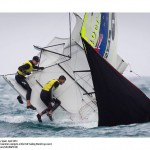 'Pistol' Peter Burling and Blair Tuke – Pete and Blair are the newest and youngest sailors into the pro elite.  While they are young, they are already double Olympians and Silver medallists, and multiple world champions.  There has been plenty of discussion among 49er sailors on just what this duo is doing to be so dominant in the class, with the like of Team GBR employing a Pete cam trained solely on them during races and the like.
One observation about their sailing stems from the fact that Pete is a bit bigger than your average 49er helm.  He's tall, fit, and strong, leading to speculation that some of their outstanding downwind speed comes from the fact they can get their weight farther back in the boat.  There is no doubting Peter's physicality, and he works the 49er hard, much harder than has been the style.  49er was sailed for years with a light touch, with teams aiming for steadiness and smoothness, so as not to disturb flow.  Peter and Blair, on the other hand, work the boat hard, especially in manoeuvres.  Peter is hard onto the handles in and out of tacks and gybes, using his body to work the boat.  It's reminiscent of the leap laser sailing made when it became Olympic, and incredibly fit sailors learned not just to survive a full race hiking, but to add a constant input to the boat.  Check out this pre-start at the 2013 Europeans to watch him work the boat.
The other thing Peter and Blair do is sail a lot.  They have made it abundantly clear that they are chasing the 49er gold medal hard for Rio and will put in the work to get there.  Team New Zealand seems to have embraced this approach of having the sailing team fully into sailing mode, it fits nicely into the Kiwi philosophy of being great yachties.  While teams like Oracle are rumoured to have told the likes of Slingby to get sailing more, TNZ will not have that issue.
Pete's commitment to 49er changes the team leadership dynamic typical of AC somewhat.  Typically the guy on the helm is also the team leader, look no further than Jimmy Spithill at AC34, out in front for his team even when things were looking dire.  With Burling and Tuke keeping their focus on the 49er, TNZ leadership will have to fall on another's shoulders.  This is probably a best case scenario given the age of Burling and Tuke.  To burden them with leadership would be a risky proposition given it's their first AC.  However, de-coupling helmsmanship from leadership can be tricky as well, and relies on the role definitions and egos of the fully invested sailors.  If either group lacks trust in the other, it could get ugly quickly.  Nobody likes the hot shot afterguard, highly paid and with lofty names, who jets in at the last minute without respecting and the commitment the rest of the crew have developed.
The Rundown
For 49er sailing fans, optimistically you might say there's a 60% chance of Prada, TNZ, or Artemis taking the next cup lead by a 49er World Champion.  Heck, Iker and Xabi could still come back in the Volvo and take the current race.
More pessimistically you'd say that Oracle will bend the rules to suit them, Ben Ainsley never looses, TNZ doesn't have the money, Prada are in it for style rather than substance, and Artemis are a seven headed hydra that will implode under the gravity of that many egos.
So have your say, who will be the first?