HIGHLIGHTS:
– Big wind and high waves 49er and 49erFX fleets in Lanzarote
– Olympic gold medallist Anna Tobias (USA): "Maybe the biggest wave I've ever seen!"
– Double Olympian Saskia Tidey (GBR): "Defo the Biggest Wave of My Life!"
– British on top of skiff fleets with Black & Tidey (GBR) take FX win and Peters & Sterritt (GBR) win 49er
– The 'calima', the dreaded Saharan dust, shuts down visibility and prevents much racing
– Four days of Nacra 17 & iQFOiL windsurfer competition start on Tuesday
British skiff sailors surfed to the top of the rankings in the two skiff classes. Freya Black & Saskia Tidey (GBR) held their nerve to move to the top of the 49erFX women's fleet while teammates James Peters & Fynn Sterritt (GBR) did the same in the 49er men.

Big wind and huge, steep swell set a massive physical challenge for the three Olympic fleets on day two of the Lanzarote International Regatta in the Canary Islands. The back half of the regatta was interrupted by a dust storm from Africa, the Calima, which allowed only the medal race to finish the regatta.

Even launching the 49erFX fleet had its hairy moments, the wind was gusting hard through Marina Rubicon as the women launched their frisky, disobedient skiffs onto the water. The racing was a war of attrition with multiple nosedives, pitchpoles and capsizes in the huge, unforgiving swell.
 
Where traditional boat travel at more or less wave speed a lot of the time, the 49erFX always wants to overtake the wave, and that's where the trouble really begins. Learning how to throttle back is sometimes more important than putting your foot to the floor.
 
Emerging unscathed and on top of the leaderboard was the still quite new pairing of Freya Black and Saskia Tidey (GBR). While Tidey has been to the past two Olympic Games in the 49erFX, Black is barely a year in this demanding class. Which made her mastery of today's conditions all the more impressive.
 
Tidey was buzzing from a big day out. "Pretty full on, but fun, massive waves," she grinned. "Thankfully we kept a dry mast for all three races, plenty of points where we were nearly going over but Freya did a great job of keeping the stick in the sky.

In the medal race, Freya Black and Saskia Tidey (GBR) were going to be hard to beat. The British crossed the finish line in fourth, giving them the gold medal. Italy's Jana Germani and Giorgia Bertuzzi made a late charge across the finish to grab silver from the Americans, Steph Roble and Maggie Shea who took bronze.
 
A year ago Black had barely trapezed off the side of any dinghy, let alone a high-performance skiff like the 49erFX. Working with the experienced double Olympian Tidey, Black has made phenomenal progress in a short time. "I'm so, so buzzing and so proud of what we've done here this week," said Black. Tidey added: "We're slightly ahead of where we want to be and it's a great start to a really important year as we build up towards qualifying for the Paris Olympics.
 
"We've had a really good training block here in Lanzarote. We've been here for three years now and the conditions just deliver every single time we've been here, The people involved are so committed to make this Regatta training centre happen and I can't really think of anywhere else we would train in the winter than at Marina Rubicón."
"That was Big!"
"To be honest," continued Tidey, "I think I saw two of the biggest waves in my career today. Bigger than in Tokyo, but we survived them and that's all that matters. A lot of time I was head in the boat, trying to look after ourselves and keeping out of trouble, so I'm only just realizing now how much of a big day it's been with breakage and injury. It's an epic venue and Marina Rubicon is putting on such a great show here, we're really enjoying it."
Almost as consistent as the British scores of 2,4,1 were the Italians, Jana Germani & Georgia Bertuzzi (ITA) who won the first two heats and were sixth in the last. However, their mast tip snapped soon after the end of the last race. "We haven't had a moment to think about what we did just now," said Germani as she and Bertuzzi rushed to prepare a new mast in case the fleet was sent out for an afternoon session. "We were sailing in after the races and a fitting at the top of the mast broke so we need to hurry to get ready again."
The Italians have moved to second overall with Steph Roble & Maggie Shea (USA) posting a solid day to climb to third place, just ahead of yesterday's leaders, Olympic Champions Martine Grael & Kahena Kunze (BRA). The medal race to complete the regatta decided nothing and that's how the standings remained as the 2023 Lanzarote International Regatta concluded.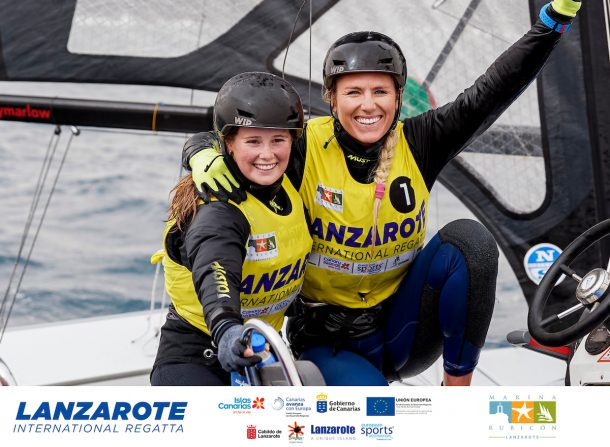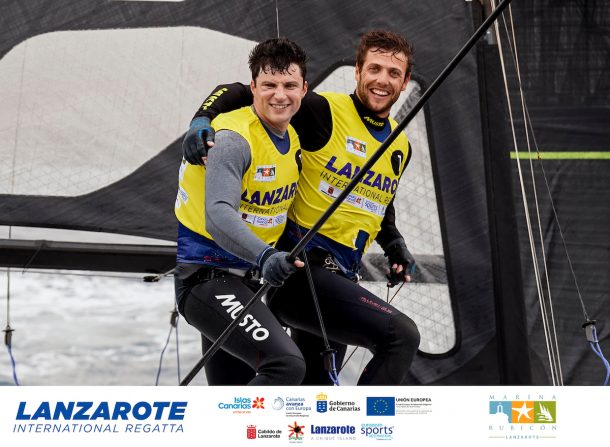 49er Men: Best of British
James Peters & Fynn Sterritt (GBR) move to the top of the 49ers after the British team scored 2,3,23,3 from the big day 2. Sterritt sounded a little surprised that things had worked out so well for them. "It was hard to get the boat into any kind of a groove," he said. "It felt like we left a lot out there [that we could have done better]. But we executed pretty well on our game plan, which was to go right up the course because we thought it was a bit stronger out there."  

The best performers of the four-race session were Logan Dunning Beck & Oscar Gunn (NZL) who improved throughout the afternoon with very solid scores of 8,7,2,1. This moves the Kiwis up to second overall, even if they're a pretty big 16 points off the British lead. Up to third overall are Lukasz Przybytek & Jacek Piasecki (POL). Slipping down from 2nd to 6th overall are Diego Botin & Florian Trittel (ESP) who won the second race but saw their mast tip snap during the final race of the afternoon, forcing the Spanish to retire and head home early.  

James Peters and Fynn Sterritt (GBR) were strong all week in the 49er and fourth place in the Medal Race was good enough for another skiff gold for Great Britain. After getting a knot in their gennaker retrieval line at the leeward mark and losing valuable ground against their rivals, Logan Dunning Beck and Oscar Gunn held on for a New Zealand silver while young Austrians Keanu Prettner and Jakob Flachberger took the bronze.
 
"It's been really difficult conditions this week, big waves and quite challenging at times," said Sterritt. "So it's fantastic to come away with the win." Suffering burnout after missing out on a ticket to the Tokyo Games, Peters and Sterritt took a two-year sabbatical away from Olympic campaigning to get some experience in the corporate world.

Lanzarote Part 2: Bring on the Foilers!
 
So that's Part 1 of the Lanzarote International Regatta complete, but Tuesday marks the start of four days of competition for three foiling fleets, the Nacra 17 catamaran and the men's and women's iQFOiL windsurfers. Racing begins at 1100 hours on Valentine's Day.
    Andy Rice, event reporter
    * This international event, organised by Marina Rubicón with the support of the Royal Canarian Sailing Federation is possible thanks to the institutional sponsorship of Promotur Turismo de Canarias with the financing of the REACTEU Fund and Tourism of the Cabildo de Lanzarote through the sports product European Sports Destination (managed by SPEL-Turismo Lanzarote), as well as the public collaboration of the Yaiza City Council and the private entities Dinghycoach, Naviera Armas & Cabrera Medina (Cicar).

49erFX Women (after 6 races)
 
1. Black/Tidey (GBR), 1+(12)+2+4+1+8 = 16
2. Germani/Bertuzzi (ITA), 5+(6)+1+1+6+6 = 19
3. Roble/Shea (USA), 4+(18)+3+8+4+2 = 21
 
 
49er Men (after 8 races)
 
1. Peters/Sterritt (GBR), 4+3+2+2+3+(23)+3+8= 25
2. Dunning Beck/Gunn (NZL), (15)+7+8+8+7+2+1+14= 47
3. Prettner/ Flachberger (AUT), 9+1+1+(26)+6+17+10+6 = 50