Peter Burling and Blair Tuke of New Zealand will enter the Rio 2016 Olympic Sailing Competition as overwhelming favourites to conquer in the Men's Skiff (49er) having set a world class standard after London 2012.
Australia's Nathan Outteridge and Iain Jensen defeated the Kiwis at London 2012 but since then, the Kiwis have completely dominated. Throughout the four-year cycle the pair won 27 regattas in a row, including four world titles and two Olympic test event golds.
Their only defeat leading up to Rio 2016 came at the hands of the Australians at the recent South American Championships and the narrative is set for a Trans-Tasman fight for supremacy.
"If Batman was a sailor, the 49er would be his batmobile."

The Australian and Kiwi teams will form part of a 20-boat fleet that will start racing on Friday 12 August at 13:00 on the Pao de Acucar racing area and in the words of Jensen, there will be 'no love lost' on the water come race day.
Training partners leading up to London 2012, the Australians and Kiwis separated their campaigns afterwards, remaining good friends, and have been focusing on a variety of projects within sailing over the last four years.
Jensen explained, "We've known the Kiwis for quite a while. We've been spending a lot of time with the America's Cup but they have as well. They have had the upper hand over the last four years and we've been working really hard to close that gap."
And close the gap they did by winning the South American Championships. Jensen continued, "It was good to finally break the streak of the Kiwis. We've felt like we've been improving over the last year and it's good to have some validation that we're closing the gap. I hope we can continue that way and bring home a good result for the Games. On shore we are still good friends, joke around, have a chat and stuff but there's no love lost between us on the water."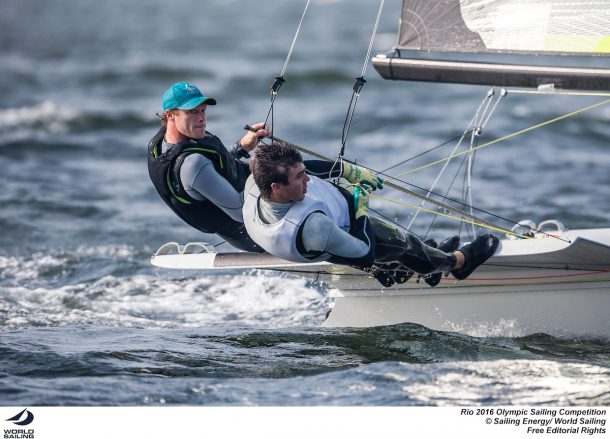 Outteridge added, "This time the Kiwi guys have been doing a full on four-year campaign and they won every event for pretty much the whole four years. We are coming in more of an underdog this time rather than the favourites, which I think is pretty nice considering how busy we have been with all of our America's Cup commitments."
Burling and Tuke's dominance is one of the most impressive ever witnessed in Olympic sailing and their win streak one of the longest in all Olympic sports building up to Rio 2016. But speak to the Kiwis and they view each win the same as they only have their eyes on one prize, the gold medal at an Olympic Games.
"Everything we've been doing has been about this moment and we've had some good results over the last few years," said Tuke. "But we've always said it's all about Rio. Now it's here and it's time to put down a good performance."
Burling added, "Our last four years has been preparing for Rio and being in the best shape we can be. I'm really happy where we are."
Rarely drawn into comparisons with the Australians and remaining humble and cautious of the competitive fleet, the Kiwis have left no stone unturned and certainly won't be phased by their favourites tag.
Away from the Trans-Tasman neighbours, Beijing 2008 49er gold medallist Jonas Warrer returns to the Olympic fold after missing out on selection at London 2012. Sailing with Christian Peter Lubeck, Warrer will be competing at the Olympic Games again after an eight-year wait and knows exactly what he wants, "A medal," he exclaimed. "Having missed London 2012, it was a big disappointment. It took a while to get over it. But that is also part of the charm, that only one boat from each country goes.
"The Olympics, it's the biggest. Everybody has it as their top priority and sailing in Rio is special so anything can happen. Our sailing and progression in 2016 gives us confidence."
Joining them in the fleet will be Spain's rising stars Diego Botin and Iago Lopez Marra. The young Spaniards won Sailing World Cup Miami at the turn of the year and will make their Olympic debut in Rio.
Further contenders include, Austria's Nico Delle Karth and Nikolaus Resch, who will be making their fourth Olympic appearance, Ireland's Ryan Seaton and Matthew McGovern, Argentina's Klaus and Yago Lange, Germany's Erik Heil and Thomas Ploessel and Portugal's Jorge Lima and Jose Costa.
49er racing will commence at 13:00 local time on Friday 12 August on the Pao de Acucar racing area.
By Daniel Smith – World Sailing
Editors' notes:
RIO 2016 OLYMPIC SAILING COMPETITION
The Rio 2016 Olympic Sailing Competition will take place at the Marina da Glória, Rio de Janeiro, Brazil and will feature 380 athletes from 66 nations competing across ten events. Racing is scheduled to take place from 8-18 August 2016 and the competition format for all events is fleet racing.
USEFUL LINKS
World Sailing Olympic Website – http://www.sailing.org/olympics/rio2016/home.php
Qualified Sailors – http://www.sailing.org/olympics/rio2016/home.php
Competition Schedule – http://www.sailing.org/olympics/rio2016/about/schedule.php
Latest Olympic Sailing news – http://www.sailing.org/olympics/rio2016/news/index.php