Story by Yachting New Zealand
Being proactive and taking opportunities was one of the main messages that came out of the Making Waves – Pathways to Performance forum on Thursday night.
About 120 people gathered for the forum, which discussed advancing equal opportunities in sailing and how to make it to the top.
A large number of younger sailors and their parents were among the crowd at the Hyundai Marine Sports Centre and plenty of questions were thrown at the sailors, coaches and industry leaders on the panel, Martine Grael, Lisa Damanin, Erica Dawson, Sally Barkow, Geoff Woolley and Patria Hume.
The event was hosted by LockerRoom editor Suzanne McFadden, who has been a leader in advocating for women's sport.
"I found it really enlightening and encouraging because I think the future of New Zealand sailing is in good hands if they are a reflection of what female sailors are achieving on and off the water," McFadden said.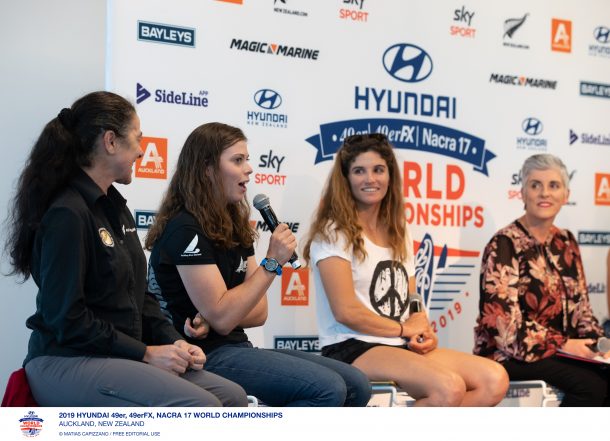 "I definitely feel like a change is happening [in women's sport]. Talking to women from other countries, it's happening there as well and happening in a hurry. We have been waiting for this for a long time but it's whether we are ready.
""Not working directly in a sports organisation, I don't have all the answers, but I think Yachting New Zealand are doing a fabulous job encouraging females to try sailing and to stay sailing, especially with a new strategy."
Yachting New Zealand developed a Women and Girls in Sailing Strategy recently which focuses on three main aspects: culture, pathways and coaching.
More and more opportunities are becoming available for females in the sport and those at the forum were encouraged to not only take advantage of those but also recognise the importance of networking.
Darmanin, for instance, told the story of how she landed her job helping to organise events with SailGP because of the people she met when working behind the scenes at the America's Cup in Bermuda. She called it her "side hustle' and encouraged all sailors to have something else up their sleeves.
"Sally Barkow also talked about pushing the door open and not being afraid to put yourself out there," Yachting New Zealand national sports development director Raynor Haagh said. "It's about doing your homework and being the best you can when competing for positions both on and off the water.
"There are also mandated changes, like what we saw in the last Ocean Race, and females should look at those as opportunities rather than tokenism. It needs to get to the point where it becomes the norm."
Those on the panel emphasised the need to enjoy the journey, whether sailing was a career or recreation, and that sailing provides fun, enjoyment and camaraderie.
Yachting New Zealand will look to roll out key parts of the strategy in the coming months and will hold various clinics and forums to develop knowledge and awareness.
"This is the starting point, not the end," Haagh said.