The Alonso Brothers won Rio selection over youngsters Diego Botin and Iago Marra over a two regatta trials system that was the 2015 World Championship in Buenos Aires and the 2016 World Championship in Clearwater.  The Spanish trial was basically simple; whichever team gets the best cumulative placings over the two World Championships gets to go to Rio.  They added a bit complication, as many federations do, and inserted a clause that if one team medalled, any other teams would also need to be in the top 8 overall at either championship or lose automatically.  The approach tried to value both average performance and peak performances in what the federation probably thought was clever but now is biting them back.
In Buenos Aires, the Alonso's had the performance of their career, claiming the Bronze medal at the World Championship.  It was a performance the Spanish selectors no doubt hoped for when they gave teams that medalled a 'bonus' in the qualification system, trying to give incentive teams to rise to the occasion.  At the 2015 Worlds, Botin and Marra sailed well also, finishing a tie for 8th with Austrians Nico Delle Karth and Niko Resch, but crucially loosing that count back and being officially 9th overall.  So, going into the Clearwater Worlds in 2016, Botin and Lopez had to be at least 6 places ahead of the Alonso's and also finish in the top eight overall.
Botin and Marra, who have been improving dramatically ever since Botin grabbed the strapping crewman after Santander 2014, had another impressive regatta at the 2016 Worlds in Clearwater.  They qualified for gold fleet and on the penultimate day were in fifth overall.  As with all 49er racing, the points where close but crucially, the Alonso's had faltered, and were back in 22nd position.  The Alonso's took matters into their own hands, and on the final day they match raced Botin and Marra back in the fleet for all three races.  Being match raced during a fleet race is almost impossible to defend when the other team disregards their finish position, and Botin-Marra got driven back to 11th overall, missing the medal race, and losing their trials on the basis that they were not in the top eight at either event, even though they retained the better average finish position.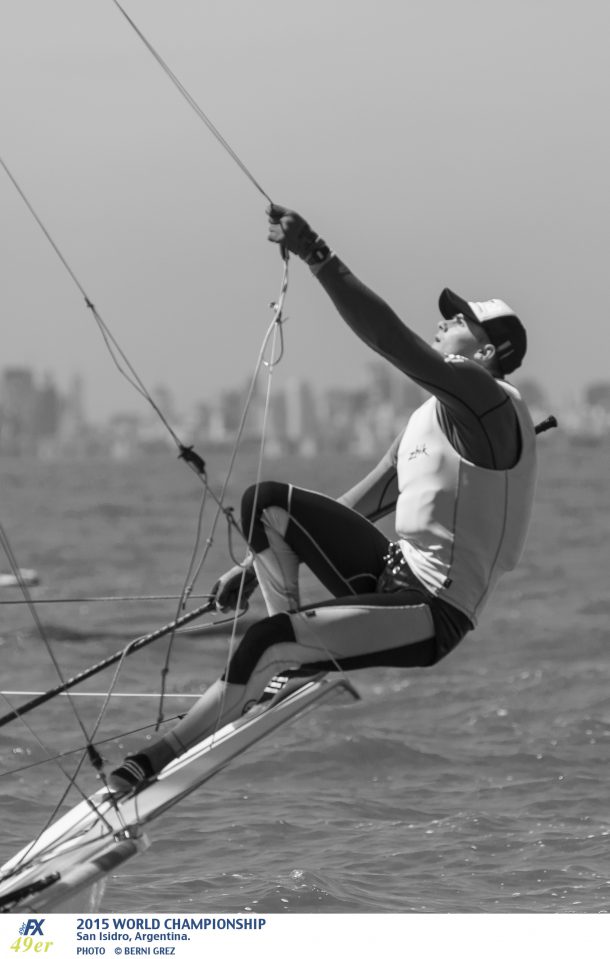 There has been a rash of this type of match racing spreading over Olympic trials in recent months for two main reasons.  The first is an interpretation published through the case book which makes this type of match racing legal within the current system.  It's case 78 from the case book stating:
In a fleet race either for one-design boats or for boats racing under a handicap or rating system, a boat may use tactics that clearly interfere with and hinder another boat's progress in the race, provided that, if she is protested under rule 2 for doing so, the protest committee finds that there was a reasonable chance of her tactics benefiting either her final ranking in the event or her chances of gaining selection for another event or for her national team. However, she breaks rule 2, and possibly rule 69.1(a), if while using those tactics she intentionally breaks a rule.
The crucial piece here is gaining selection for another event, which allows boats in trials to use these tactics any time is suits them during a trials process.  Here is Rule 2, 'Fair Sailing' as a reminder:
FAIR SAILING A boat and her owner shall compete in compliance with recognized principles of sportsmanship and fair play. A boat may be penalized under this rule only if it is clearly established that these principles have been violated. A disqualification under this rule shall not be excluded from the boat's series score.
Almost immediately after the World Championship rumours began circulating that Botin-Marra were appealing the protest they filed during the 2016 Worlds which the jury dismissed based on Case 78 and were also appealing to their federation, with lawyers.
Both teams kept sailing on, and Botin-Marra are on a hot streak.  They finished third in Palma and won the Bronze medal at the 2016 European Championship in Barcelona.  In the week following Barcelona, the Alonso's announced joyously that they had been ratified to go to Rio and the appeal was over, then last night announced again that at an emergency meeting of the RFEV (Spanish Federation) the Spanish trials were back open and both the Alonso's and Botin-Marra would have another trials for the Rio spot, not yet released.
These teams, countrymen and friends before the trials, have been done badly by sailing system as currently set up.  Sailing fell in love with Match Race finishes during the Ainslie versus Scheidt battles at the 1996 and 2000 Olympic games, but since then has mostly been let down.  In 2008, Paul Goodison of GBR was 18 points clear of Rasmus Myrgren of Sweden going into the Qingdao medal race.  That meant Myrgren had to win the race with Goodison last in order for Goodison to lose the Gold.  Goodison showed no mercy in match racing Mrygren before the start and all the way up the first beat, pushing him back in the fleet so that both of them were more than three minutes behind the leaders at the windward mark.  Mrygren was very close in points to four other laser sailors, and he never had a chance to race them all for the medal he'd raced himself into a position to get a shot at.  In the end, he finished sixth, out of the medals completely.  Had the Swede been only one point farther back prior to the medal race, he would have escaped the treatment from Goodison and had a chance to complete for the Silver, as it was, the rules allowed Goodison to prioritize his ambitions of the fair chances to others.
Another blatant incident occurred during the Danish Nacra 17 trials in early 2016.  The trials were a two legged affair, counting both Miami World Cup and the 2016 Nacra 17 World Championship in Clearwater.  2012 Bronze medalist in the 49er Allan Norregaard with Annette Andreasen was up against Lin Cenholt and CP Lubeck in the Danish trials.  Again, it was a two regatta cumulative finish trials, but only finishes in the top 20 of results counted for point scoring.  After two days of racing in Miami, Lin and CP were in third while Norregaard was out of the top 20.  Norregaard matched raced Cenholt and Lubeck for the remaining three days of the regatta to push them out of the top 20 also, shifting the trials to effectively only a single event, which Norregaard ultimately won.
The 49er class believes a debate on these rules and case interpretation needs to be had with the aim of all fleet racing being conducted on a level playing field.  It's a question for sailing community; is it sportsmanlike to match race another boat?  Many sailors might agree that covering another boat to protect a lead and secure a certain finishing position in a race / series is a valid and sporting tactic.  And this covering will inevitably slow that other boat on occasions.  What seems to be most objectionable is one boat slowing another boat with no regard to her own finishing position in the regatta.
That is really the crux of the argument.  Covering to retain race position or even engaging another boat to shift finish positions around and 'getting a boat in between' is seen by most as sporting.  The shift to unsporting seems to begin when the boat doing the match racing no longer needs to account for their own finish position in the race.  As soon as a boat may match race another boat without regard for their own finish position, the game changes dramatically on the water.  Worse, in some of the situations reviewed the match racing boat has multiple attempts, so even if a boat escapes and goes on to fight cleanly against the rest of the fleet, the match racer can return in the next race with another chance.
While Ainslie versus Scheidt were amazing moments a generation of sailors ago, the game, application, and interpretation of these match races has shifted, and we sailors should revisit what fair boat on boat engagement should be allowed.
The world will be able to watch another iteration of the Spanish trials as the Spanish 49er team's dual for Olympic involvement.  For the veteran Alonso brothers, it is a nightmare scenario. The Duo waited in the wings while Iker Martinez and Xabi Ferndandez dominated 49er sailing for two quadrennials.  They gained their chance and qualified for the London 2012 Olympics before the Spanish Federation changed their minds and sent Iker and Xabi again only weeks after stepping off their Volvo Ocean Race boat.  Then for Rio 2016 they had the regatta of their career during their trials, won a World Championship Bronze medal, and now still might not get their chance.  In a facebook posts to their team page, translated from Spanish to English they said, "for London 2012 we suffered and now, one more time, having qualified and being ratified for the Rio 2016 Olympic games … the board has informed us that the selection that we have won under the rules of the own RFEV with bronze medal at the world cup in Argentina in November 2015, is cancelled."
The thing is, neither of these two teams is the villain in this scenario. The Alonso's operating within the case book allowance and Botin-Marra are fighting for a fair sporting chance at qualification.  The die was cast for scenarios like these when the interpretation of 'Fair Sailing' was pushed so aggressively to alter the conditions in which some teams must race while others race normally.
There is also a case for the federations to make better decisions with regard to their trial formats.  There are two trends worth discussing in trials.  Trials have shifted from single closed regatta systems to multiple open regatta systems.  The Analytics of sailing bear out this shift, as average performances in highly competitive fleets seem to be the best determination of who to choose for Olympic competition.  Federations are also including the peak performances criteria into their trails, where teams that win medals or hit certain thresholds are favoured over pure fleet comparison.  Sports Analytics have had a tough time proving clutch performances are repeatable and anything more than the manifestation of chance in sport.  However, it's hard to fault federations for wanting to reward great performances.  Through the combination of multiple regatta trials and the case 78 interpretation these extreme match racing scenarios have become more developed, however, we see through the Goodison incident that the basis for unfairness of match racing while fleet racing was already in place.
The sailing world is not likely to wait long for another scenario where one team will match race another to the back of a regatta in order to win a trials.  In the Dutch 49erFX system, the trial winning Keitzer and Blom must come in the top five at Sailing World Cup Hyeres in order to hit the Dutch International criteria.  Reports have it that their rivals, Bekkering and Duetz, have been practising their match racing "and nothing else" since returning to Europe this season with the aim to wipe out the chances of their rivals.  Olympic fleet racing is rightly respected for being the most competitive fleets racing there is.  Imagine trying to pull off a top five while another team is match racing you in every race while the rest of the fleet is racing normally.
Please send through your comments or other examples you've seen that are similar or different and what you think should be done.