Very light airs made for a tricky fourth day at the 49er and 49er FX European Championships in Porto. After a long wait ashore for the breeze to fill in, the 49erFX sailors were sent home without any gold fleet finals racing today. By late afternoon a light breeze was blowing out to sea, and the 79-boat 49er men's fleet went out for two tricky races to complete their qualifying regatta before the gold fleet split.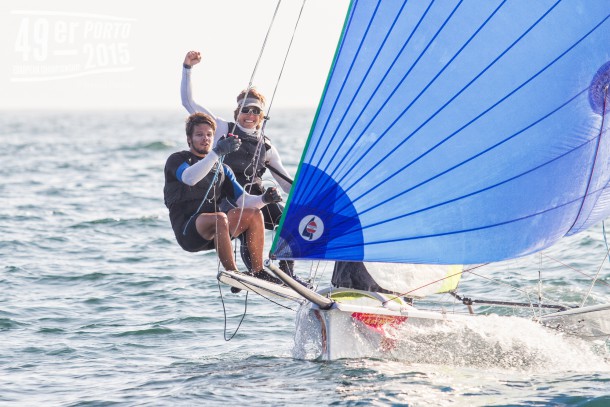 Consistency across the two races was hard to find, with no obvious pattern to the breeze. Two teenage brothers from Portugal, Rodolfo and Gonçalo Pires, were over the moon to win a race today. Best performers of the day were an under-23 German team, Tim Fischer and Fabian Graf, who scored a sensational 3,2. This lifts them to 24th overall, just squeaking into Gold Fleet by a point, ahead of last qualifiers Dante Bianchi and Thomas Low-Beer. Just missing the cut by a point were New Zealand's Marcus Hansen and Josh Porebski. Silver medallists two years ago at the World Championships, the young Kiwis will be mighty disappointed to have missed out on the Gold Fleet.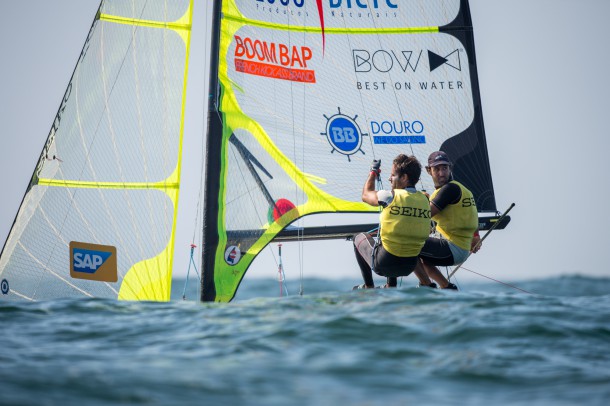 The reigning Olympic Champions, Nathan Outteridge and Iain Jensen, also suffered in the fickle conditions, falling from 3rd to 11th overall after scoring 13,22 this evening. Their big rivals, the reigning World Champions from New Zealand, keep on chipping away with some solid results, even if Pete Burling described the outing as, "not the easiest day at the office." Burling, sailing with Blair Tuke, sailed off the pin end in the first heat to get a 2nd, and then started near the committee boat on the next. "We got a good start and were sailing where we wanted to, but everyone that we spat out behind us ended up beating us to the windward mark."
Those who got bad starts and were forced to tack out to the right in search of clear air were rewarded with a sudden 20 to 30-degree right-hand shift, and early leaders like Burling were left to play catch-up. "We rounded the top mark in about 20th, but used the shifts to get back into it." The Kiwis showed their world-beating class to recover to 8th by the finish, and they rise to 2nd in the standings, although still 8 points behind the Portuguese team of Jorge Lima and José Costa who are sailing the regatta of their lives on home waters. Sitting behind Portugal and New Zealand in 3rd overall are the Polish team, Lukasz Przybytek and Pawel Kolodzinski, while their team mates Tomasz Januszeweski and Jacek Nowak rise to 7th overall after scoring 8,1 today.
Qualifying is now complete for both the men's and women's fleets, so Friday sees the start of Gold Fleet finals. The forecast is for better breeze, and you can watch all the action on the live TV broadcast which is scheduled for the start of racing on Friday at 1030am local time. Tune in and watch the drama on 49er.org.
Live Broadcasts
Day 5 (Friday)
Link: https://youtu.be/iZkOaIGw1dU
Day 6 (Saturday)
Link: https://youtu.be/54Vg0lfsno8
Day 7 (Sunday)
Link: https://youtu.be/A0zqaVXpzz4
Join us at all 49er events at 49er.org/subscribe
The 49erFX schedule is Qualifying July 6-8, Gold Fleet 9-11 and medal race also on 11th.
The 49er schedule is Qualifying July 7-9, Gold Fleet 10-12 and medal race also on 12th.