Reigning 49er world champions and Rio 2016 Gold medallists, Peter Burling and Blair Tuke (NZL), bagged enough low scores in the qualification round to lead at the midway point of the 2020 49er World Championship in Geelong, Australia.
The top 25 49er teams go through to gold fleet to fight in the coming three days for the world title, and Burling/Tuke are primed to defend their crown, which would make it six for the canny Kiwis.
"It's good to get through the qualifying series with some low scores, we didn't sail our best at times, but we had some pretty good comebacks to make up for it. It was pretty tricky out there, plenty of shifts," Burling said during the derig. "Tomorrow looks pretty similar in terms of the forecast – it should be nice. All the good guys are still here and pushing hard."
Chasing they are, as the top six teams through qualifying were all in the top eight at the 2019 Worlds. With so many highly ranked teams close on points, the gold fleet racing will be dramatic. Join us to watch all the action.
The city of Geelong in the southern state of Victoria awoke to steady rain, grey skies and mist which affected visibility on Corio Bay. It's been a rare sight at these championships but finally the sun broke through and up to 18 knots of SSE puffy magic blessed the afternoon session, on Wednesday February 12.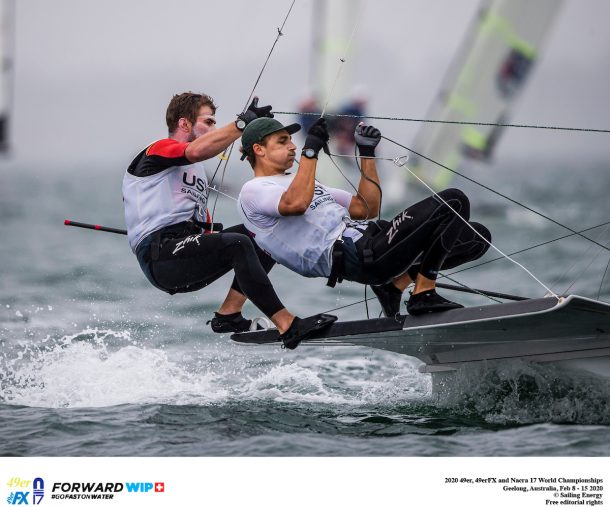 49er & 49erFX
Austria's Benjamin Bildstein and David Hussl tallied an equally low score to the frontrunners and the Spanish duo of Diego Botin and Iago Lopez Marra finished a strong third overall.
Worth highlighting are the three Danish teams in the top 15, the best of those Mads Emil Lubeck and Nikolaj Hoffman Buhl. A strong USA presence in the top 20 is being spearheaded by Andrew Mollerus and his 49er crew Ian MacDiarmid who are eighth overall.
"It's the first step getting to gold; the regatta starts now," MacDiarmid said. "We are checking off the list we have, making sure we get through the regatta – nothing crazy on the scoreboard and no letters; just putting it through well."
In the women's 49erFX the top 25 teams also split off to gold fleet, Great Britain's Charlotte Dobson and Saskia Tidey keeping up their winning moves to be lead boat.
"Today was a great day; It was about being as consistent as possible," Dobson said. "We went super low risk and let our pace do the talking. The real racing is starting tomorrow though with gold, so it's now rest recover and go again. There will be less space now and mistakes will be punished so we need to avoid them."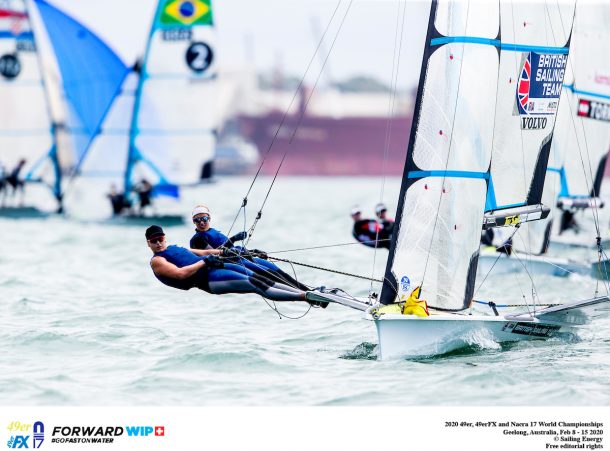 Second in the FX is Tamara Echegoyen/Paula Barcelo (ESP) and third is Anne-Julie Schutt/Iben Nielsby (DEN).
A surprise package is the current world championship team of Annemiek Bekkering and Annette Deutz (NED) finding themselves 14th overall.
Nacra 17
John Gimson and Anna Burnet (GBR) are stringing together a set of scores that must be troubling the competition, but they demonstrated they aren't bullet-proof in the third race today. "Two wins; chuffed with that but then in last race we made a stupid mistake. We made a slightly late decision to tack and went swimming. But we are sailing well, and we need to keep this form. We say it's all about the averages and it's not done until the final race."
Nathan and Haylee Outteridge (AUS) collected a pair of second places and a 17th in the first race, which becomes their drop. Reflecting on this, Nathan commented, "We did not think we had that much weed on our foils early on in the race, but it ended up being around 50% of yesterday's level. Once we started to clear it, our results improved dramatically."
Third Nacra is Quentin Delapierre and Manon Audient (FRA) and fourth are the current world champions Vittorio Bissaro and Maelle Frascari (ITA). "We arrived in Geelong two weeks ago and we are enjoying it. It's very challenging on the water, we are happy to be consistent on such a strange day."
Royal Geelong Yacht Club is host of the 49er, 49erFX and Nacra 17 2020 World Championships along with six other major events that fall under the club's 'Summer of Sailing' calendar rolling out between January and March.
Live coverage starts tomorrow, go to Nacra17.org/live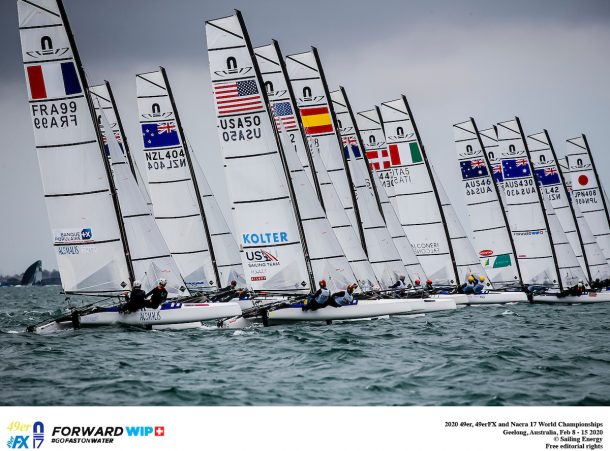 Results:
Results are posted race by race, as they happen.
Live Tracking is available for all fleets each day via https://49er.org/event/2020-world-championship/
By Lisa Ratcliff/49er, 49erFX, Nacra 17 World Championship media