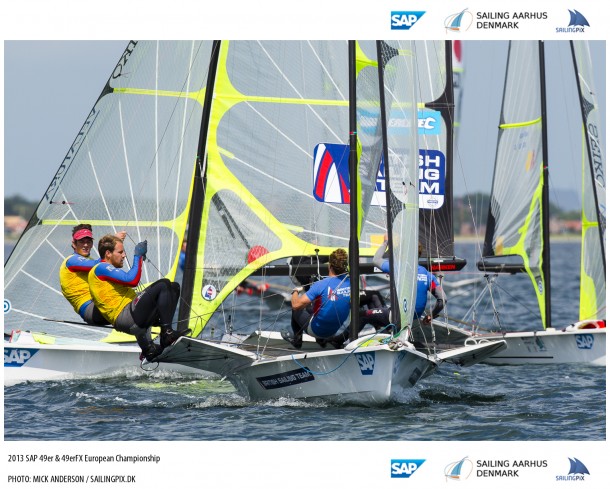 The daily video can be found here: http://youtu.be/bs2nTYEzfpo
ALL CHANGE AS 2012 OLYMPIC SILVER MEDALLISTS BURLING AND TUKE MOVE INTO THE LEAD IN THE 49ER, WITH DENMARK'S BAAD NIELSEN AND THUSGAARD OLSEN DOMINATING 49ER FX FLEET
The breeze increased on race day 4 at the SAP 49er & 49erFX Europeans 2013 in Aarhus, Denmark, but continued to be shifty and rewarded the teams who could best read the track and deliver optimum boat handling.
49ER MEN
Four races today determined the top 16 teams make the cut and advance to the semi-finals at the 49er Europeans. It was a thrilling day of racing in Aarhus, with the 2012 Olympic Silver medallists Peter Burling and Blair Tuke from New Zealand taking over at the front of the fleet, as they dominated the race track located right next to the shore.
The day shaped up well for the Kiwis; in fact it could not have been any better. They opened their day with a second place finish, behind Great Britain's James Peters and Ed Fitzgerald, after an incredible conversion from a 25th place rounding of the first windward mark. They upped their game even further to follow up with a race win and then round out, what may turn out to be their decisive day, with a third place and seventh, to jump into the overall lead by one point. The pair are pre-Championship favourites, although in this world class fleet the outcome may still not turn out as forecast.
"We obviously needed this day to get back up the standings a little bit," said Burling. "It will be a different day tomorrow and there will be a lot of points on the last days. This puts us back in the mix and it is almost as though the regatta is starting again."
The pair mastered the tricky conditions on the track close to shore, as Tuke explained, "We had a really good day in super shifty conditions, so to get four small numbers on the scorecard was pretty satisfying. We need it for our overall standings and we are really excited about the next few days coming up."
Burling added, "We obviously sailed pretty well in the first three races, getting top three in all of those. Then in the last one we had a pretty bad first beat, and the shifts didn't really go our way and we managed to come back through and inside the top ten. So we are really happy to come back in the last one."
Recognizing the buzz of support from the spectators, Tuke said, "Yeh, we just take it on. It was great and good for the people watching. We enjoy it, just being able to throw the boat around and I think our boat handling really helped us with a lot of tacking and gybing and hoists and drops. I am pretty tired now."
Gold fleet leaders going into the day, Dylan Fletcher and Alain Sign found themselves floundering towards the back of the fleet in the first race, finally crossing in 20th. This score is discarded, but two more double digit results across the four races knocked out their points' advantage and with it knocked them back to second.
Moving on up into third are Germany's Erik Heil and Thomas Ploessel. The pair had three race wins in the qualifying series, but gold fleet racing is a different online casino game, particularly in the challenging course close to shore.
"When we came ashore we felt the day was not quite equal to our position that we had in the fleet this morning, which was fourth, but we are now in third! The teams were mixed up really heavily today," said Ploessel. "We are happy, it was very tricky, but we came good out of it."
Skipper Heil has his eyes firmly on the teams just a few points behind them. "We have a very close gap to the teams behind us so there will be top racing over the next days, and we have to take care of them," he smiled.
Another tough day for the defending European Champions Mathieu Frei and Yann Rocherieux who qualified through to the 16 team semi-finals in 15th place.  A tiebreak determined the final top 16 cut, with the 16th, 17th, 18th and 19th placed teams all on equal points. Relief for Australia's Will Phillips and Rhys Mara who secured the tiebreak advantage and advanced through.
49er Men Top 16 Leaderboard – Provisional Overall Results
1. Peter Burling/Blair Tuke (NZL) – 54 pts
2. Dylan Fletcher/Alain Sign (GBR) – 55 pts
3. Erik Heil/Thomas Ploessel (GER) – 67 pts
4. Julien d Ortoli/Noé Delpech (FRA) – 70 pts
5. Jonas Warrer/Peter Lang (DEN) – 74 pts
6. David Evans/Edward Powys (GBR) – 76 pts
7. Marcus Hansen/Josh Porebski (NZL) – 76 pts
8. Stevie Morrison/Ben Rhodes (GBR) – 76 pts
9. James Peters/Ed FitzGerald (GBR) – 77 pts
10. Nico Luca Marc Delle-Karth/Nikolaus Leopold Resch (AUT) – 79 pts
11. Jorge Lima/Jose Luis Costa (POR) – 80 pts
12. Allan Nørregaard/Anders Thomsen (DEN) – 94 pts
13. Pavle Kostov/Petar Cupac (CRO) – 105 pts
14. Giuseppe Angilella/Pietro Zucchetti (ITA) – 106 pts
15. Mathieu Frei/Yann Rocherieux (FRA) – 106 pts
16. Will Phillips/Rhys Mara (AUS) – 107 pts
49ERFX WOMEN
After yesterday's racing, the thirty-seven boat 49erFX fleet were split into the top 16 Gold Fleet with the remaining 21 boats racing in the Silver Fleet, for today's first day of the Fleet Race stage. They were up on the race track close to shore first for their four races.
Ida Marie Baad Nielsen and Marie Thusgaard Olsen continue to fly the flag for host nation Denmark, and are joined by  team mates Jena Mai Hansen and Katja Salskov-Iversen who have moved up to second overall.
Hansen and Salskov-Iversen converted their fourth overall at the start of the day into second place by the end from a 1,3,4,8 scoreline.
"It was a tough day, very difficult and now we are only 16 boats in the fleet it made our decisions a bit different from other days," said Salskov-Iversen. Hansen continued, "Every point is going to count and it was very shifty today so it was important to look forward and try to guess the wind."
"We had to sail with what we had and forget the other boats," Salskov-Iversen chipped in.
Three good races, but a mistake cost them precious points in the final race of the day, as Salskov-Iversen explained. "The first three races were very good, the last one we were a bit tired and made a stupid decision at the finish line. We didn't gybe for the starboard boats and had to do a penalty."
New Zealand's world #1 team of Alexandra Maloney and Molly Meech continue to keep the pressure on the series leaders and have maintained their third overall, despite describing today's top 10 finishes as an average performance. "Today was really tricky out there. Yes, a very tricky day and unpredictable and I can't say we enjoyed how close we were racing to shore at all," said Maloney
Meech continued, "We took it as it came, but it was real hard to predict what was going to happen and the whole fleet just kept shifting around. We had moments when it was going good, but it was real hard to keep the boat going and move it through the lulls and predict where to tack and where to go and where to tack." The pair intend to move forward from their average day, with Meech adding, "I think we can definitely learn from today and take tomorrow as it comes."
Just one point behind the Kiwis are Brazil's Martine Grael and Kattena Kunze, with a 13 point gap to the next team of Italy's Giulia Conti and Francesca Clapcich.
49erFX Women Top 10 Leaderboard – Provisional Overall Results
1. Ida Marie Baad Nielsen/Marie Thusgaard Olsen (DEN) – 62 pts
2. Jena Mai Hansen/Katja Salskov-Iversen (DEN) – 76 pts
3. Alexandra Maloney/Molly Meech (NZL) – 78 pts
4. Martine Soffiatti Grael/Kattena Larsen Kunze (BRA) – 79 pts
5. Giulia Conti/Francesca Clapcich (ITA) – 92 pts
6. Tina Lutz/Susann Beucke (GER) – 96 pts
7. Charlotte Dobson/Sophie Ainsworth (GBR) – 98 pts
8. Annemiek Bekkering/Claire Blom (NED) – 99 pts
9. Frances Peters/Nicola Groves (GBR) – 111 pts
10. Victoria Jurczok/Anika Lorenz (GER) – 123 pts
11. Jule Görge/Lotta Görge (GER) – 125 pts
12. Olivia Price/Caitlin Elks (AUS) – 137 pts
13. Leonie Meyer/Maren Hahlbrock (GER) – 150 pts
14. Maiken Foght Schütt/Anne-Julie Foght Schütt (DEN) – 153 pts
15. Anna Tunnicliffe/Molly Vandemoer (USA) – 155 pts
16. Kate Macgregor/Mary Rook (GBR) – 159 pts
Green and Purple Jersey Leaderboard
Title sponsor and technology partner SAP have added a new dimension to the 49er & 49erFX Europeans 2013 with analysis of race starts and how a team's success on the start line converts to a strong finishing position. The 49er Class with Magic Marine are using these analytics, and so a points scoring format rewards teams who are the first to round the windward mark, have a short distance to the line at the start, win the pin end or race committee end of the start, have a clear lane one minute after the start and the best port tack flyer! Points will be awarded each day using the SAP analytics system with the winners taking the green and purple jerseys for the next day's racing.
In the 49erFX fleet, the winner today of the "Magic Marine Starting Points Challenge" is Frances Peters and Nicola Groves of Great Britain who will wear the green jerseys tomorrow. And purple jerseys will be on the backs of Tina Lutz and Susann Beucke of Germany who are the "Queen of the Downwind".
An all British dominance in the 49er fleet, with David Evans and Edward Powys leading the "Magic Marine Starting Points Challenge" to own the green jerseys tomorrow, with the "King of the Downwind" purple jerseys going to James Peters and Ed Fitzgerald.
The daily video can be found here: http://youtu.be/bs2nTYEzfpo
Also you can download  the daily video from the FTP Server using the following details:
Host: ftp.icarussailingmedia.com
Username: 49er2013
Password: 49er.2013
Folder: Day 4
 Photos of the day can be found here: http://bit.ly/1cNLEpU (Folder 20130705) © MICK ANDERSON/SAILINGPIX.DK
Follow the SAP 49er & 49erFX Europeans 2013
Website – 49er.org/event/2013-europeans/