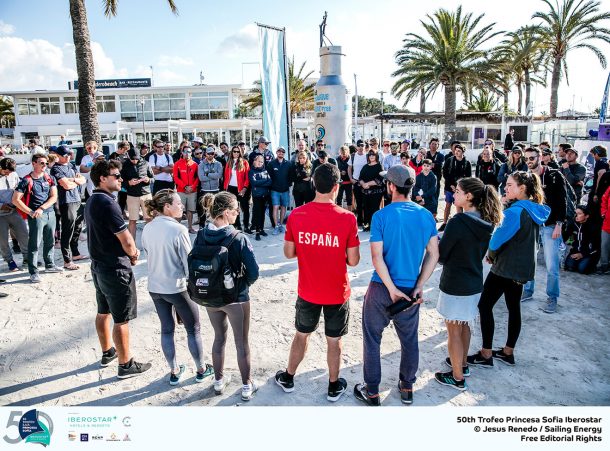 The Volvo 49er, 49erFX and Nacra 17 European Championship will mark Plastic Free Day with a beach clean as part of its commitment to sustainability.
Sailors, coaches, support staff and members of the public are invited to join the beach clean at 5pm on May 8 at Chesil Beach, close to the regatta venue of Weymouth and Portland National Sailing Academy.
The beach clean is part of a raft of sustainable practices implemented by regatta organisers, the RYA and the 49er and Nacra 17 class associations to limit the impact of the event on the environment and raise awareness of environmental issues.
"The RYA are very proud to be hosting such a prestigious international event and we wish to use this opportunity to set better sustainability standards that can be emulated by other sailing events throughout the country," said Ian Walker, RYA Director of Racing. "Sailing relies on nature and sailors feel they have a responsibility to lead the way on these issues."
It is backed by The Green Blue, a joint initiative between the RYA and British Marine to promote sustainable environmental practice in boating.
Sustainability is also a key priority for regatta title sponsor Volvo Car UK, as well as funding partner UK Sport.
Volvo is aiming to be climate-neutral in its manufacturing operations and for at least 25 per cent of the plastic in its newly launched cars to be made from recycled materials by 2025. It is also working to eliminate single-use plastics from its global offices, canteens and events by the end of this year.
"We take sustainability incredibly seriously," said Jon Wakefield, Managing Director of Volvo Car UK. "We are leading the way with our global initiatives, and being able to support activities like the beach clean through our partnership with the RYA is a boost to our commitment to the wider challenge."
The beach clean aims to continue the momentum of the Princess Sofia Trophy regatta in Palma last month when hundreds of people turned out to pick up litter from local beaches.
The movement was started by a group of Olympic classes sailors led by Argentina's Yago Lange and including Britain's Hannah Mills, Spain's Iago López-Marra, Martine Grael and Kahena Kunze from Brazil and the USA's Atlantic Brugman.
Many of the collective – who use the social media hashtag #Sailors4theSea – will be competing at the Volvo 49er, 49erFX and Nacra 17 European Championship, which runs from May 13-19.
"As sailors we are in close contact with marine plastic pollution everywhere we sail," said 49er sailor Lange. "This time we have the opportunity to stand up and raise our voice as a community and look for solutions to save the oceans. A beach clean is a powerful tool for raising awareness, but we also need to reduce single use plastic in our boat parks and keep them clean. We need everyone involved to make this happen."
The regatta has teamed up with Parley for the Oceans, a marine organisation aiming to tackle major threats towards the world's seas. Parley will be providing all the equipment needed for the beach clean, as well as refreshments for those attending.
Also joining the beach clean will be environmental groups from around the UK including Dorset Wildlife Trust, Final Straw Solent, #2MinuteBeachClean and Litter Free Coast and Sea.
"Keeping Dorset's beaches clean is a big part of Dorset Wildlife Trust's work and we hope that high profile events like this will help inspire others to live more sustainably to both help limit the litter that ends up on our beaches to begin with, but also to help keep beaches clean all year round," said Dorset Wildlife Trust's Sally Welbourn.
"Everyone who uses the beach and water has a part to play in helping to look after our environment so it's great to see sailors and members of the public getting involved with this event."
Taking inspiration from the work of The Green Blue and World Sailing's Sustainability Agenda 2030, the 49er, 49erFX and Nacra 17 European Championship will implement a sustainability plan that includes the elimination of single use plastics on site, recycling points throughout the venue, fresh water stations to prevent the need for plastic bottles and raising awareness of the risk of invasive species.
The RYA's sustainability team will measure the environmental impact of hosting this event in order to create a baseline for future RYA events. For more information about the Volvo 49er, 49erFX and Nacra 17 European Championship click here.
"As sailors we travel all over the world to do the sport we love. It's important to do so in a sustainable manner, and it's also our wonderful ambition to become a catalyst for improving nature everywhere we can," said classes president, Marcus Spillane.