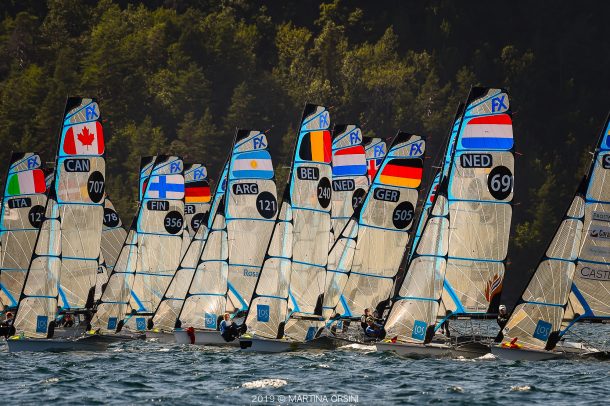 Under perfect conditions the Nacra 17 fleet raced up and down the season front of Risor to a cheering crowd. The leading Italians struggled today, with a capsize and a breakdown, but each time they got rolling again to chase a decent scoreline. In front of a boisterous crowd that numbered over 1000 spectators they pulled off a perfect foiling gybe to seal a win in the third race of the day!
Meanwhile, the 49erFX fleet raced down downwind inside the fjord in perfect flatwater conditions and puffs up to 20 knots. It was a great day of tight racing none of the fleets will soon forget.
Near perfect conditions in strong wind and big waves for the 49er fleet kicked off the day and gave the sailors plenty of challenges on the ocean course.
New Zealanders Isaac McHardie and William McKenzie continue their dominance in the 49er class. A second and two firsts today put them firmly in the lead with six races yet to sail.
"The courses in Risor are the most difficult we have ever sailed on", said, McHardie, "But the race management is excellent so we have nothing to complain about. Constant wind changes, strong up to 25 knots and many direction changes that are difficult to predict makes it important to concentrate hard. We have been able to read the wind fairly well, and then is the key to our success so far".
With two days remaining, the fleet shifts from qualifying to Gold fleet racing and there are still many points to sail for and the fight for the medals include several teams. Among them are Kurt Hansen and Simon Hoffman (AUS), 13 points behind and the Dutch team of Scipio Houtman and Manus Offerman. Local heroes Tomas and Mads Mathisen, NOR, who could count a third and a first today are also in the hunt.
Vilma Bobeck and Malin Tengstrom, SWE, complained about big changes in pressure and direction on the inner course. Despite their 3,2 and 4 finishes, they did not think they had a particularly good day, but they are still ahead on the overall leaderboard.
The Nacra17 class had their todays racing on front of an enthusiastic audience. The town came out in force to watch the racing, which was possible today with the wind aligned with the inner channel. A public adress system was used to explain the basics or racing to a crowd that gasped a the capsizes and cheers the high speed fly byes from the Nacra 17 fleet.
The Italians Gianluigi Ugolini and Maria Giubilei still hold on to a slender lead after being challenged strongly today by the Danes Natacha Violet Saouma-Pedersen and Mathias Bruun Borreskov.
Results, photos, videos and more at the regatta website.