Familiar Faces and Upstarts Triumph On Sunny, Light-Air Opening Day
With just 24 months remaining until the lighting of the Olympic Torch in Tokyo, it's time for athletes competing for the right to represent their country in Japan to get down to business.  And for many of those teams, the first step on the final 2-year long path to Olympic glory starts in the seaside town of Gdynia, Poland, the site of the 2018 49er/FX/Nacra 17 European Championships at Volvo Gdynia Sailing Days.
The 49ers return to Poland for the second time for a European Championship, but after a breezy warm-up week, the first day of qualifying dealt teams a much lighter hand; just 5-8 knots of breeze tickled the hundreds of Kevlar-reinforced mylar sails on the Gulf of Danzig as their 2018 season began in earnest.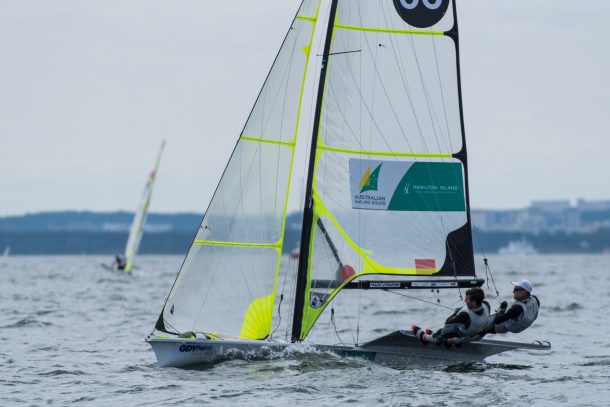 The Gold Standard: Gold Medalist Jensen Steps Aboard – And Wins (49ers)
Anyone who's been watching 49er (or America's Cup, or Superfoiler, or…) racing over the past decade will recognize one of the names at the top of the leaderboard: After a 2-year hiatus from skiff sailing, 3-time 49er World Champ and 2-time Olympic medalist Iain "Goobs" Jensen (AUS) is back on the wire – and after 3 qualifying races in light, shifty Baltic Sea air, he's on top of the fleet.
Jensen is crewing for longtime 49er vet Will Phillip (AUS), who feels suitably fortunate.  "I'm really lucky to have Goobs in here for Europeans and Worlds, and we're feeling pretty good on the boat," said Phillips. All this despite Jensen not having stepped in a 49er in some 2 years before this event.
With perennial top Aussie helm Nathan Outerridge off to multihulls, the downunder 49er contingent has a real war on its hands over the next year and half.  While Phillips and Jensen clearly have solid chemistry and can get over the line fast, the Aussie driver is looking forward to having his brother back on the boat once his injury has healed.
Phillips/Jensen sit on 4 points after 3 qualifying races with Mads Lubeck/Nikolaj Hoffmann Buhl (DEN) 4 points back in second place, while top Polish performers Lukasz Przybytek/Pawel Kolodzinski round out the podium with 12 points. Reigning European and World Champions Dylan Fletcher-Scott and Stu Bithell are in an uncharacteristically deep 17th place.
Catch up with Jensen and Phillips during the beachside interviews this morning here.
Then check out Will and Iain come into view late but in the big lead when they won the left side to take the first race in this video.
When The Cat's Away: Brits On Top in Foiling Nacra 17 Fleet
With Olympic gold medalist Santi Lange and Cecilia Carranza Saroli opting out of Europeans for a private training session in Denmark, Nacra 17 racers continue to learn new ways to get the most out of the new design, and familiar names own the top ten here in this XX-boat fleet.
Having beaten a talented fleet in a mix of super-light and ultra-heavy conditions when they became the 2017 Nacra 17 European Champions in Kiel, long time 49er helm Ruggero Tita and crew Catarina Banti are continuing the consistent performance that's made them one of the standout teams in the exciting flying catamaran.  Ruggi and Catarina sit just in third, just two points out of the lead after three qualifying races – a big feat in Tito's eyes.  "It's not perfect, but we survived this light air," said the Italian skipper, who hoped for more breeze later in the week – a hope most sailors here share.  Banti says they are sailing the boat completely differently from how they did a year ago.  "We never, stop making the boat go faster," though of course she wouldn't reveal her secrets…
The Italians have been battling skipper Ben Saxton for the better part of two years, though the tough British helmsman seems to have found a new gear with the addition of experienced crew Nikki Boniface on the trapeze. They won two qualifying races today and sit in 1st place with 4 points, and Saxton was all smiles.  "It's only day one, but sailing well makes us feel good so we're quite happy," he said.  Boniface added that the conditions were anything but easy.  "It was quite on and off in marginal foiling conditions downwind, and that's when it gets really tricky, moving lots of sheet and constantly adjusting body position," she said.
Saxton thinks they have wheels downwind, but they're still all about enjoying the sailing.  "You never know who's going to turn up in this fleet, and when you can line up against people you've been watching on TV or race against your idols, it's great," he said.  "It's better when you can beat them," said Boniface.
Also standing out in the Nacra fleet is the freshly minted brother-and-sister team of Nathan and Haylee Outerridge, who, until this summer, hadn't sailed together since they were kids. Haylee had been steadily moving up the 49er FX rankings when big brother recruited her for something a bit faster, and the America's Cup vet, Olympic gold medalist, four-time 49er and two-time Moth World Champion and his accomplished crew seem to have gotten a hang of things quicker than their competitors may have wished.  They sit 10 points out of the lead in 6th place.
Watch a post-race interview with Tito and Banti here.
Saxton and Boniface talked about their day here.
The Charge of the Light Brigade
With several top teams still shaking off their Volvo Ocean Race hangovers in The Hague, there's room on the women's 49er FX leaderboard for some new blood, and there's fewer newer than 20 and 17-year old sisters Carla and Marta Munté.  The Spanish duo became 29er World Champions in 2015, and just three years later, they're holding second place at an FX European Championship – an entirely different level of racing. – a massive step i they are in second place after 3 races at the FX Europeans. "I think we're really fast in these conditions because we are so light, but we also had good starts, and good fleet control, so we're feeling really good," said Carla, who said one of her team's big advantage is their communication.  "We're sometimes a bit too comfortable with each other so maybe we are too honest, but in reality we know each other so well and have sailed together so long that we don't have a lot of confusion," said sister Marta.  Whether the charging prospects can hang on to the more powerful crews when the breeze is up is anyone's guess.
With the young Spaniards holding the silver spot and rising Americans Steph Roble and Maggie Shea sneaking into the bronze position at this early point in the Championship, two veteran British racers lead the fleet, and they're having the time of their lives – despite never sailing together until March.  "When we teamed up, we knew the most important thing was for us to enjoy the sailing," said crew Sophie Ainsworth.  "We'll put our best into it, but always make sure we're enjoying it, and so far so good."
Full interview with Weguelin/Ainsworth here.
Full interview with Marta and Carla Munté here:
The 2018 49er, 49erFX & Nacra 17 European Championship, at Volvo Sailing Day Gdynia, is from July 8 – 13. Follow all the action via 49er.org – nacra17.org – results – photos – videos – articles and updates.
There will be daily as live news and video published via fb and youtube, so ensure you're following
FB 49er – FB Nacra 17 – 49er Youtube – Nacra 17 Youtube
The 49er and Nacra 17 Classes are sponsored by Magic Marine. For our fans, we offer the discount code Euros2018 for 18% off all of their excellent sailing gear! Head to our store! This offer expires when the championship ends, so don't wait.