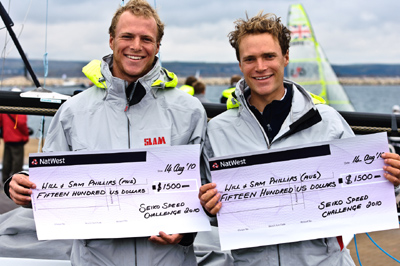 Will and Sam Phillips of Australian have broken the Seiko Speed Attempt record with a 24.1 knots, verified from the Velocitek Speed Puck!  The boys were training in Weymouth, just off the breakwater in flat water when a gust of approximately 25 knots hit.  Congratulations to Will & Sam for winning not only the 2010 attempt but the overall speed record since the SEIKO Speed Attempt was initiated. Both will receive checks of $1500 each for the 2010 record and overall.  2nd overall (and a check for $1000) goes to Lauri Lehtinen and Kalle Bask of Finland who recorded a 21.9 in Poland and 3rd place (with a check for $1000) to Andre Fonseca and Marco Grael of Brazil with a 21.8.  You can view a video of the winning run on Channel 49er!
SEIKO SPEED CHALLENGE – last event
The final days for the SEIKO Speed Challenge will culminate by Saturday, August 14 in Weymouth.  Sam/Will Phillips top the 2010 chart with a verified 24.1 knots sailed on Friday in Weymouth.  To watch the results, go to the Events section of this website for current postings.  Who will be the winner for 2010 and possible overall speed champion?  Stay tuned this week!