On a hot and windy day in Kiel, the Australian Phillips brothers tore up the track to be leading the world-class 49er fleet after day one of the Olympic classes….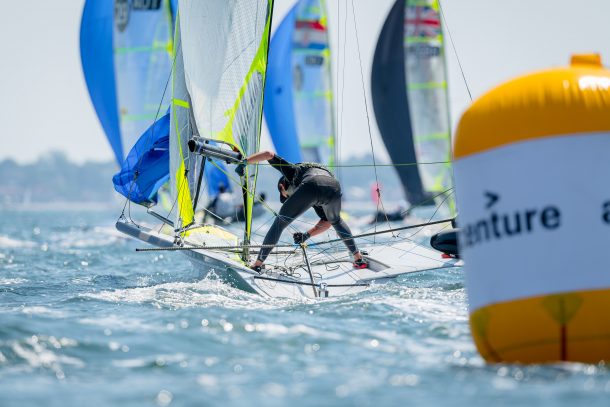 The Australians love their warm weather, and Will and Sam Phillips were hot to trot as they won their first two heats of qualifying to be leading the 82-boat 49er fleet after day one of Olympic competition.
Twice the Aussie brothers pounced on the race leader, first on young, up-and-coming Kiwis Isaac McHardie and William McKenzie, next on the top Spanish team of Diego Botin and Iago Marra. In their third race of the afternoon, the Phillips scored a creditable fifth place to find themselves in the overall lead at the end of a perfect day's sailing on Kiel Fjord. Will's strategy for the day sounded simple enough, but was probably easier said than done: "The wind was offshore and shifty, so we're trying not to worry about anyone else, we just try to find our own path around the course."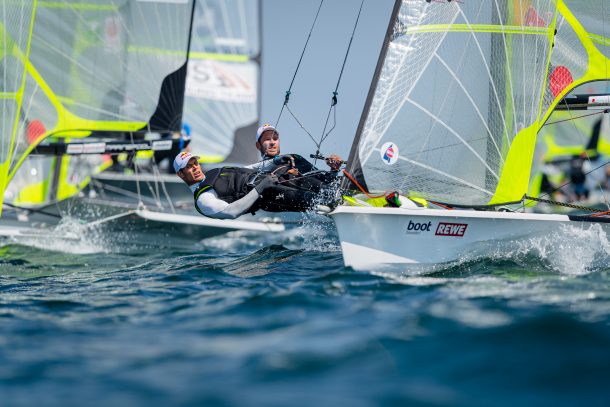 With the 49ers split into three flights for qualifying, yellow, red and blue, the top teams aren't yet racing each other directly. On the other side of the draw from the Phillips' domination of yellow group, 2008 Olympic Champion Jonas Warrer with Jakob Precht Jensen got the best from blue group, with scores of 2, 10, 1 placing the Danes second overall. Red group winners were Lucas Rual and Emile Amoros of France who hold third overall, one place in front of America's Cup winners and Olympic Champions Pete Burling and Blair Tuke from New Zealand.
The Swedes hold the top two places in the 49erFX fleet ahead of third-placed reigning World Champions, Annemiek Bekkering and Annette Duetz of the Netherlands. Vilma Bobeck and Malin Tengström are about to contest the 49erFX Junior World Championships in Norway yet are proving they are world class performers at the senior level, currently leading in Kiel ahead of their team mates Klara Wester and Rebecca Netzler. As if that wasn't enough Swedish dominance, Julia Gross and Hanna Klinga are in fifth place overall after a windy first day on the water.
Sweden's top Laser Radial sailor is also having a good opening at Kiel, Josefin Olsson holding the top spot ahead of training partner, Tuula Tenkanen from Finland with Japan's Manami Doi a point back in third overall. In the Men's Laser, Great Britain's Daniel Whiteley has scored two third places to be leading overall, with Germany's Nico Naujock and Ukraine's Valeriy Kudryshov in second and third respectively.
The Finn fleet, the Men's heavyweight dinghy, sees Czech sailor Ondrej Teply holding the early advantage in front of Germany's Max Kohlhoff tied for second with Australia's Jake Lilley. However, family bragging rights around the Kohlhoff dinner table this evening will go to Max's brother Paul, who with Alica Stuhlemmer is leading the Nacra 17 fleet after a full-foiling day for the high-speed catamarans. The young German crew hold top spot ahead of recent winners of the Hempel Sailing World Cup in Marseille, Italy's ever-reliable Vittorio Bissaro and Maelle Frascari. In third place are top Danish team Lin Cenholt and CP Lübeck, tied on points with the Rio 2016 bronze medallist, Austria's Thomas Zajac crewed by Barbara Matz.
With another day of sunshine and good breeze on the forecast, the Olympic competitors can't quite believe their luck. Win or lose, the 125th edition of this famous regatta is set to live long in the memory.
Kieler Woche, which takes place from 22 to 30 June, divides into two halves. The first half focuses on the international classes and is mostly about keen amateur sailors competing against each other. The second half shifts its gaze to the Olympic events. Across the whole nine days, Kieler Woche hosts more than 4,000 sailors from 60 nations, competing in more than 1,900 sailing boats.
For full 49er and Nacra 17 coverage including scores, videos, and photos head to our event page.