Two 49er teams well known to the podium but yet to qualify their countries for the Tokyo 2020 Olympic Games finished first and second at the three-day Oceanic Championships which served as a warm-up event for next week's 2019 Hyundai World Championships.

Austria's Benjamin Bildstein and David Hussl sealed victory in the light and fickle northerly breeze which proved unsettled in the hazy conditions. The strong currents of the Waitemata Harbour proved a critical component to today's strategy with many race winners coming from deep in the field after lap one.
"Today was quite fun, I think we had another really good day and trying out our sails I think was the most important part," a smiling Bildstein remarked. "We had quite some advantage already, so there wasn't really much pressure on for us. It was a good day and was good practice."While the Austrians are no strangers to the 49er podium, they are amongst a group of top 49er nations yet to qualify for the Tokyo 2020 Olympic Games. At the Aarhus 2018 World Championships where 8 Olympic places were taken they finished a disappointing 33rd. Likewise, the Spanish duo of Diego Botin and Iago Lopez Marra are yet to qualify despite representing their country at Rio 2016 and winning the 2018 European Champions shortly before the 2018 Worlds. After a second place this week they are taking the relaxed approach to next week's World Championships. "We are feeling very nice. It was a nice fight with the Austrians, everything is always so close until the end. We have been working really hard on our boat so now we are going to Raglan for a surf!"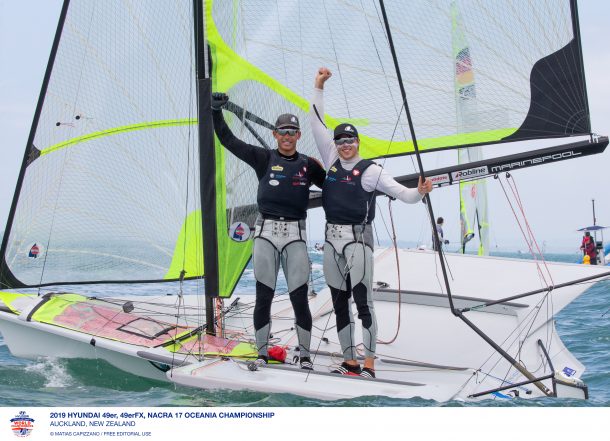 Peter Burling and Blair Tuke completed the podium in third place after surpassing their New Zealand team mates Isaac McHardie and William McKenzie, who had to settle for fourth. Burling and Tuke will be looking to add a 5th 49er World Championships to their already illustrious careers while simultaneously juggling their America's Cup commitments with defenders Emirates Team New Zealand.
Ben Saxton & Nicola Boniface dominated the Nacra 17 class with another consistent day inside the top three. After a hugely successful 2019 including gold at the European Championships on home waters in Weymouth, they have laid down the challenge for their own internal Olympic selection among the British Sailing Team. "We've been doing well all year," says Saxton. "I'm proud of how we are sailing and it's also a credit to the other guys [Gimson & Burnet] with how we've both been sailing. At the moment it looks like the two of us could be on the podium in the Olympics."
Fellow Brits John Gimson and Anna Burnet didn't have quite the same warm up event finishing 8th. Their focus is firmly on the long term goal.
"We have had a really good quad", reflects Gimson. "We have medalled in almost every event for the last year so we are pretty happy with that. We're just slowly ramping up to the worlds, trying not to go too hard too early. It's going to come down to the wire who goes to Tokyo."

Four times Nacra 17 World Champions Billy Besson and Marie Riou from France scored mostly top five finishes throughout the week which was enough for second place. Besson and Riou, who also competed on the inaugural SailGP tour with Team France this year, have been strikingly inconsistent since the Nacra 17 class moved to the new foiling configuration after the conclusion of the Rio 2016 Olympic Games. Neither their results at Aarhus 2018 or that of their French team mates has been good enough to qualify France for Tokyo 2020. With Quentin Delapierre and Manon Audinet finishing 6th and with a gold medal at the recent Enoshima Sailing World Cup under their belt, both French teams will be looking to not only qualify their country but also put their countrymen behind them on the results sheet at next week's World Championships.Thomas Zajac and Barbara Matz from Denmark finished third overall, with Zajac seemingly back to full health after a knee injury he sustained in Enoshima earlier in the year threatened to derail their Olympic campaign. Australian Rio silver medallists Jason Waterhouse and Lisa Darmanin finished fourth and will be looking to improve on that result next week to put the pressure firmly on their main selection rivals of Nathan and Haylee Outteridge who had a very mixed oceanias. A gold and silver Olympic medalist in the 49er class, Nathan will be looking to solidify on their obvious potential but will need nothing short of victory to convince the Australian Sailing Team selectors to bet against Waterhouse and Darmanin, a team which scored multiple event wins over the past 18 months and are one of the most consistent Nacra 17 teams in the world.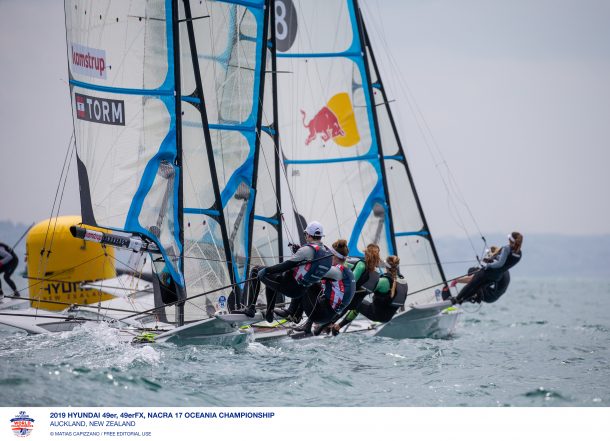 Local favourites in the 49erFX Alexandra Maloney and Molly Meech finished the regatta strongly to come out ahead of early regatta leaders from the U.S.A. Stephanie Roble and Maggie Shea. Maloney and Meech had a 3-2-7 scoreline today which proved enough to leapfrog multiple teams who suffered from inconsistent results in the challenging racing conditions. Spain's Patricia Suarez and Nicole van der Velden completed the podium in third place, a result which will ensure their fellow Spaniards Tamara Echegoyen and Pablo Turrado sit up and take notice. The Spanish are another strong 49erFX country who are hoping to qualify for Tokyo at next week's World Championships.
Auckland showed a wide range of emotions over the past week, with regular 20-25 knot south-westerlies in the lead up to the Oceania Championships making way for the lighter northerlies we have experienced over the past two days. Throw into the mix a significant tidal factor and the intensely competitive fleets, the eventual World Champions in each class will deservedly be able to call themselves the best in the world.

ResultsNacra 17
1st Ben Saxton / Nicola Boniface GBR 3-1; 14pts
2nd Billy Besson / Marie Riou FRA (16)-2; 36pts
3rd Thomas Zajac / Barbara Matz AUT 1-(11); 43pts
4th Quentin Delapierre / Manon Audinet FRA 6-8; 47pts
5th Jason Waterhouse / Lisa Darmanin AUS 13-(13); 51pts
49erFX
1st Alexendra Maloney / Molly Meech NZL 3-2-7; 37pts
2nd Stephanie Roble / Maggie Shea USA (26)-13-6; 42pts
3rd Patricia Suarez / Nicole van der Velden ESP 1-12-4; 47pts
4th Tine Lutz / Susann Böcke GER 12-3-10; 50pts
5th Charlotte Dobson / Saskia Tidey GBR 5-(15)-2; 50pts
49er
1st Benjamin Bildstein / David Hussl GER 1-6-10; 28pts
2nd Diego Botin / Iago López Marra ESP (9)-1-4; 31pts
3rd Peter Burling / Blair Tuke NZL (11)-2-5; 35pts
4th Isaac McHardie / William McKenzie NZL 8-4-(18); 48pts
5th Mathieu Frei / Noe Delpech FRA 10-(10)-6; 50pts
Full results available at
49er.org/event/2019-oceania-championship
Nacra17.org/events/2019-oceania-championship