Odile van Aanholt and Annette Duetz (NED) have secured the 2022 49erFX World Championship. In the medal race the Dutch pair outdueled the Swedish challenge from Vilma Bobeck and Rebecca Netzler (SWE) who took the silver. Twice winners of the 49erFX World Championship from Spain, Tamara Echegoyen and Paula Barcelo (ESP) took the bronze medal.
Live broadcast replay
There was only a five point gap between the protagonist teams at the start of the medal race, but the Swedish got caught out by a sudden left-hand windshift with just 5 seconds to the start gun. What had been a perfectly judged approach to win the pin end of the line turned into a Swedish scramble to gybe around and salvage some kind of start behind the fleet on port tack. The damage was done and it proved impossible for the young Swedes to mount a comeback in the light winds. We caught up with the Swedes after the race and they described their state of varied emotions in winning silver.
Van Aanholt and Duetz maintained their composure to move all the way up the fleet to third in the medal race, and the overall result was never close after the first mark.
Van Aanholt won both the 2021 World and European titles, each with different crews but paired up with Duetz to start the 2022 season. With this victory, van Aanholt repeats as world champion while Duetz wins her third 49erFX world title, the most of any sailor. The Dutch pair were thrilled with their victory.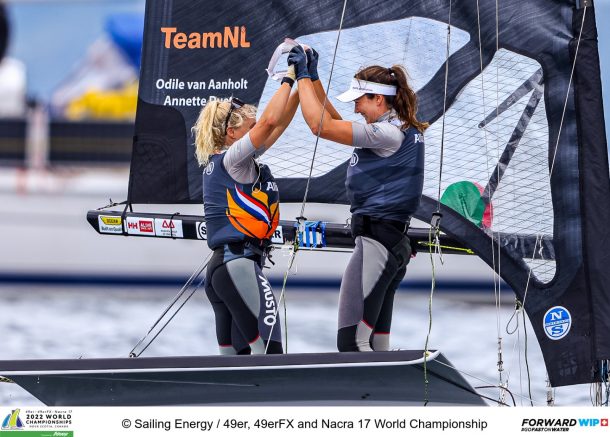 As a squad, the Dutch have so much to be happy about to repeat as world champions in both skiff Olympic Events.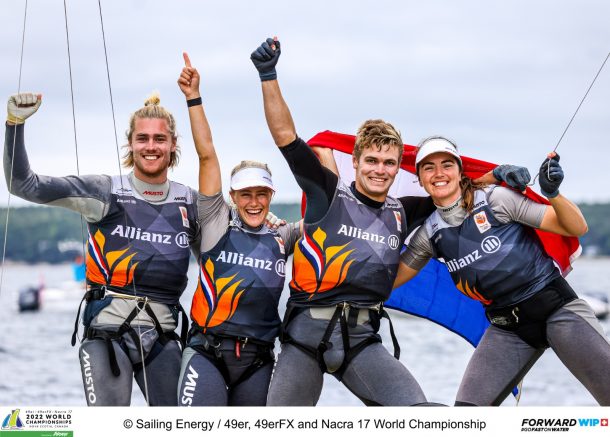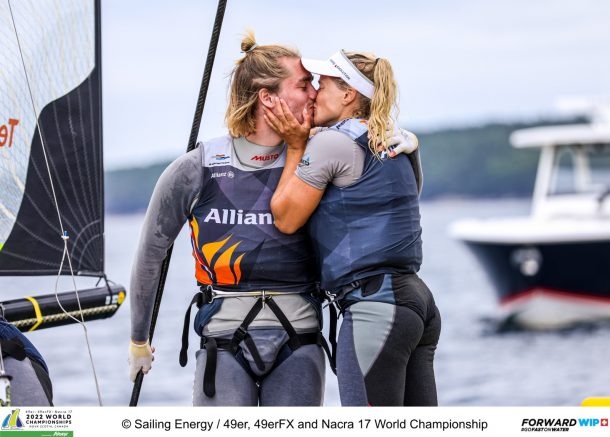 Tamara Echegoyen and Paula Barcelo took the bronze medal and we had a nice chat with them after the racing.