49erFX – Second title a long time coming for Næss and Ronningen
Five years after winning their first 49erFX European title, Norwegians Helene Næss and Marie Ronningen have done it again. Silver goes to Jana Germani and Georgia Bertuzzi, with the added bonus of securing a nation's place for Italy at next year's Olympic Games. Bronze goes to the Spanish crew, Tamara Echegoyen and Paula Barceló.
"It is a good time to be back," smiled Næss. "We have had our ups and downs but now is a good time to be up, with less than year to the Olympics." Ronningen added: "It is nice to breathe again. Yesterday we admitted to each other that neither of us have been sleeping well this week. It has been a tense few days so now it is nice to know that we have won at last."
The Italian Job
With no wind materialising over Vilamoura for what should have been the Medal Race climax, the Norwegians secured the gold by just 6 points over the Italians. In a double-points 10-boat final the gold was by no means secure and the Italians would have had a chance to go on the attack.
Even if the Italians might have been disappointed to miss their chance at the title, Germani said the bigger goal of the regatta had been to secure a berth for Italy at Paris 2024. "It is a great feeling to know we have done that for the country, and we are very pleased to have achieved that," she said. "Now we have to race in our national trials to see if we can be the team that goes to Paris next year."
Echegoyen and Barceló were very pleased to have taken a bronze for Spain, especially in such a light airs regatta. The 2020 World Champions have always been known for their strong-wind prowess, but this week in Vilamoura offered the experienced team an opportunity to show that they have the necessary speed and know-how to fight in the softer breeze. It could prove to be a crucial skill for the Olympic Regatta in Marseille next summer.
Marla Bergmann and Hanna Wille didn't get a chance to compete in their first senior-level Medal Race but this young German crew can be mighty proud of finishing fourth overall. Three race wins on Sunday launched them from 15th to fourth in the standings and the Germans were close enough on points to be challenging for a podium finish. They have a bright future ahead of them.
Grinning even when they're not winning
Although Odile van Aanholt and and Annette Duetz were smiling as much as they always do, van Aanholt admitted she was "hurting" after the Dutch crew finished in seventh place. Since winning their first World Championship title together two years ago in Oman the Dutch duo have been almost unstoppable. "We haven't finished outside of the top two," said van Aanholt. "But we didn't get the chance to train here before the regatta and I think that showed in our performance this week. When the Germans executed their plan so well yesterday we didn't quite have the speed and so you don't get the opportunities on the race course."
Eastern promise
An 8th place finish for Kimberly Lim and Cecilia Low bodes well for the team's bid to earn an Olympic spot for Singapore at next month's Asian Championship in Thailand where they will face some tough competition from China and Korea amongst others.
Vilma Bobeck and Rebecca Netzler, the Swedish team whose Worlds winning performance three months ago in The Hague has earned them a nomination for the Rolex World Sailor of the Year, finished 14th. They know they have to work on their light airs skills which is why they are going to Oman next to train with a small international group that also includes van Aanholt and Duetz.
Others are moving their boats on to Lanzarote as they build up towards the 2024 World Championships, the next big event on the international calendar.
49er: First major victory for Rual and Amoros
Lucas Rual and Emile Amoros of France won the 49er European Championships by less than a point from Dominik Buksak and Szymon Wierzbicki from Poland. If the Medal Race had gone ahead they would have gone in effectively tied and ready to compete in a who-beats-who scenario. Actually the points were so tight in the men's 49er that any of the top six would have had a realistic shot at the gold medal.
But with the wind failing to materialise, Rual and Amoros are able to celebrate their first major victory in the 49er class. Buksak and Wierzbicki took the silver and Isaac McHardie and William McKenzie of New Zealand the bronze.
Having led for much of the week, Benjamin Bildstein and David Hussl will be disappointed to have missed the podium by just 2 points, but at least the Austrians know they are back in the game and able to compete at the highest level after a lacklustre year.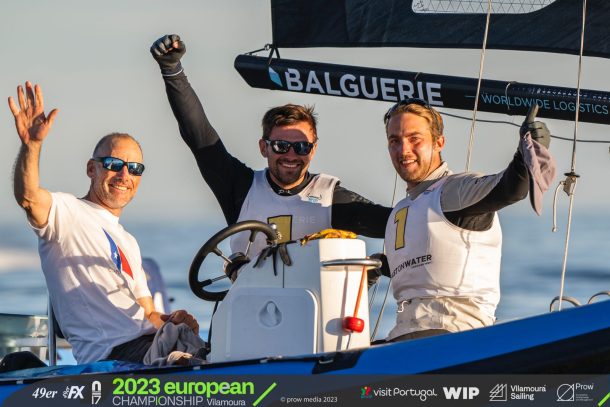 A 0.4 point winning margin
Amoros was crying with relief as the abandonment flags were hoisted and the sound signals confirmed the end of competition. "It feels amazing. Even if we won by just 0.4 point, we're still European Champions," said Amoros with emotion.
Even if they missed the chance to fight for gold, a silver medal was good enough for the Polish to crack open the beers and celebrate a job well done. Funnily enough, Buksak said he was pleasantly surprised at how well they had sailed whereas Wierzbicki said he had expected them to be as good as they were.
Pluck of the Irish
Today's Medal Race would have been a nailbiting showdown for the nation's spot, with Italians Simone Ferrarese and Leonardo Chistè desperate to close the 3 point gap on their Irish rivals. Having finished day one in 46th place, the Italians got better by the day and could have posed a serious threat to Robert Dickson and Sean Waddilove. When the racing was cancelled, the Irish burst into celebration and when they came ashore the welcoming party was dressed in green, including Dickson's parents. "We're just over the moon," said Dickson as he clinked champagne glasses with his teammate. "A massive relief to win our place at the Games."
For more information on the Nacra 17 racing, visit the event page: https://nacra17.org/event/2023-european-championship/#nacra17-results
For full results: visit this page