Mussanah, Oman – The 49er fleet saw teams go from hero to zero on some of the beats today. Korean and Indian teams felt the pain after their sides caved in as they neared the weather mark. But downwind speed and linking into long shifts allowed the top three in most races to fight amongst themselves.
Locked into that tight battle was the still-hot Australian team of Otto Henry and Miles Davey, who now sit in first.
There is a massive squad of young and hungry Australian skiff teams ready to take over the mantle left by Nathan Outteridge and Iain Jensen. Almost all of them are stuck at home, however due to virus travel restrictions. All but for Henry and Davey, who escaped in August to race the Junior Europeans and never went back.
Unable to return home, they've practiced and raced for the European fall season, gotten to the worlds, and landed on top of the standings after day two. They are as surprised as anyone. Even after a good day on day two, with a 2, 13, 5, they didn't expect to be trading their third place Forward WiP leaders jerseys for yellow ones.
At nineteen and twenty respectively, Henry and Davey are living the vagabond life Australians dream about. They are under no illusion, however, that the rest of the regatta will be easy. They did seem convinced all their buddies back home will now be saying, 'That would be us if we were in Oman.'
Meggendorfer with Spranger (GER) had the best day on the water with a 4, 2, 2 and seem pleased to have escaped without any pitfalls. They are tied with the young Aussie team.
Among the 49er teams that sailed well today there seems to be little agreement on how to best navigate the racing. Some claimed fighting hard right was the key. Others looked to play the shifts, but not too hard without over playing things. Others thought picking opportunities to go right was the key, but not to dig in too deeply. After fifteen raceable days in a row, the fleet still has plenty to learn about how to play the venue.
FX Moving Day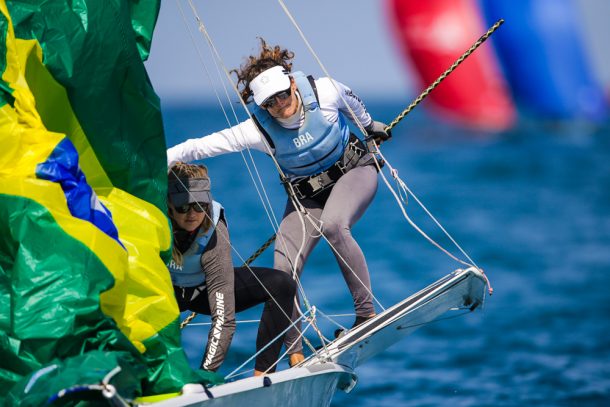 A protest can shake up the top five in the 49er FX fleet but for now the Dutch team of van Aanholt and de Ruyter are five points clear of Norwegeians Naess and Ronningen, and Day One leaders Gronblom and Hokka of Finland.
The fleet can take a page from the Dutch and Norwegians who were the last to leave the beach this morning, calmly rigging and slipping into their harnesses. The results showed that being relaxed, at least outwardly, has its benefits, scores of 3,2,7 and 5,1,6 respectively were more than enough to propel them up the leaderboard. But as those whom they displaced know, it doesn't take much to slide back down.
Favorites Fight to Top in Nacra 17
It might be expected that the most decorated Nacra 17 sailors lead the fleet by day two of the 2021 worlds, but today's shift by Italians Vittorio Bissaro and Maelle Frascari to the top slot didn't come easy. And across the three Olympic classes out on the blue green waters of the Indian Ocean, the biggest moves in results weren't just into medal position, but, more importantly, to within striking distance.
Bissaro and Frascari, the 2019 world champions, were most consistent with a 2,4,1 scoreline to hold a two-point lead over both Kolhoff and Stuhlemmer (GER), and Gimson and Burnett (GBR), Tokyo's bronze and silver medalists respectively.
A big challenge for the teams in all three Olympic classes has been trying to see the puffs, as the bright waters and endless sun don't leave much shading from puffs.
Despite more mixed scores further down the fleet, it is clear that small errors are causing big losses on the water. Competitive fleets and variable winds have left plenty of passing opportunities. The Italians scored double digits in race two when Frascari fell overboard and needed to be recovered. In race six, the British capsized during a gybe and dropped back to 8th. Clearly there is some rust on these teams after a competitive break.
Despite a tenth in the last race of the day, the Finnish pair of Kurtbay and Keskenin were impervious to the wind and sea-state challenges and won the first two races, making them the biggest mover on day two. "Yeah, it felt good to have a win again," said Kurtbay. "Once ahead, things got easier, we were able to go fast enough to hold off everyone. We were a bit nervous across the finish, as the horn was a bit late."
Ants in their Pants
The FX and Nacra 17 fleets were anxious to get on the water this morning, with almost the whole fleet waiting with sails up for the D flag release. After shuffling forward the keeners got on the water. Meanwhile, Odile van Aanholt with Elise Ruyter (NED) and Helene Naess with Marie Ronningen (NOR) were casually getting ready, seemingly without a care in the world. As a side note, those two teams are sitting one-two in the standings.
The 2021 World Championship runs from November 16-21, 2021 from Mussanah, Oman.
49er will have three days of qualifying followed by two days of gold fleet and a medal race.
49erFX and Nacra 17 will have five days of racing followed by a medal race.
Live broadcasts of the racing from November 19-21, 2021
Results photos, live and highlights from World Championship
Follow along via our newsletter 49er.org/subscribe