Supporting Skiff Sailors on the Road to Rio 2016
The International 49er and 49er FX Classes are delighted to announce the continuation of their partnership with renowned sailing apparel manufacturer Magic Marine, who continue as Official Clothing Partner.
The extension of the sponsorship which was first unveiled in 2013 is testament to the ongoing success of the partnership. Magic Marine is a favourite of numerous top sailors across the entire spectrum of the sport, and the partnership will see the Magic Marine brand appear at all Championship venues, on Championship websites, social media, communications and across video distribution channels.
As well as promoting its partnership through branding and associations with sailing's top Olympic athletes, Magic Marine will provide the 49er and 49erFX Class sailors with a range of apparel and equipment, sponsorship support to the top teams and on-site Championship merchandising. Branded racing vests will also be provided by Magic Marine to all teams.
Confirming the partnership, Carrie Howe, Magic Marine's Marketing Director said, "Skiff sailing continues to grow as an attractive sport and it's a thrill to be associated with some of the world's best athletes. Magic Marine has developed our technical clothing side by side with sailors, and we are proud to support them on their Road to Rio. Our continued partnership demonstrates the strength and value of the Magic Marine and 49er brands."
Ben Remocker, Managing Director of the 49er and 49erFX Classes, said "Magic Marine is a superb champion of the International 49er and 49erFX Classes and their support is a huge boost in our efforts to promote skiff sailing and our sailors. We are delighted that Magic marine will be with us as the Rio 2016 Olympics get closer. Magic Marine's drive for excellence matches our own and we are proud to continue our partnership."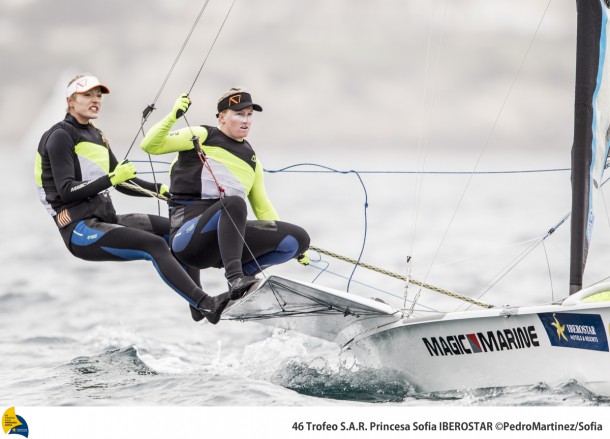 Supporting the partnership since inception is Icarus Sailing Media, who introduced the partnership and will be responsible for the video production and media distribution for the 49er and 49erFX Championships in 2015:
2015 49er/49erFX European Championships – 6-12 July, Porto, Portugal
2015 49er/49erX Junior World Championships – 24-27 August, Flensburg, Germany
2015 49er/49erFX World Championships – 17-22 November, Buenos Aires, Argentina
For more information contact:
Press Office
ICARUS SAILING MEDIA
Email: press@icarussailingmedia.com
Tel: +30 2109801726
About the 49er and 49erFX Classes
First selected as the new skiff event for the 2000 Olympics in Sydney, Australia, the 49er is now a mainstay of the ten events on the Olympic Sailing Programme, offering exciting and dynamic sailing for men. The 49erFX Class for women will make its debut appearance at the 2016 Olympic Games in Rio de Janeiro, Brazil. Both classes have also been confirmed for inclusion at the 2020 Olympic Games.
 About Magic Marine
Magic Marine has a reputation for quality and design and outstanding record of innovation, designing high performance technical sailing clothing for the market. Magic Marine was founded in 1989, and made its first appearance on the beaches of the Netherlands. Today, the brand is distributed on four continents and represented in most countries around the world. The first target group for Magic Marine's technical products was catamaran sailors and soon the brand and collections grew to the Optimist and Cadet youth market. The logical next step was Olympic Sailing.
 Magic Marine apparel is used, developed and supported by an extended network of sailors around the globe working together with our team at the brand's headquarters. New materials, comfort, and endurance are key concepts in the development of the range and the feedback of sailors worldwide is our #1 concern when developing our products.
Magic Marine has continued to invest in development to ensure that top level products are created for all conditions and types of sailing around the world.
 About Icarus Sailing Media
Icarus Sailing Media is a sports management, marketing and media company, focusing on top international sailing events. The company's expertise lies in managing the sports market value chain end-to-end, particularly for events of Olympic Classes.
Icarus Sailing Media has developed its own specialized technology and manages the media production, post-production and distribution in-house. In this way, the company can satisfy the sailing fans, the general audience, the media and the sponsors by tailoring its products and services.

www.icarussailingmedia.com
Press Office
ICARUS SAILING MEDIA
Tel: +30 2109801726