The 2016 Rio Olympics were hugely successful for New Zealand's sailors but even more so for a Kiwi boat building company.
Mackay Boats built the boats that were first, second and third in the 49er class, first and second in the 49erFX and second and third in the women's 470. Amazingly, they built 75 percent of the boats used in the 49er and 49erFX fleets in Rio and 60 percent of the 470 boats.
In all, Mackay boats have won 30 Olympic medals since the 2004 Athens Games and 114 world championships medals.
It's a phenomenal record for a small company who operate out of a handful of sheds in Silverdale. Their slogan is, 'just fast' and their boats obviously live up to it.
They're now putting most of their energies into meeting the demand from mostly international customers ahead of December's 49er, 49erFX and Nacra 17 world championships in partnership with Hyundai New Zealand in Auckland.
See Newshub's story on Mackay Boats here
They have 40 boats to build, which might sound a lot for a company that typically makes about 50-70 skiffs a year, but the biggest headache for Mackay Boats general manager John Clinton is finding enough space to store them before they're collected.
"We're embarrassed to say we don't actually sell boats," Clinton says. "Sailors make it their job to know what the best is so come to us. We believe in putting all of our efforts into building the very best boats we can. We are on the opposite side of the world to where most of our market is so people will only continue to come to us if we are building the best boat.
"The big thing sailors want is to know they are going to get consistency in every boat they get and that the boat Peter Burling gets is the same as what they are going to get. There's nothing special about boat building – it's actually quite simple – it's just the care you put into it. All we try to do is make the same as perfectly as we can."
It's something Mackay Boats have been trying to do since brother Dave and Owen Mackay bought the mould to make 470s in the early 1990s. It was an industry that was in their blood, given their father built a lot of the Flying Dutchman used at the 1964 Olympics and who also specialised in offshore powerboats.
They built their first 49er in the late 1990s and are now one of only two active manufacturers in the world for the Olympic skiff classes. They also build 470s, 420s, 29ers, OK Dinghys, Starlings and VX Ones.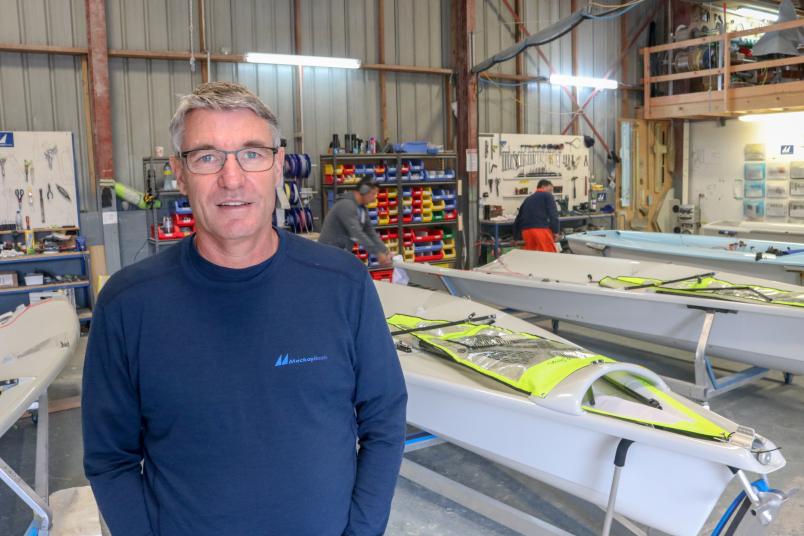 John Clinton and Mackay Boats are building 40 boats for this year's 49er, 49erFX and Nacra 17 world championships.
As many as 400 sailors are expected to compete at the 49er, 49erFx and Nacra 17 world championships to be held at the Royal Akarana Yacht Club and, for Mackays, it will be an opportunity to meet many of their clients for the first time.
"For us as a company, we can spend time with them and build a relationship," Clinton says. "Being in New Zealand, we suffer from the fact we don't get to know these guys personally. Email is very different to knowing them personally.
"A lot of these sailors are using the world champs as an excuse to buy their next boat. It's going to be interesting to see what it does for sales. We have a whole lot to deliver in October, whereas normally they would be spread out over the year. Some have ordered a new boat they'll take straight after the worlds and use for the Olympics."
Most teams typically have two or three boats which are often spread out around the world, depending on where their next regattas are.
The equipment tends to evolve but the hull shape hasn't changed since 2008 and are essentially bullet proof. "There's really nothing on the boat that can break," Clinton says.
"In manufacturing you have your ups and downs and the sailors don't forgive you. If you make one little mistake, you are reminded about it so you have to make sure the mistakes are very small and very rare."
It's clearly something Mackay Boats have been doing well for some time and they'll be looking to add to their medal haul at both the world championships and Olympics over the next 12 months.
Pic: Peter Burling and Blair Tuke have enjoyed considerable success sailing 49ers built by Mackay Boats. Photo: Yachting New Zealand.