Challenged by a 5-6 knot breeze over the first two days of the World Cup Series event, the champions have used all their experience to position themselves at the top of the pack or firmly in medal contention. Olympic medallists, World Champions and Continental titleholders were all battling at the front of the packs on a wet and light wind opening day of Sailing's 2017-18 World Cup Series in Gamagori, Japan.
Day 1
The Men's Skiff (49er) completed one race and Isaac McHardie and William Mckenzie (NZL) managed to clinch it by seven seconds over James Peters and Fynn Sterritt (GBR). "There were a lot of puffs and holes but we linked it all together to win.
"It was a game of snakes and ladders. You could gain just as easily as you could lose. You had to bank what you could and hope for the best."
The Women's Skiff (49erFX) took to the water for the afternoon session and managed to complete three races in light breeze. Lili Sebesi and Albane Dubois (FRA) took a pair of wins and a second to lead the overall. Japanese favourites Sayoko Harada and Sera Nagamatsu follow.
Day 2
Great Britain's Dylan Fletcher and Stu Bithell beat their team mates James Peters and Fynn Sterritt to the 2017 49er world title in Matasinhos, Portugal at the start of September by just four points.
Their rivalry has transferred across to Gamagori and the teams occupy the top two spots after five races. Fletcher and Bithell hold a five-point advantage after taking two out of four wins from the day.
Japan's Sayoko Harada and Sera Nagamatsu took the single Women's Skiff (49erFX) race win and trail leaders Lili Sebesi and Albane Dubois (FRA) by a single point.
Check out all the regatta info here: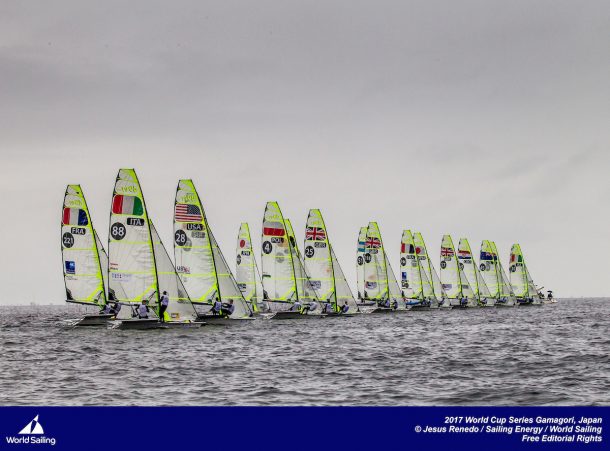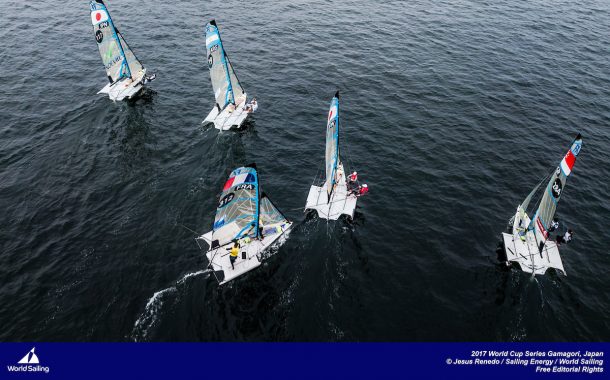 ENTRIES / RESULTS / SCHEDULE
Olympic medallists as well as World and Continental Champions have registered to race in Gamagori. Click here to view the entry list in full. Results will be available from 17 October here – http://sailing.org/worldcup/results/index.php
The Men's and Women's Windsurfers and Skiff fleets will conclude on Saturday 21 and the Men's and Women's One Person and Two Person Dinghies will finish on Saturday 22.
To view the full schedule click here.
SAP SAILING ANALYTICS
Live tracking, sailor analytics, live weather data and racing status will be available on the platform here –https://wcs2018-gamagori.sapsailing.com/
Saturday Medal Races – RS:X, 49er, 49erFX
URL – https://www.youtube.com/watch?v=QlpiGsJG3TE