Two young teams sailed at their best in Lanzarote to earn the final Olympic berths available to European sailors. Robert Dickson and Sean Waddilove (IRL) earned a bronze medal in a highly competitive fleet and sailed at a world class level in order to secure their berth in the 49er. Isaura Maenhaut and Anouk Geurts (BEL) had a tighter battle on their hands with teams from five nations in contention for the Olympic berth throughout the week.
The Irish secured third overall in addition to their Olympic qualification. The duo were at an elite level in terms of their speed this week, enough so that they overcame two UFD (over early) in the series. Though they are only in their early twenties, they have a lot of experiences sailing with each other. They move from Opti's to 420's and into the 49er. They won the Junior World Championship together in 2018. They have also likely unseated their countryman, Ryan Seaton, who got their Olympic berth for Ireland in both 2012 and 2016. It's one thing to get the final Olympic berth, and in most classes that would be the pinnacle for a team in that quad. By sailing so strongly and beating out so many world class teams in Lanzarote, the youth Irishmen will not set their heights higher and aim to compete for the podium in Tokyo.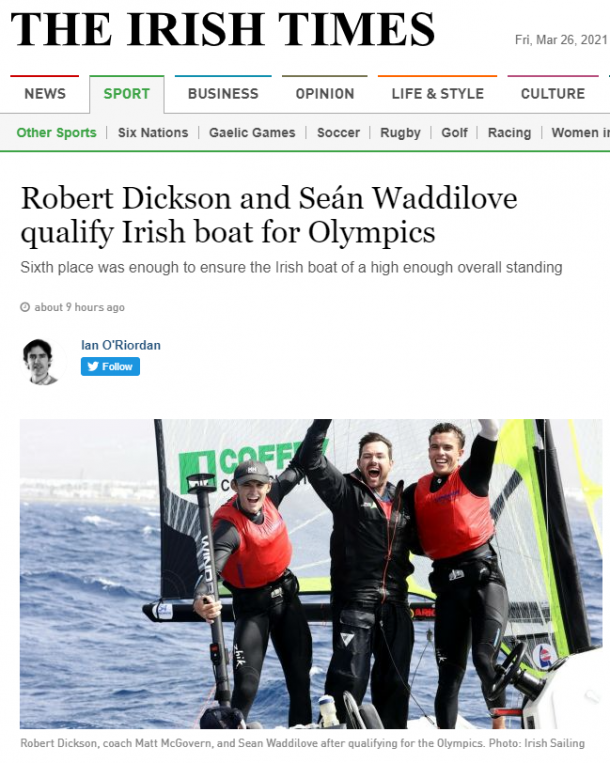 Isaura and Anouk from Belgium are just in their early twenties and only transitioned to the 49erFX in early 2019. They held off teams from Croatia, Finland, Czech Republic, and Sweden, each of whom campaigned for at least the full quad and two of which raced in Rio. Their seventh place finish is truly impressive, as virtually all of the Olympic bound teams attended the regatta. These young sailors sailed Laser Radial and Laser 4.7 as youth, then moved into separate but cooperating Nacra 17 teams in 2017 only to team up into the 49erFX in 2019.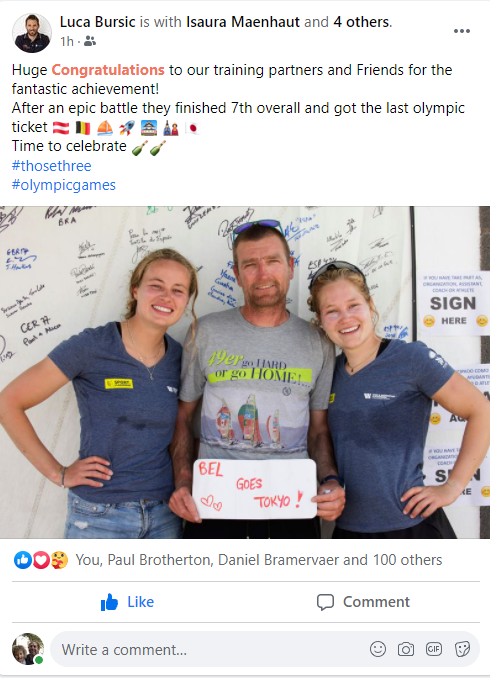 The overall competition was a bit of a Pre-Olympics, with much of the spring racing cancelled in the run up to Rio. Only Alex Maloney and Molly Meech from New Zealand were able to attend of the Oceania countries, and the Asian teams are in Oman preparing for their Olympic qualifier next week, but otherwise the fleets were full of talent.
Martine Grael and Kahena Kunze (BRA) overcame travel issue and showed they are ready to defend their 2016 Gold medals by winning the regatta by almost 20 points. Five teams could have overtaken them heading into the final day, which has a single fleet race followed by a medal race, but they held strong and extended.
The podium teams were all World Champions in the 49erFX, with the 2018 and 2019 World Champions Annemiek Bekkering and and Annette Duetz (NED) in second, and the 2020 World Champions Tamara Echegoyen and Paula Barcelo in third.
The 49er regatta was won by a landslide by Diego Botin and Iago Marra (ESP). Six race wins, 2 seconds and 2 thirds kept their point total exceedingly low, and they have laid down a marker as the team best placed to Challenge Peter Burling and Blair Tuke for the gold in Tokyo. These amiable Spaniards were runners up to the Kiwi's at the 2020 Worlds in Geelong, and while Pete and Blair have been distracted winning the America's Cup the Spanish seem to have improved their boatspeed from an already high pace. Pete and Blair will no doubt be motivated and have all the winning experience that can ever be hoped for, but they continue to spend time on their pro-careers in Sail GP. In fact, these two teams will lock horns in a round about way in SailGP, and that may be the only time we see them head to head before Tokyo begins.
The 49er Class would like to extend our heartfelt thanks to the Organizing Authority in Lanzarote. The Canary Island Federation, with their experienced and hard working staff delivered an amazing final qualifier for these teams. For some sailors, their Olympic journey will now, unfortunately, be over. What all teams want is a fair shot at doing their best, and this regatta, with it's full compliment of races, multiple wind conditions, and excellent race management delivered on that. Lanzarote has served sailing well this week and we salute you.