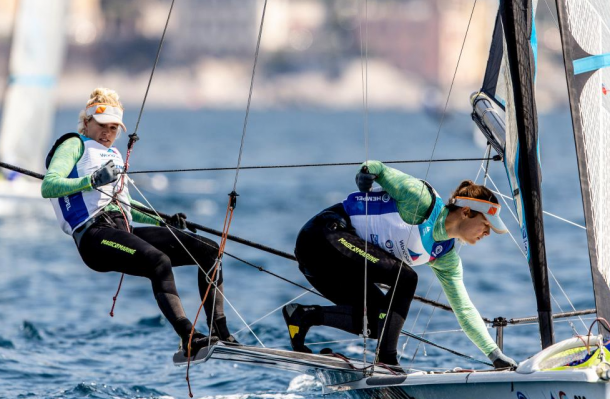 Odile van Aanholt and Marieke Jongens (NED) snapped up a hat trick of race wins in the 49erFX to propel themselves into pole position at the Hempel World Cup Series event in Genoa, Italy.

Hitting the top of the 49-boat 49erFX fleet holds special relevance for van Aanholt and Jongens as the event is the first of two qualification events for Dutch qualification to Tokyo 2020 in the 49erFX, so the stakes are high. Four other Dutch teams are currently competing and sit in ninth, 18th and 36th.

Genoa was alive and kicking on Thursday for the fourth day of competition after fleeting winds the days prior dented progress in the racing schedule.

A 5-7 knot western breeze ensured that every fleet, minus the Laser Radial, managed to complete at least one race as the organisers work hard to catch up on races lost the days prior.

Van Aanholt and Jongens' fleet, the yellow, completed three races in the 49erFX whereas the blue completed two. The 49erFX fleet now has five complete races which has brought the qualification process to a close, enabling gold and silver fleet racing on Friday.
Qualification Matters
Hempel World Cup Series Genoa is an important event for many teams with internal Tokyo 2020 qualification battles heating up but for Van Aanholt and Jongens, their perfect day has gone a long way in giving them an early initiative.

"Only one team per fleet goes to Tokyo 2020 in sailing," said Jongens. "We've got four Dutch 49erFX teams and we've got two events to decide who goes to the Olympic Games."

Van Aanholt continued, "Our trials are here and at the 2019 Volvo European Championship in Weymouth [Great Britain]. Both regattas are weighted equally so it is important to do well here and there. To pick up points towards the trials you have to finish in the top ten. If you finish tenth you take one point and if you finish first you take ten points. If you finish outside of the top ten then you get no points. At the end of the whole thing it's who gets the most points goes.

"It's done this way, with the scores in the top ten, because we want a stable team who's always at the top. If you're in the top ten then it shows that there is potential for a medal at Tokyo 2020."

Their performance has given them a good grounding for the remainder of the event. They currently lead on eight points followed by Sweden's Klara Wester and Rebecca Netzler on 11 and Julia Gross and Hanna Klinga (SWE) third on 17.

Dutch rivals and 2018 World Champions Annemiek Bekkering and Annette Duetz remain firmly in the hunt for points in the qualification process. They are ninth, just 13 points off the leaders. Willemijn Offerman and Cecile Janmaat (NED) are 18th on 33 points with the final Dutch team of Dewi Couvert and Tess Wilschut in 36th and out of contention for points as they did not make the gold fleet.

Plenty of racing remains in the 49erFX with four races scheduled for Friday ahead of Saturday's Medal Race which will be broadcast live on World Sailing's YouTube Channel – www.youtube.com/worldsailingtv.
2016 All Over Again?
The development in the Dutch trials bring back memories of qualifying for Rio 2016. In 2016, the Dutch also did a trials very early in the quad, and their leading contenders ended up second place. In the Rio version of this story, Nina Keijzer and Claire Blom beat out Annemiek Bekkering and Annette Duetz to qualify for Rio.
The Dutch Federation then gave them no support and required they finish in the top 8 at either Worlds or Euros to certify their qualification. Nina and Claire then fell short paving the way for the Dutch Federation to send Bekkering and Duetz to Rio anyways, where they finished 7th.
The qualification process for Tokyo has a ways to go as there are still two more days of racing in Genoa, along with the Volvo European Championships next month. But with Genoa having produced hardly any raceable winds over the first four days of the regatta, the regatta could be over already. With van Aanholt and Jongens in first that could be 10 points for them in this qualification system, and only 2 points for Bekkering and Duetz. Should the regatta finish as it stands, van Aanholt and Jongens would need to finish top 8 in Weymouth to guarantee selection, or Bekkering and Duetz would need to finish outside of first or second place.
The 2017 World Championships, Bekkering and Duetz and the Dutch federation could be set up for another headache of qualification. The Dutch federation are arguably the most successful Olympic sailing federation these days, but one has to question their choice to use a regatta in Genoa in a qualification process. While waiting on shore for the past few days, the sailors came up with a solid bit of banter to reconcile with their patience onshore. Genoa is the place where the large overlapping genoa sail was invented for! Check out the wiki below. Of course, World Sailing has also named the 2020 version of this regatta as the European continental qualifier, so there's more in store.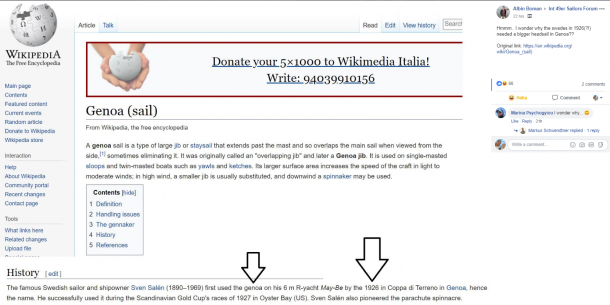 On the bright side to all this, World Sailing changed the rules around match racing within a fleet race between last quad and this. In the last quad, a team could match race another team if it impacted a series of regattas. The rules now state that match racing can only occur for reasons within a regatta. Therefore, the team with the lead in a multi-event trials cannot simply sit on the second place team for a whole week, which we saw on a few occasions leading into 2016. We could call this the Norregaard clause, as in 'No regard should be given to what's happening outside this regatta.'
49er World Champs Hit Top
The 49er also completed their qualification series. The yellow fleet sailed four races and the blue completed three as the scores from five races are combined.

Croatia's 2018 World Champions Sime and Mihovil Fantela took three wins out of five and hold the lead on 14 points. They are three clear of Diego Botin and Iago Lopez Marra (ESP). Australian brothers David and Lachy Gilmour are third.

The top 33 racers will advance to gold fleet racing on Friday before the top ten progress to Saturday's Medal Races.
No Racing was held for the Nacra 17 on day 4, so qualification continues into day 5.
EVENT WEBSITE
Click here for further information on Genoa and the Hempel World Cup Series – https://www.wcsgenova.com/