Capsizes Shake Up FX Semifinal Leaderboard, Men's 49ers Abandoned on Penultimate Day of Worlds
Porto, Portugal (1 September 2017) – The Portuguese tradewinds were in full howl this morning over Matosinhos, Portugal as Day 5 dawned on the 2017 49er/FX World Championships.  With the top 20 qualifiers advancing to the gold fleet semifinal round and the remainder battling for silver, only the teams who could keep their boats upright would avoid falling in the results.
Olympic silver medalists Jena Hansen and Katja Iversen (DEN) have never won a World title, but the only top women's team to avoid a capsize today may be on the verge of their first.  The powerful Danish team achieved a middling first race today in 12-15 knots, but there was no looking back from that point on as they went on to a 1,2,1 in the final three races. 
"Katja and I talked a lot about the techniques and maneuvers so we were always on the same page," Hansen said.  She added that they 'fell down on our butts a few times in the middle of a gybe, but we were always able to save it."
Hansen and Iversen were still in the boat park hours after racing ended.  We're making some new trapezes to make sure they last for tomorrow," Hansen explained to a reporter.  "Confidence in our gear is one of the most important things to have in this breeze."  When asked what message she wanted to send to her fans, Hansen pulled no punches.  "Tomorrow you'll see more kicking butt, we'll be fully switched on as we are every day out there."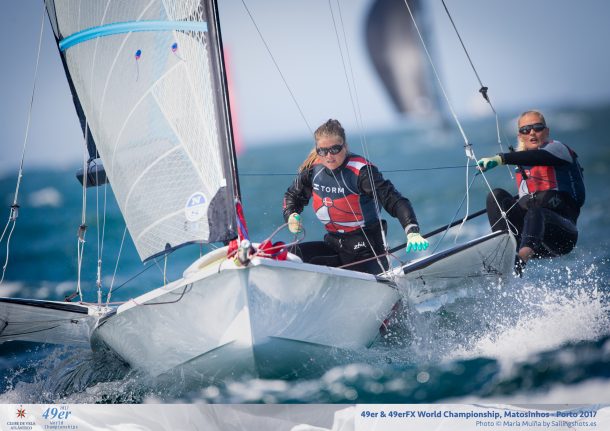 Hansen/Iversen may sit on a significant 5-point lead today, but if not for a single capsize from each of the three teams just behind, they might still be in fourth place.  The most heartbreaking swim came surprisingly in the slightly lighter air of race 2, when the British Sailing Team's Charlotte Dobson and Saskia – who'd sailed a perfect race to that point with a huge lead – flipped just meters from the finish.  "We had an awkward angle for that final gybe right on top of the gate mark, and with the skewed waves it was a tough maneuver and we didn't get it done," said Dobson.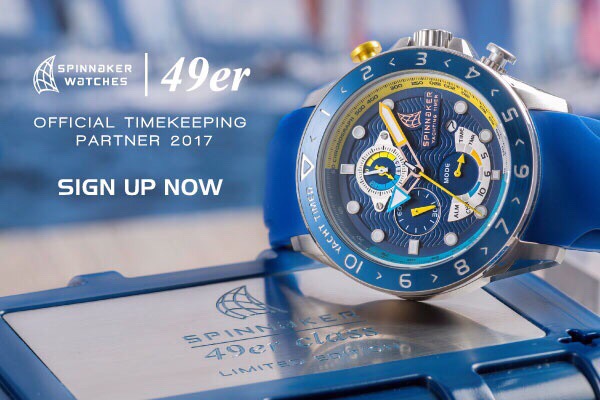 Dobson/Tidey would currently lead the Championship had they sailed that final 20 meters without a hitch, but Tidey says it's all part of sailing. "That's the game of sailing, isn't it, and we've got another day to go out and give it our all," she said.  "You have those moments and you just have to put them out of your mind and reset, and just go out and give it everything you've got again."  Tidey and Dobson did just that: Their 3,4,4 results in the other races have them sitting in fourth place , and while it's an uphill battle to get to the top of the leaderboard, Tidey says there is no quit in them.  "We're gonna go out there and send it around the course as the strongest team on the course, and give it socks!" Tidey said cryptically.
Olympic gold and silver medalists Grael/Kunze and Maloney/Meech each capsized once in the final, ultra-windy race, finishing seconds from each other in 10th and 11th position.  They sit in the silver and bronze positions going into the final day of action.
As the FX fleets finished racing for the day, PRO David "CJ" Campbell-James abandoned all racing for the day.  "31 knots on the course, massive seas, and no real prospect of any relief until sundown…it's frustrating, but going out there now would be unsafe so we'll resume in the morning," said CJ.
Surprisingly for a team with a solid lead for what would be their first-ever World Title, 2017 European Champions Dylan Fletcher and Stuart Bithell were disappointed to have missed more sailing.  "With the way we've been sailing in this breeze, we were looking forward to the opportunity to put more good finishes on the board and go have some fun," said Fletcher as he inspected every inch of their boat.  The team scored three straight bullets to take the lead on Thursday, and with their boat in perfect preparation, they're feeling good about their chances. "Yesterday was awesome fun – it's exactly why we sail the 49er, and a big confidence builder with the upwind and downwind pace we had," said Fletcher. "We hope the breeze plays ball and we can put on a bit of a show for everybody."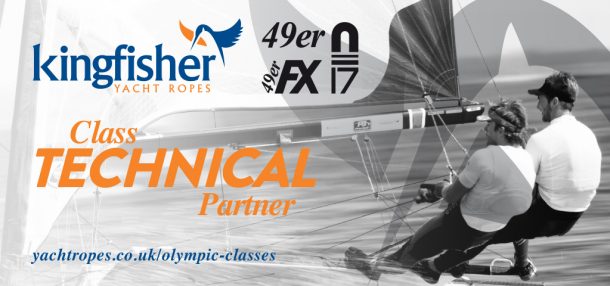 The End Is Nigh
The final day of racing begins at 1000 tomorrow with the men's 49ers, with the FX fleet following.  Weather permitting, the medal races – short, intense races for the top 10 teams in each fleet – will take place in the early afternoon.
Fans of live sailing can watch all the action on their computers, mobile devices, or giant screen smart TVs beginning at 0900 local time for the Dock Walk, when sailing journalist Alan Block gets the stories from the sailors themselves as they prepare for the semi-final round.  The Dock Walk comes to you via the 49er Facebook Page.
From 1000 local time/1100 CEST, the 49er Media Team will bring you live streamed racing action from the wide-open Atlantic, with aerial shots, on-board cameras, sideline cameras, and digital tracking, hosted by Block with color from 49er Olympic vet Ben Remocker.  The broadcast continues until racing ends for the day, and you'll find the live notifications via our alerts if you sign up HERE.
NOTE TO PUBLISHERS: If you would like to embed our Worlds video player on your website or blog, please use the following code (standard width/560p): EMBED CODE HERE
World Championship Links:
Please be sure to LIKE the 49er Facebook Page (49er Sailing) to be notified of new photos, videos, and live streams from the World Championship.  More centralized information including interviews, photos, results, articles and other regatta documentation is available on the Class website at https://49er.org.
LIVE VIDEO COVERAGE SCHEDULE: – August 31 & September 1 we will cover Gold Fleet racing, with 20 boats in each fleet for the 49er and 49erFX – September 2 will see us covering the Finals. Each fleet will have 3 'theatre style' races to determine the 2017 World Champions. Live streaming on YouTube (https://www.youtube.com/49erSailing).   Our live broadcast will have 1 drone camera, 2 sideline cameras, on board cameras, and a virtual tracking environment. Combined with the best fleet racing our aim is to engage you with some spectacular, world-class sailing!
– Get to know the personalities behind the circuit; back stories, interesting tales, and what really motivates these world-class racers.  Hosted by longtime sailing journalist and online personality Alan "Mr. Clean" Block, we'll cover the future stars, the seasoned vets, and give you a preview of what's ahead for the day. Live on Facebook and Youtube from 1100UTC.
– Daily photo albums will be posted on the Event Website (https://49er.org/event/2017-world-championship/) and the Class Facebook page. YouTube, Facebook, Twitter, Instagram all @49ersailing
** Betting is provided by a completely independent online broker and their affiliates, and we are providing publicly available information about betting solely for informational purposes.  Competitors, Race Officials, and support staff are prohibited from betting on their events by World Sailing Regulation 37, and the International 49er and FX Classes neither participates in, promotes, or supports online betting in any way.