Only 1 point separates first from second in 49er, while Van Aanholt / de Ruyter (NED) and Gimson / Brunet (GBR) well ahead in FX, Nacra 17 respectively
It was tough to be consistent on day five, but the two leading teams each managed to win a race, throw away their worst race of the series, and score another keeper to move into near share of lead. Fischer with Graf (GER) are one point clear of Staniul with Sztorch (POL) with only Lukasz with Pawel (POL) in contention for the overall lead.
Neither of these teams was part of the Tokyo 2020 Olympic scene, but they have been putting in their work aiming at inclusion in Paris. Both teams are deeply embedded within their nations systems and are hoping performances like can't be ignored when resources and selections happen over the next few years.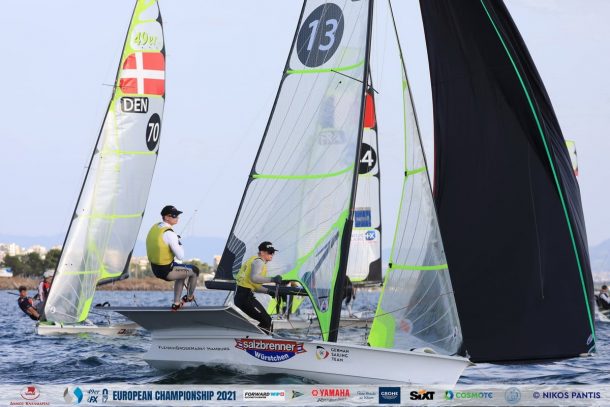 The final day of the 2021 European Championship has two gold fleet races and a medal race scheduled for all fleets.
Well clear in their respective fleet are Gimson with Burnet (GBR) in Nacra 17 and Van Aanholt with de Ruyter (NED). Each sailed solidly in the very tricky day five and let their chasers fall back.
The day was split by a huge squall that knocked over the entire 49er Silver fleet and the Nacra 17 fleet came home under jib alone. After ten straight days of warm weather and sea breezes, the skies over Thessaoliniki darkened as a well predicted system rolled through with a fair bit of venom.
After the squall the wind was quite funky, but had some pep to it leading to inconsistent scores from most teams. For four teams in the 49erFX, they managed to navigate the variations well, each scoring fewer than 10 points over three races. That adaptability and foresight places them first through fourth overall.
Full coverage available at: https://49er.org/event/2021-european-championship/
Be sure to follow Fischer/Graf on insta!

Check out these storm front pics! The sky was dark…