After losing the first two days of the 2017 49er and FX World Championship to a lack of sailable conditions, Day 3 of the 2017 Worlds opened under yet another curtain of fog, rain, and light air.  With a tantalizing breeze a few miles offshore just beyond the fog banks, frustration reigned ashore for sailors, coaches, and race officials as the waiting game continued.
At around 2 PM, the first rays of sun tickled the top of the masts just as the Northerly breeze began to flow, and a few minutes later, hundreds of faces were smiling as officials hoisted the flags and released the 49ers from the shore.
After day after day of waiting around on shore the fleets leapt into action, with more than 80 boats launching in just minutes before heading out to one of the 3 race courses just off the port of Matosinhos.  Big rolling ocean swells greeted the fleets, with a light 4-7 knots of northerly breeze providing enough power to get through the lump, but not much more.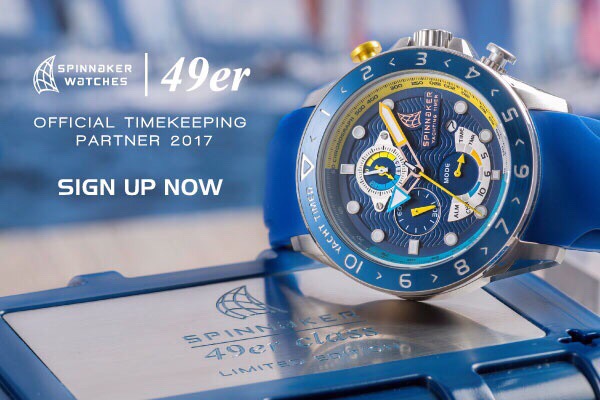 Of all the teams, no one started the day stronger than Portugal's own Olympic veterans Jorge Lima and Jose Costa – the duo took a bullet in race 1 and a 2nd in race 2 in their section.  "It was a good start to the regatta, but maybe the best work we did was in race 3," said Lima, who had a terrible start to the final qualifier of the day.  "We're proud of our performance in that race, coming back from near the back of the fleet and passing lots of teams thanks to a big right shift on the final beat," he said.  The team finished 13th in that race.
Lima and Costa are looking forward to the stronger wind and bigger waves forecast for the rest of the week – conditions similar to their training camp in Lima's home port of Cascais.  "We're trusting the stronger weather forecast, and we're looking forward to it," said Costa.
Great Britain's James Peters and Finn Sterritt continued the strong performance they showed during their bronze medal European Championship sail last month, scoring a 2,2,5 to lead all 49er fleets after three qualifying races.  They lead a massive, 11-team strong British 49er effort, but surprisingly Peters/Sterritt are the only UK team in the top ten after three races – something that most expect to change rapidly when the breeze kicks in tomorrow.
German 49er sailors had a huge first day of racing, and not just the veterans: Rio medalists Tommy Ploessel and Erik Heil finished their day in third place, ending the day with a 1,2 in the final two races.  Meanwhile, Ploessel/Heil's longtime training partners and rivals Justus Schmidt and Max Boehme did them one better; a 4,3,2 scoreline was good for second overall, just one point ahead of the Olympic vets and tied on points with the British leaders.
As strong as the top German teams were, the three German youth teams may have been even more impressive given their experience level. Tim Fischer and Fabian Graf lead the three-boat youth group, the pair sitting in 11th place after a 20,1,1 scoreline (the other two youth teams are in 18th and 19th place).
Graf said the key to their performance today was not complicated: You had to have a great start.  "With the light air and big swells, it was crucial to be able to hold your position for a long time after the start, so you had to have the freedom to work the boat through every wave," said Graf, who alongside his squadmates spent the winter training in Kiel.  "We fortunately had some time to get used to the ocean swell during our training here before Worlds and at Europeans in 2015, so we felt comfortable with our tuning and the more difficult technique required in the waves."
Graf said their team's training partnership has helped the entire German squad improve.  "The three youth teams [Fischer/Graf, Meggendorfer/Spranger, and Carstensen/Frigge] all push each other really hard, and it makes a great combination with the help and advice we get from the more experienced guys like Tommy and Eric.  The young German crew says they're ready for more breeze tomorrow. "Big waves make everything fun, and breeze means more boathandling – we like that," said Graf.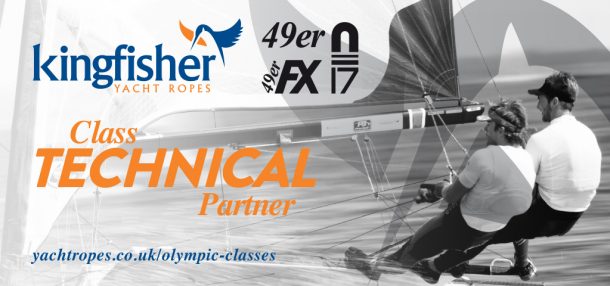 With the women's 49er FX fleets only able to complete two races for each of their two courses, results may not mean much, but despite missing a few months of training and the European Championship, Rio silver medalists Alex Maloney and Molly Meech (NZL) were back on the form they showed when winning the first ever FX World Championship in 2013, leading with 4 points.
Anxious to improve on their hard-fought Kiel European bronze-medal performance last month, Vicky Jurzcok and Anika Lorenz sit second on five points, with Denmark's Hansen/Iverson and Finland's Ruskola/Wulff tied on six each.  Hansen said the afternoon racing was glorious.  "We took it easy in the morning thanks to frequent updates on Facebook from the Class, so we came down fresh and well-rested and had a great day on the water," said Hansen.  "The wind was really nice and we felt good around the course, and we're looking forward to more of everything tomorrow: More wind, more racing, more sun…"
The shocker came from reigning European Champions Tina Lutz and Sani Beucke, pulling a 16,17 to sit in 35th place after two races.  "We're not sure what's going on, so we'll just forget about today and start fresh in the morning," said Beucke with her characteristic smile.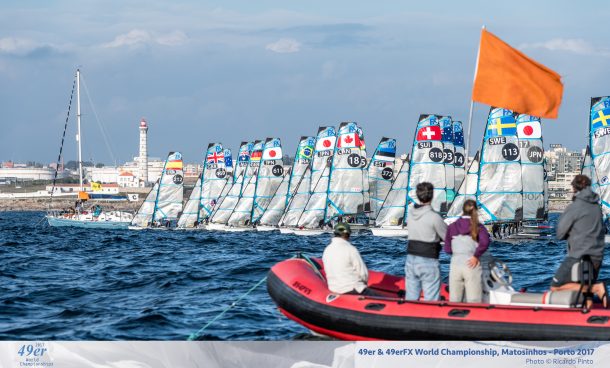 The Return of the Trades
European weather models are now predicting the return of the full fury of the Portuguese Trade Winds – the boisterous 15-25 knot northerly breezes that helped propel Portuguese sailors around the world during the Age of Exploration – by Thursday afternoon.  Their arrival comes just in time for fans of live sailing to watch all the action in Portugal on their computers, mobile devices, or giant screen smart TVs.  The action begins at 0930 UTC/1030 CET with the ADIDAS SAILING Dock Walk, when sailing journalist Alan Block gets the stories from the sailors themselves as they prepare for the final Qualification races.  The Dock Walk comes to you via the 49er Facebook Page.
From 1100 UTC/1200 CET, the 49er Media Team will bring you live streamed racing action from the wide-open Atlantic, with aerial shots, on-board cameras, sideline cameras, and digital tracking, hosted by Block with color from 49er Olympic vet Ben Remocker.  The broadcast continues until racing ends for the day, and you'll find the live notifications via our alerts if you sign up HERE.
NOTE TO PUBLISHERS: If you would like to embed our Worlds video player on your website or blog, please use the following code (standard width/560p): <iframe width="560″ height="315″ src="https://www.youtube.com/embed/bWiuJ4Kzj_Q" frameborder="0″ allowfullscreen></iframe>
Against All Odds
For the first time ever, sporting fans can wager on the outcome of the 49er World Championship **.  If you think you know who's got that special sauce, you can put your money where your mouth is via these links:
Global sites (if the above links don't work in your region)
World Championship Links:
.Please be sure to LIKE the 49er Facebook Page (49er Sailing) to be notified of new photos, videos, and live streams from the World Championship.  More centralized information including interviews, photos, results, articles and other regatta documentation is available on the Class website at https://49er.org.
LIVE VIDEO COVERAGE SCHEDULE: – August 31 & September 1 we will cover Gold Fleet racing, with 20 boats in each fleet for the 49er and 49erFX – September 2 will see us covering the Finals. Each fleet will have 3 'theatre style' races to determine the 2017 World Champions. Live streaming on YouTube (https://www.youtube.com/49erSailing).   Our live broadcast will have 1 drone camera, 2 sideline cameras, on board cameras, and a virtual tracking environment. Combined with the best fleet racing our aim is to engage you with some spectacular, world-class sailing!
– Get to know the personalities behind the circuit; back stories, interesting tales, and what really motivates these world-class racers.  Hosted by longtime sailing journalist and online personality Alan "Mr. Clean" Block, we'll cover the future stars, the seasoned vets, and give you a preview of what's ahead for the day. Live on Facebook and Youtube from 1100UTC.
– Daily photo albums will be posted on the Event Website (https://49er.org/event/2017-world-championship/) and the Class Facebook page. YouTube, Facebook, Twitter, Instagram all @49ersailing
** Betting is provided by a completely independent online broker and their affiliates, and we are providing publicly available information about betting solely for informational purposes.  Competitors, Race Officials, and support staff are prohibited from betting on their events by World Sailing Regulation 37, and the International 49er and FX Classes neither participates in, promotes, or supports online betting in any way.