The Nacra 17 & 49er International Classes are thrilled to announce our partnership with FORWARD WIP becoming our Official Technical Clothing Partner.
The five-year sponsorship agreement will run until the end of 2024 and will see both partners work collaboratively to further develop and market the sport in new and existing territory.
Thanks to a long expericence in designing light and innovative protective gear for the last 2 America's Cup and SuperFoiler Australian Circuit, Forward WIP is one of the leader in Foiling Action Sailing equipment. Since, many of Olympic Sailors choose WIP for the combination of protection with performance and style.
With the arrival of the foils on the Nacra17, the 49er which remains a spectacular and fast boat, and the hard work of the International Class on safety measures for years, there are real and good synergies between these three classes and Forward WIP.
As well as promoting its partnership through branding and associations with sailing's top Olympic athletes, Forward WIP will provide the 49er, 49erFX, and Nacra17 sailors and fans with a range of apparel and equipment at discount prices.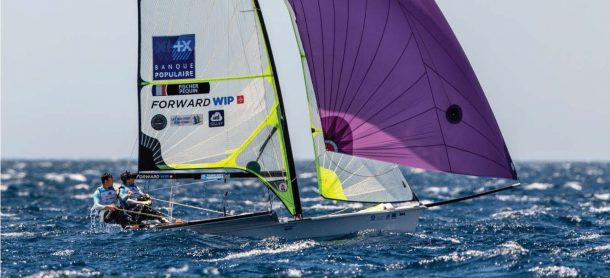 Confirming the partnership, Martin Bertrand, Forward WIP's Sports Marketing Manager said, "We are really happy to be associated with these three classes. Foiling cat and Skiff sailing are part of our DNA and we have always been passionate about Olympic racing with some of the world's best athletes. Forward WIP has developed their technical clothing side by side with sailors, and we are proud to support them on their Road to Paris 2024. We are ready to start this collaboration with the great International Class team, these three incredible boats support with whom we share the same strong values."
Marcus Spillane, President of the 49er and Nacra17 classes, said "We are thrilled to be working with Forward WIP for the development of our sailors, and sailors around the world."
2020 Oceania Championship, Geelong, Australia (January)
2020 World Championship, Geelong, Australia (February)
2020 Forward WIP European Championship, Lake Garda, Italy (May)
2020 Junior World Championship, Lake Como, Italy (August)

Stay connected
Route de Lausanne 4 – CH-1180 Rolle Switzerland Tel : +41 21 826 26 16
PRODUCT & MARKETING Info Martin – martin.forwardwip@gmail.com SALES & DISTRIBUTION Info Sylvain – sylvain.forwardsailing@gmail.com

Foiling market is charging! Watersports are going through the revolution of Foiling, gliding over the sea in every enjoyable and efficient way, new horizons open up… Forward WIP, Switzerland-based company born in 2015 and specialized in Innovative protective gear designed for riders/sailors going fast on water, is the clear winning choice of the America's Cup team, Olympic and World Champions around the World such as Glenn Ashby, Billy Besson, Loick Peyron… We are Pro Sailors, Engineers, Designers, Supply specialists… and we are all dedicated to Watersports, training and racing whenever possible to constantly test new ideas. Innovation is our DNA, we want to provide the best personal gear out there for Flying Catamarans, fast Dinghies, Board-Foiling riders protecting them and helping them to reach their next level…