The 49erFX was second start for the day and they were able to get 3 races in quality sailing conditions.  The wind was quite light as they headed out to the course but after only a brief delay the wind steadied and the three races were held in a building breeze up to 15 knots.
Local heros Ida Nielsen and Marie Olsen dominated the day with a 1, 1, 2 scoreline and send a message to this developing fleet that they mean business while 2 stringing.  In typically modest tones, they downplayed how well they sailed knowing that this championship is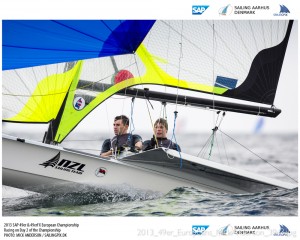 far from over.  With three great races today they have stormed into the lead with a 12 point lead overnight. Ida went straight from the water to the evening show to a sponsor dinner without missing a beat, they are ready for the limelight.
The starts were tricky for the 49erFX fleets.  36 skiffs on a start line is a challenge any time, but even more so with large waves relative to the wind strength.  With a swell and chop on top, the boats are very difficult to control in low speed conditions, and many of the teams reported the challenge.  The George sisters of Germany mentioned that their plan was to start left and go left each race, but only managed it once as the starting was so tricky.
The 49erFX has a 3rd day of qualifying scheduled for tomorrow and then the top 16 teams will advance to the semi finals for Friday and Saturday.  With the forecast being quite light there will be many teams hoping for 3 more races tomorrow to make a final push to advance.  The 49er fleet is scheduled to start first thing and the 49erFX will not be starting before 1:00 pm.