Back to overview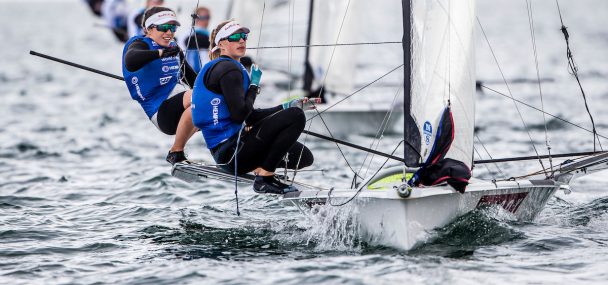 Bold Decision Pushes USA to the Front of 49er Pack. NZL Well Ahead in FX.
by Stuart Streuli, HWCSM Press Officer

COCONUT GROVE, Fla. (January 30, 2019)
It was a rich get richer sort of day at the 2019 Hempel World Cup Series Miami, and during each of the first two races for the Women's 49erFX fleet, Alex Maloney and Molly Meech (NZL) found themselves in very liquid situations-financially speaking-converting strong starts into race wins with relative ease.
"Starts were really important today," said Maloney. "In the first two races, we kind of got away, and it made a big difference for the first beat. The rest of the race was a lot easier. For the last race we were kind of back in the pack and decision-making and tight boat-on-boat situations were a lot harder. Just getting a little bit of a clear lane and away from the fleet in the first half of the first beat was pretty beneficial."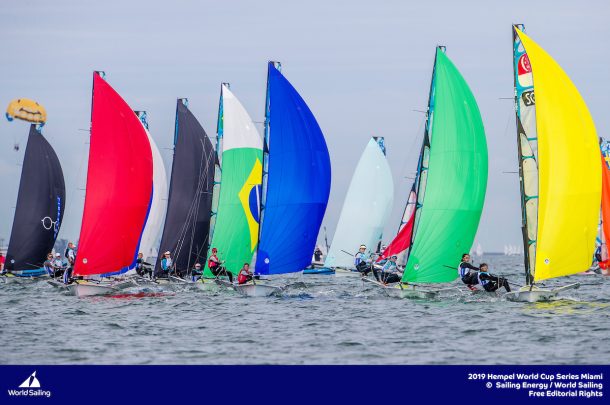 Their result in today's third race was a 10th, but with the throwout applied and yesterday's second added to the total, the antipodean pair find themselves 11 points clear of second place after two days of racing. Sophie Weguelin and Sophie Ainsworth (GBR) and Stephanie Roble and Margaret Shea (USA) are tied with 15 points, with the British team technically in second due to the tie-breaking protocol.
"It was pretty light and shifty," said Maloney, when asked about the conditions they faced on Day 2 of the second stop on the 2019 Hempel World Cup Series, "and you were always on your toes. You could be confident in one side, but it was kind of the day that you wanted to be protecting both sides when you were in the lead because there was a little bit of snakes and ladders out there. Overall it was a fun day and we're happy to come away with our scoreboard."
The 49erFX is one of two Olympic classes that debuted at the 2016 Rio Games, and the fleet continues to evolve as the sailors who were there from the beginning grow more comfortable with the nuances of skiff sailing, and other talented sailors are lured in by the boat's easy speed and strict one-design class rules.
"The class is becoming a bit older and there's more depth in the fleet," said Maloney, the Rio 2016 silver medallist. "The racing is closer, and you can't get away with a few things you used to be able to get away with. There's definitely more depth and anything under 14 knots, the boats are going pretty similar speeds, and it's more tactical. There's more of speed differential as it gets windier. As a fleet we're getting a lot sharper and more aggressive on the start line. Our low speed boathandling control is a lot better than it used to be. You used to see the girls set up away from the line and more sail into it, but now we're just the same as the guys, crabbing and getting a little more aggressive on the start line."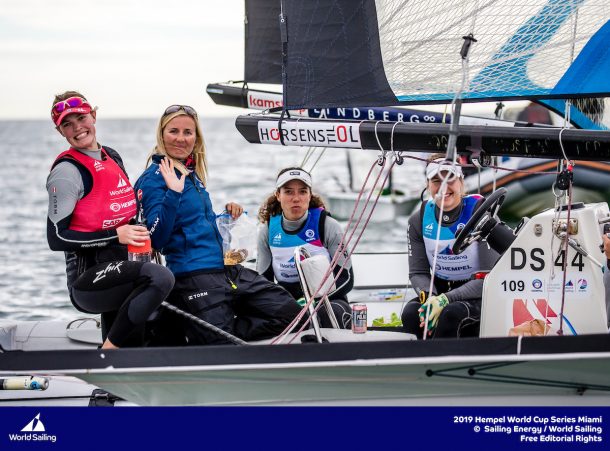 Getting off the starting line with some freedom to maneuver and make decisions was something of a theme today. In the 49erFX, Stephanie Roble (East Troy, Wis.) and Margaret Shea (Wilmette, Ill.) credited their surge to the sharp end of the standings to strong starts in two of three races. They are currently tied on points for second place with the British team of Sophie Weguelin and Sophie Ainsworth. The New Zealand team of Alexandra Maloney and Molly Meech has been nearly unbeatable with two firsts, a second and a fourth so far in the regatta.

"I think good starts definitely paid off," said Roble. "If you had a good start and could hold your lane for a little while, you were pretty much guaranteed to be in the top 10."

While the breeze was light and shifty, Roble said that speed was really important today, perhaps more so than one might expect given the inconsistent breeze.

"It was pretty light and tricky out there, and we were just really trying to focus on good lanes around the course and just trying to use out boatspeed to have good races," said Roble. "I think the pressure was a bit more apparent and it was so light that having just any bit of more pressure than the boats around you or on the other side of the course made the difference. We were focused on getting in the pressure and getting into fat lanes when we had it and using our speed to bring it in. The more you can put your bow down and get the boat rumbling, the better off you are."
49er Side
If at first you don't succeed, try something different. That was the recipe for success today for the American 49er team of Nevin Snow (San Diego, Calif.) and Mac Agnese (Fort Lauderdale, Fla.) who captured a second in their lone race on Day 2 of the 2019 Hempel World Cup Series Miami and now sit in the overall lead by a point over defending class world champions Sime and Mihovil Fantela (CRO).

"It was really challenging because it was such light air and the starting line was slightly skewed, so everyone was battling for one end," said Snow. "The first start, that ended up getting called off, we went pretty safe, and it turned into us being pretty far behind. So for the race that counted, we went pretty aggressive on the starting line and it paid off."

While the final result in a Hempel World Cup Series regatta is an important achievement for a developing team, sailors often use these events to focus on and test a specific aspect of their game, with the hope of pulling everything together when Olympic qualifying starts later this year. That's the case with Snow and Agnese.

"Starting has been our main goal this whole month in Miami," said Snow. "Getting a good start in these really shifty races has led to being able to look outside the boat easier, you're not in the mix with everybody from the get go. That's been one of our goals, consistent starting, and in the one race today we made a good start."
After three races yesterday, the 49er fleet was able to squeeze in just a single race. Benjamin Bildstein and David Hussl (AUT) won that lone race, but a tough first day has them mired in 15th place. The big winners of the day were Nevin Snow and Mac Agnese (USA) who finished second in the race and jumped into the overall lead, with Day 1 leaders Sime Fantela and Mihovil Fantela (CRO) in second by a point and James Peters and Fynn Sterritt (GBR) in third, two points further back.

With 18 months until the Tokyo 2020 Olympics, some of the fleet is focused on the big picture. But there's some pretty attractive carrots dangling at the end of this six-day competition.

"This event, particularly for us, is important to re-qualify for the national team, and it's the Pan American trials and the first part of the [Tokyo 2020 Olympic] test event trials. So really a lot of our trials are starting with this event. But big picture, we're on a path of progression and we have 18 months to the Games. We're not trying to be our best selves right now, but just keep on progressing as the season and the year goes on."

The Olympics are a unique competition in the sailing world and while there's no way to truly replicate it, the test event at the Olympic venue this summer and the Pan Am Games in Lima, Peru, are good opportunities to get a glimpse of the experience.

"They're great honors to be part of those teams, and if I'm fortunate enough to continue sailing well and qualify for those teams, those events will be great experience, and that'll be really valuable to then hopefully go to the Games," said Barnard. "But one step at a time, I've got a long way to go in this regatta. So I'm just focused on recovering and getting ready for tomorrow."

Nacra 17
The Nacra 17 class was able to squeeze in two races toward the end of the day. The Brazilian team of Samuel Albrecht and Gabriela Nicolino de Sá (BRA) continued to control the fleet with a fourth and a first and now has an eight-point lead over defending regatta champions Jason Waterhouse and Lisa Darmanin (AUS) and Rio 2016 gold medalists Santiago Lange and Cecilia Carranza Saroli (ARG). Both teams have 15 points.
The home American squad has now just four points between the top three American teams. Sarah Newberry and David Leibenberg (Livermore, Calif.) lead the way in 11th place with 40 points. One place, and three points behind, are 2016 Olympians Bora Gulari (Detroit, Mich.) and Louisa Chafee (Warwick, R.I.) with Ravi Parent (Sarasota, Fla.) and Caroline Atwood a point further back.

Racing continues on Thursday 31 January at 10 am local time with another packed schedule in a bid to catch up on races lost. Photo Credit: Jesus Renedo & Pedro Martinez/Sailing Energy/World Sailing